All the action at the Dilwale trailer launch.
The Dilwale trailer launch was a grand event.
The entire Andheri PVR theatre in suburban Mumbai was filled with the media as well as some lucky fans. Members of the international media were also present via video conference.
And everyone from the Dilwale team was present, including Shah Rukh Khan, Kajol, Rohit Shetty, Varun Dhawan, Kabir Bedi, Nawab Shah, Boman Irani, Johnny Lever, Varun Sharma, Kriti Sanon and music composer Pritam Chakraborty.
The stars entered the venue in their high-end two-seater cars.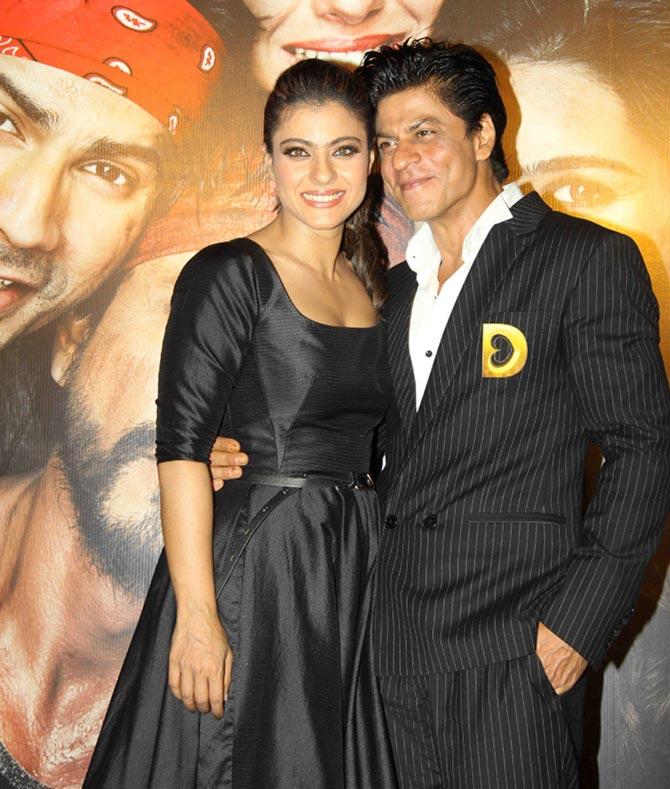 Image: Kajol and Shah Rukh Khan at the Dilwale trailer launch.
The entire cast shared their Dilwale experiences.
"One day, Shah Rukh met me at a function, held me by the neck and kissed me on the cheek," Boman Irani said. "Then, he told me, 'You're doing the next film'. So there were no arguments. He added, 'I've become lonely; I need company. The two of us are in the 50s club, the rest are youngsters.'"
Sharing screen space with the stars, Varun Sharma did not seem nervous at all.
"I'm not nervous about the release," he said. "It's a dream to share screenspace with Shah Rukh and Kajol in Rohit Shetty's. I'm living my dream."
Kajol immediately took over, and exclaimed: "That's fake humility! The truth is he was telling us, 'I'm toh good in the film. I don't know about you but I'm cute in the film.'"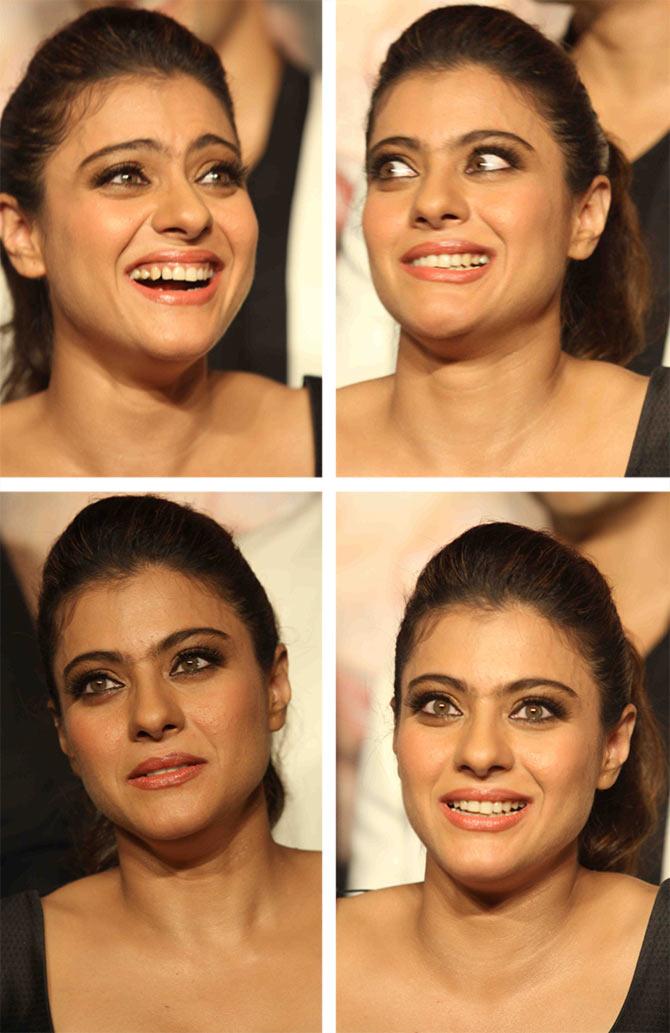 Image: Different moods of Kajol.
Kajol then revealed that Kriti Sanon's exercise regime was to "squat" because "she's so tall! That is why she's so fit in the film."
But Kajol wasn't the one making everyone laugh during the shooting. It was Johnny Lever, she said.
"We shot in Iceland for the romantic song in Dilwale and finished it in seven days," she said. "We've worked like dogs in the cold weather and nearly died. We had a great time and loved the song so much. When you see the song, it's looking magical."
The actress thanked her husband Ajay Devgn for the support she got from him. "Ajay has sweetly supported me all those days," she said. "When I was shooting in Iceland and Bulgaria, he stayed at home and took care of the kids."
Shah Rukh couldn't resist teasing her on that: "When Kajol was at home, the kids would listen to 'Lalla lalla lori' and then Ajay made them listen to 'Aata majhi satakli.'"
Kajol's daughter Nysa, she said, was the one who convinced her to do the film. "Nysa was very happy when I decided to do this Rohit Shetty film," Kajol said. "She told me I had to do it, even though she knew I would have to go for outdoor shoots. She wanted me to do a film where I was not crying. She's tired of such films! So I said okay."
So what makes Kajol and Shah Rukh such a legendary pair on screen? Does the button just come on when they're on front of the screen?
"The buttons come off," Shah Rukh quipped.
"We don't take ourselves that seriously. We just have fun, work well together, we're good friends and that is what comes across," Kajol added.
Incidentally, Shah Rukh's toddler AbRam did not like his pairing with Kajol. "Rohit always does this a night before the wrap -- he calls the entire team to watch the film. At that time, AbRam was in Hyderabad too. There was a stunt scene, where I got hurt (even though I hadn't done the stunt). AbRam thought I got hurt because of Kajol -- as she was in the scene too -- so he looked at her and said, 'Papa tut gaya, papa tut gaya.' He was very disturbed. He feels my reunion with Kajol isn't good. But he liked the film."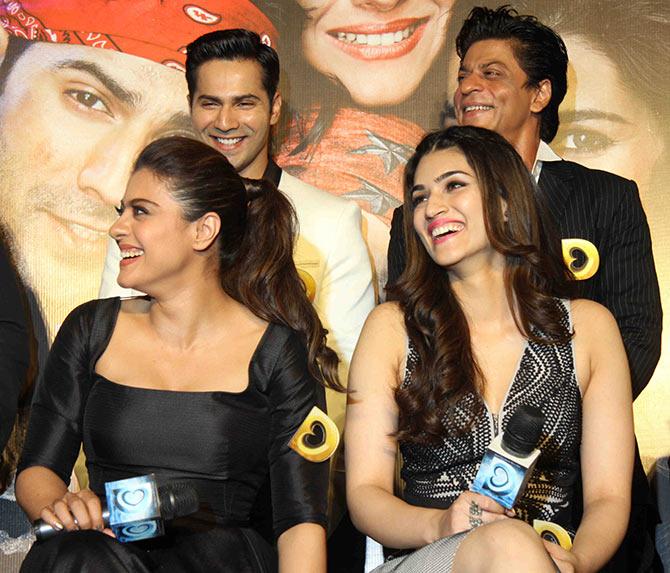 Image: Kajol, Kirti Shanon, Shah Rukh Khan, Varun Dhawan at the Dilwale trailer launch.

Varun feels he was destined to work with Shah Rukh and Kajol in Dilwale.
"Before I started acting in films, I was an AD (assistant director) on My Name Is Khan. That was the last film Shah Rukh and Kajol had done together. I used to knock on their doors and give call times," he said.
Interestingly, Rohit also gave call times to Kajol -- he was the assistant director -- during Pyaar Toh Hona Hi Tha and Raju Chacha.
Shah Rukh said that he wasn't happy about the Dilwale shooting being over.
"It's a feeling of emptiness," he said. "When a film is made and you present it to the world, it's sad because after that, the film doesn't remain ours. We hope people love and enjoy it just as much we did while making it. It's like giving away your daughter. It's that kind of a day. I can't sit down, watch it, and get happy about it."
Image: Varun Dhawan, Kirti Shanon at the Dilwale trailer launch.

Kriti, who is romantically paired opposite Varun in the film, had to wear flats thanks to her height. But Varun had a message for the invitees: "All the boys out there who love taller girls, please go out and try it. It's possible."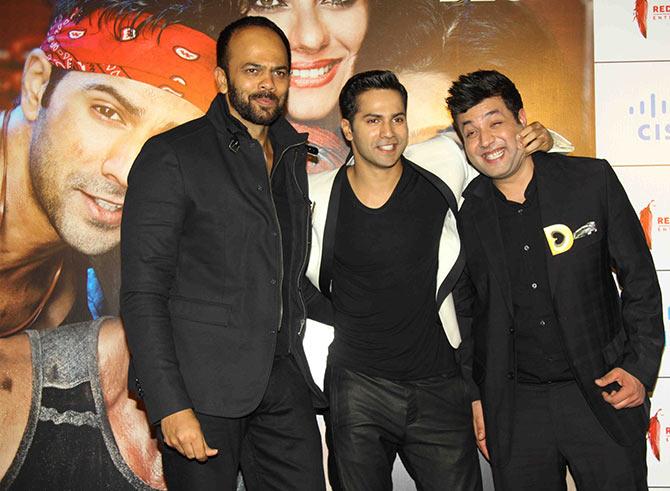 Image: Rohit Shetty, Shah Rukh Khan Varun Dhawan, Varun Sharma at the Dilwale trailer launch.

Rohit Shetty spoke about the flying cars in his movies, and how they weren't easy to do.
"It looks easy but my stuntman is sitting in the car," he said. "When the shot happens, our heart is in my mouth and I pray that nothing goes wrong. We make cars fly for entertainment but some people risk their life for entertainment."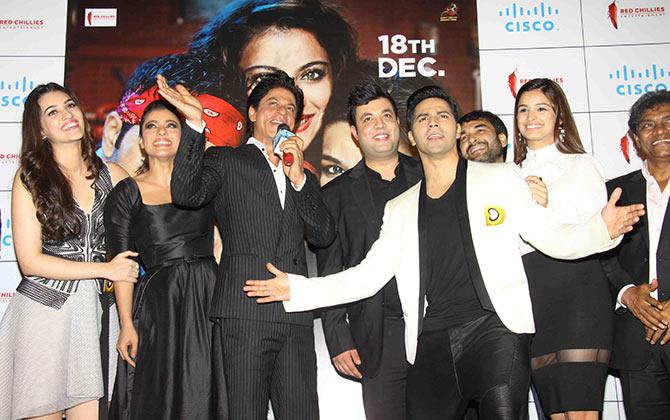 Image: Kirti Shanon, Kajol and Shah Rukh Khan, Varun Sharma, Varun Dhawan, Pankaj Tripathi, Chetna Pande, Johnny Lever at the Dilwale trailer launch.

Recently, we Shah Rukh dubsmash to Salman Khan's Prem Ratan Dhan Payo title song and Salman return the favour on Tujhe Dekha Toh Ye Jaana Sanam.
"We were all sitting at home and Salman asked me what I was doing," Shah Rukh says. "I said we had just wrapped up our film, and that we were having dinner because Rohit makes us work and doesn't let us party. We got a chance (to party) only on the last day. Salman said he wanted to do something for us because our film poster was releasing. I told him the Dilwale song hadn't released yet so he couldn't dubsmash it. So Salman put the DDLJ song and we danced to Prem Ratan Dhan Payo."
Shah Rukh gives us a peek into what Dilwale is about: "The film is based in two time zones. It isn't linear, it has its own technique. Rohit is trying to make me macho for many years, and I feel I've become that here. There is a lot of action too. This is a beautiful family entertainer and there is comedy, action, drama and emotion... everything a person would like to see in two and a half hours of entertainment. I don't think I can be an angry young man like Amitji (Amitabh Bachchan)."
Photographs: Pradeep Bandekar