Anil Kapoor, his wife and daughter, businessman Anil Ambani and his wife Tina, politician Amar Singh were at Mumbai airport to take Sridevi home.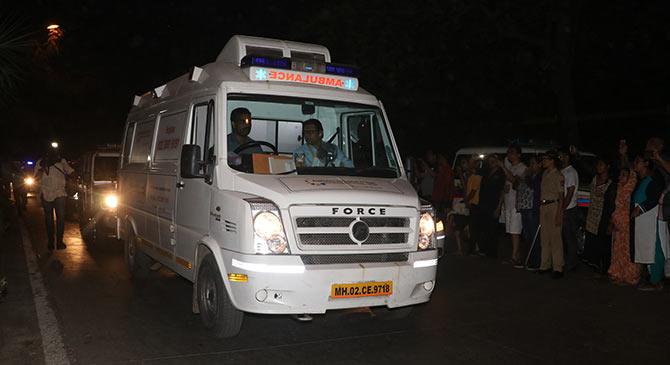 IMAGE: The ambulance carrying Sridevi's mortal remains on its way to her home.
The mortal remains of Sridevi, whose sudden death triggered grief, disbelief and searching questions, was flown back to Mumbai on Tuesday night.
Family members, including her film-maker husband Boney Kapoor and stepson Arjun Kapoor, brought her body on a private jet after three days of uncertainty over her death on Saturday in Dubai.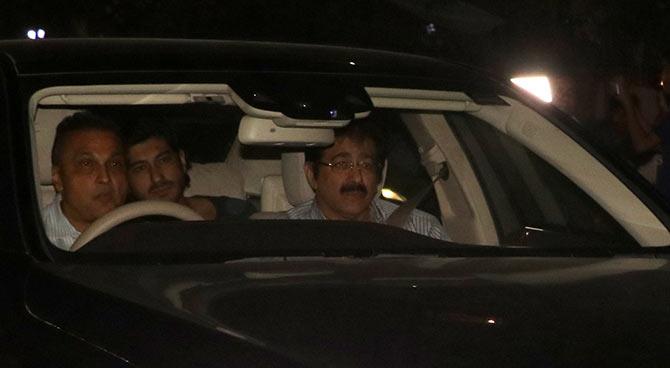 IMAGE: Anil Ambani with Mohit Marwah, Boney Kapoor's nephew, and Mohit's father Sandeep Marwah.
Earlier on Tuesday, the Dubai public prosecutor's Office put an end to the speculation about the cause of Sridevi's death, saying she 'accidentally drowned' in the bathtub following loss of consciousness, and that the 'case was now closed'.
It did not say what caused the 54-year-old actress to lose consciousness.
The Embraer jet, owned by businessman Anil Ambani, landed in Mumbai around 9.30 pm.
Anil Ambani, his wife Tina and Anil Kapoor were among those at the airport when the plane landed.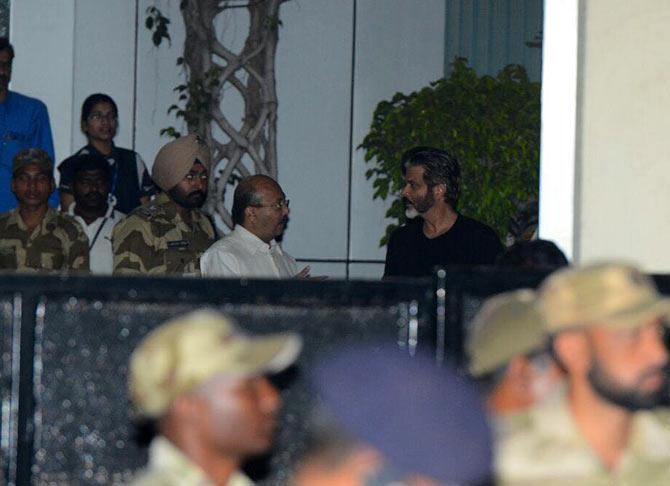 IMAGE: Anil Kapoor with politician Amar Singh.
The mortal remains were taken to Sridevi's Lokhandwala Complex home in Andheri, north west Mumbai, where police and private security personnel were deployed for crowd management.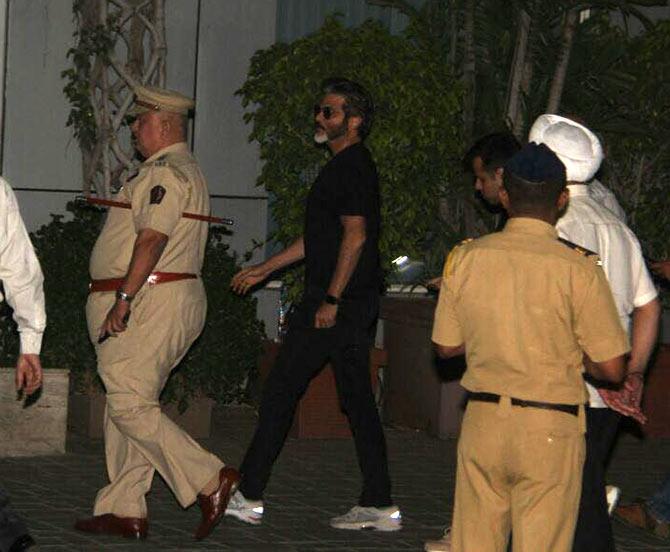 IMAGE: Anil Kapoor arrives at the VIP terminal in Mumbai where private jets land.
'On behalf of Khushi, Janhvi, Boney Kapoor, the entire Kapoor and Ayyappan families, a sincere thanks to the media for your continued sensitivity and support during this emotional moment,' a statement from the family said.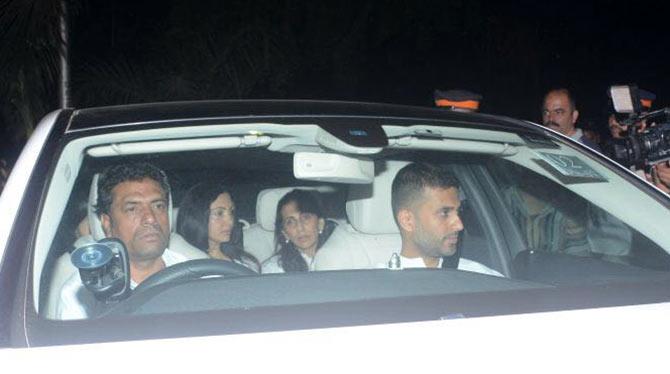 IMAGE: Anil Kapoor's wife Sunita arrives at the VIP terminal with her daughter Sonam's boyfriend Anand Ahuja.
Sridevi was in Dubai to attend a Mohit Marwah's wedding.
While she stayed back in Dubai after the ceremonies, Boney Kapoor and their daughter Khushi flew back to India. He returned to Dubai to surprise her, according to the Khaleej Times newspaper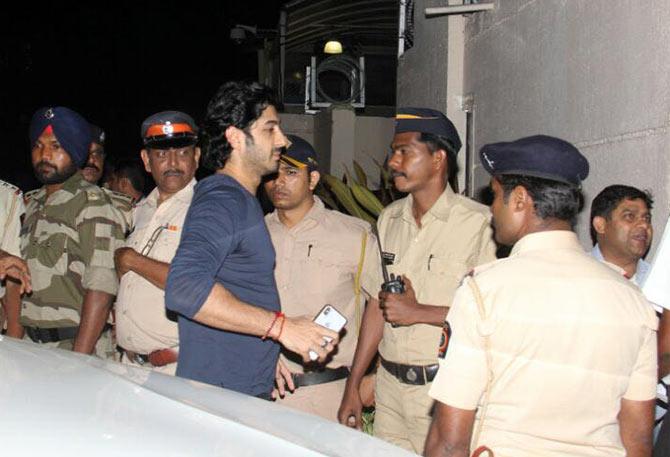 IMAGE: Mohit Marwah at the airport.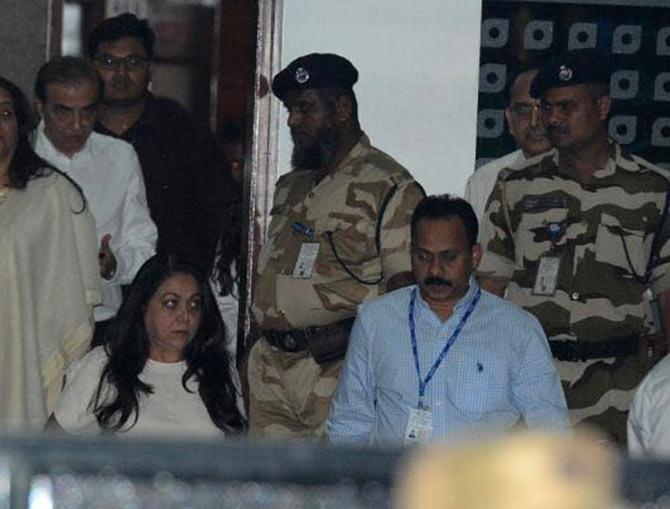 IMAGE: Tina Ambani at the airport. Sridevi's motal remains arrived by an Embraer jet owned by her husband Anil Ambani.
In Mumbai, Sridevi's friends and colleagues visited Anil Kapoor's Juhu home to mourn her passing with her daughters, Janhvi and Khushi, who were staying at their uncle's bungalow.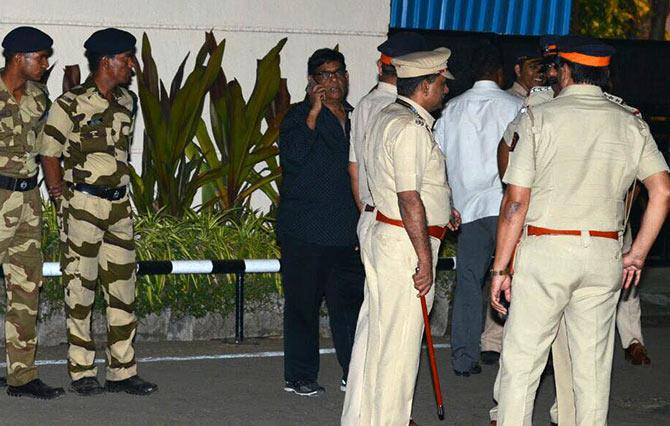 IMAGE: Director Satish Kaushik, a good friend of the Kapoors.
Director Anees Bazmee, who directed Boney Kapoor's No Entry, was among the many mourners.
"It is a big shock for everyone," he said. "I have worked with the entire Kapoor family. I can't imagine what Boneyji would be going through at this point. He loved her very much. Their two daughters are so young. It is a sad situation."
"I have not told the family what the media is reporting. It is sad, unfortunate. A person like her does not deserve this," he added, referring to the sensational television coverage of the death.
Others who called on the family in their hour of grief include Shah Rukh Khan and his wife Gauri, Rajinikanth and his wife Lata, Kamal Haasan, Ranveer Singh, Deepika Padukone, Tabu, Rekha and Farah Khan, Javed Akhtar and Shabana Azmi.
While celebrities headed to Anil Kapoor's home, Sridevi's fans were seen outside her home.
Photographs: Pradeep Bandekar