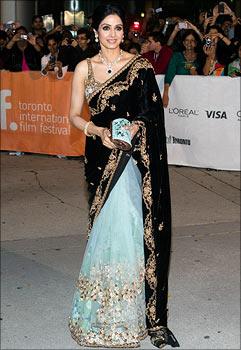 Though Sridevi got a huge welcome from her fans at the world premiere of her comeback vehicle English Vinglish, the mainstream press at the Toronto International Film Festival gave the film a ho-hum reception.

The Canadian daily the National Post gave the film two stars out of four. 'The film is often winsome; as is its star, Bollywood favourite Sridevi, as the implausibly neglected wife, but it winds up trapped by the social and cultural hierarchies it seeks to question,' it said.

TIFF's artistic director Cameron Bailey, who chose the film for the festival and gave it a red carpet gala release, said the film was, 'breezy and charming, but with much to say about the delicate balance between tradition and modernity.'

He added, 'Sridevi's expressive face and magnetic charisma have lost none of their radiant luster. And as if that weren't enough, Indian cinema fans will enjoy the extra treat of a hilarious cameo from Bollywood legend Amitabh Bachchan!'

The story -- inspired by Shinde's mother's language troubles -- follows Shashi, a reserved and insecure Indian housewife who travels to New York and struggles to learn English.

Shinde, who studied filmmaking in New York, said she observed the linguistic divide and conflicts in many parts of the city. 'Every new immigrant, not to forget Spanish speaking people whose families have lived in America for many decades, faced the problems Shashi has to deal with,' she added.
Shinde also told the press that it was not difficult to persuade Sridevi -- who left the silver screen 15 years ago to raise her two daughters -- to take up her film, since the actress loved the subject at first sight.
'(The film is) about a woman coming into her own and overcoming her insecurities,' Shinde said in an interview. 'I believe we're always a step away from gaining confidence but we don't do it until a life changing thing happens.'
Though reviews from mainstream publications were not exactly flattering, Sridevi got plenty of attention from many Canadian publications that ran lengthy interviews with her.
The Indian actress, who many interviewers found to be shy and hesitant while speaking in English, told The National Post she had experienced awkward moments with language barriers many times.
'As a mother and as a human being, I could really relate to the character,' she told The Post. 'I've done (films) without knowing the language including Malayalam, Kannada and Hindi. Everyone used to call me a parrot as I would just speak my lines.'
Photograph: Mark Blinch / Reuters