Reader Abhijit Masih attended a Guns N' Roses concert in the UAE last night. He sent us this report: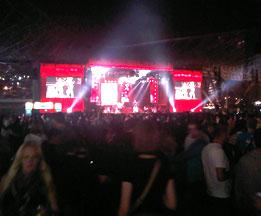 The music you listen to in school most often becomes the genre you will stick to all your life. For me it is definitely Rock. Thus the excitement of going to a live concert of one of my favourite bands from that era was written all over my face.

Guns N' Roses with album sales in excess of a 100 million are definitely one of the biggest Rock bands and one of my all time favourites. I know a lot of my friends who would have given an arm and a leg to attend this concert.

The crowd, barring a scattering of teenagers, predominantly consisted of 30+ Rock fans. It was refreshing to have a Rock concert in the United Arab Emirates amidst the numerous gigs featuring DJs from European clubs like Pacha and Cafe Del Mar. It was a true treat for the Rock generation of the 80s and 90s. This was my second concert at the Yas Marina Arena, with the F1 race track in the background and the newly opened Ferrari World theme park.
Juliana Down, a Dubai-based band, opened the evening for Guns N' Roses and did a half an hour set before the Rock legend appeared on stage a little after 10 pm.
Axl Rose, in his signature attire, sporting a moustache gave the audience a two-hour plus concert, which went on till past midnight. A touch of disppointment could be felt from the crowd since a majority of the tracks were from the new album Chinese Democracy.
This could be judged by the audience response to tracks from the new album (not so new now, since its release in 2008) as against the thunderous response which rose at the first chords of the older songs like Welcome to the Jungle, Live and Let Die and November Rain.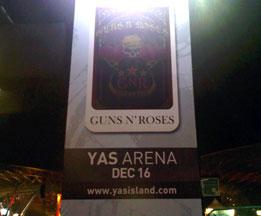 The performance also included a cover of Pink Floyd's Another

Brick in the Wall.
Slash was surely missed, though there was Richard Fortus, DJ Ashba and Ron 'Bummblefoot' Thal, who sort of made up for it. The solos from each one of them were outstanding which included themes of James Bond and The Pink Panther. DJ Ashba eased into Sweet Child of Mine, straight after his solo. Ron worked his magic on the Double Neck Guitar and gave The Pink Panther theme a Rock soul.
Guns N' Roses were huge in the late 1980s and early 1990s and going by the 25,000 strong crowd who gathered at the Yas Marina on Thursday night, there is no doubt that they still have their 'Yesterdays'.
Abhijit's mother has kept his guitar from school days in the hope that one day he will finally get down to learning to play it.
We invite readers who attend concerts in India and around the world to send us their reports, photographs and videos. Please mail reports and photographs to movies@rediff.co.in