'I am proud to have done Anthakamundu Aa Tharuvatha'
September 25, 2013 08:57 IST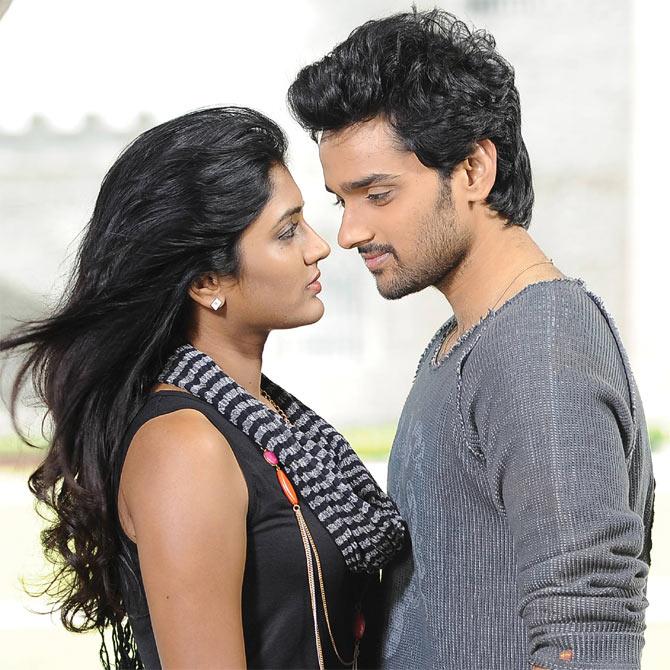 Sumanth Ashwin, the son of well-known Telugu film producer M.S. Raju, made his debut with Tuneega Tuneega.
His second film, Mohankrishna's Anthakamundu Aa Tharuvatha (AMAT) is currently running successfully in theatres.
In this exclusive interview Sumanth as he talks about the success of the film and what made it click with the audience.
How do you feel about the success of AMAT?
I feel deeply encouraged. When I was doing the film it was like an experiment and not a commercial one.
It's a nice film and I am proud to have done it.
I am happy that people accepted the concept and the team felt encouraged.
If it had failed, I wouldn't be trying out new stuff.
'I treated Anthakamundu Aa Tharuvatha as my debut film'
September 25, 2013 08:57 IST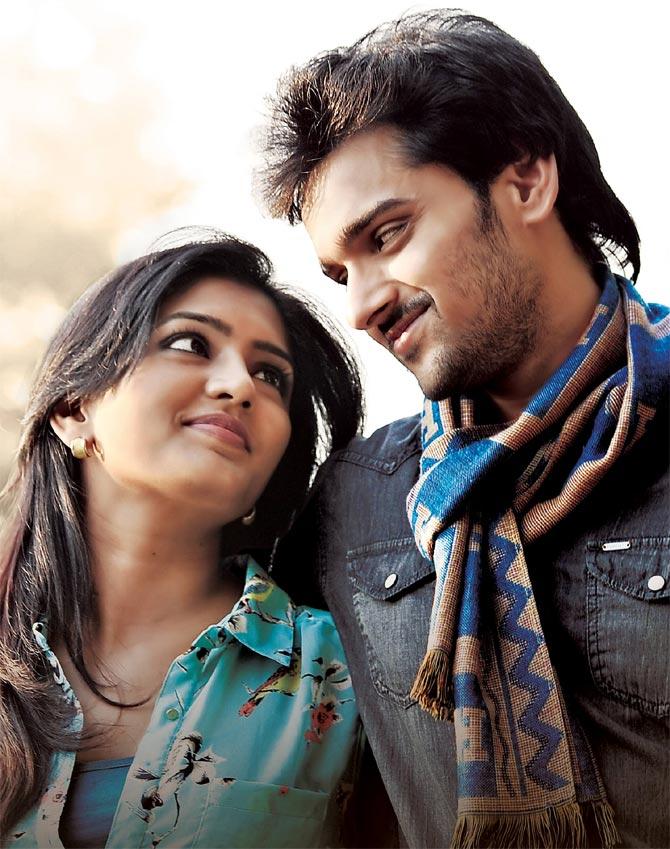 How did you get this film? What was on your mind when you signed it?
After the first film I felt I shouldn't do a love story, I must do something different.
I met Mohan garu and he narrated me another script which did not work out. He later narrated me the script of Anthakamundu Aa Tharuvatha and I liked it.
The interval point really got me excited.
The first half was neat and nothing different though it had good romantic sequences but the second half revealed the whole concept and that was exciting.
Had you seen Mohanakrishna's earlier films?
No I had not. I had heard of his films like Golconda High School, Ashta Chamma and Grahanam but had not seen them before signing AMAT.
After 50 per cent of the shoot was over since, I borrowed the DVD of Grahanam from Mohan garu and saw it and loved it.
You pulled off quite a difficult role as Anil in AMAT at a young age. What kind of approach did you follow or and what homework did you do?
I treated it like a debut film. I rehearsed and worked a lot. I felt like a newcomer and read the script a number of times.
I used to think about the character a lot. We had a workshop which helped me and Eesha where other artistes too participated. The technicians were also there. There were good interactions here. So when we went on the sets we knew each one's working styles and were comfortable with each other.
'I have never done anything like this in my life'
September 25, 2013 08:57 IST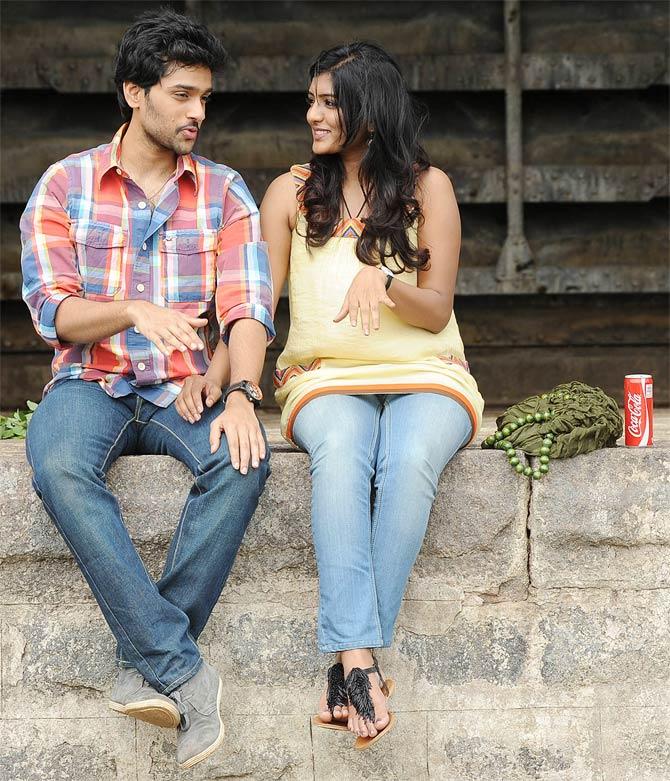 You had to portray a kaleidoscope of emotions. As an actor which were the toughest scenes for you?
The toughest one was the interval scene. There were lots of dialogues in the original which was cut down without compromising on the scene's content.
The camera doesn't move and the scene depends on the performance of the actor. I had to pull it off well. I had to convince the heroine and the audience to watch the second half and I had to do it convincingly. I enjoyed doing it.
Did you have to do it many takes?
There were not too many takes. I think I did it in two-three takes because of rehearsals.
The film was a slice of life. Were there scenes which were relatable to you?
I have never done anything like this in my life. I saw others relating to it. After the film released, people in their 50-60s connected to the scene where Rao Ramesh talks to his son about his love.
'It was very intense to shoot for the film'
September 25, 2013 08:57 IST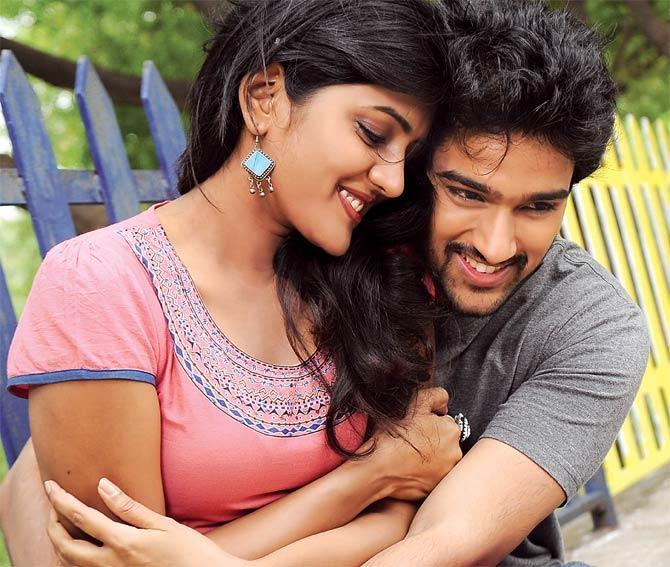 What would you say about Mohanakrishna?
A lot of people think Mohan garu makes only comedies. Actually he likes experimenting. I have seen his short film Chali. His dream is to make it into a feature. He is a one of the few directors who is balanced. This movie has been critically acclaimed and is also doing well commercially.
Has this movie been an enriching experience? Any learning lessons?
Script wise, definitely it was intense. Even after the shoot I would not switch on the radio or CD player in the car. It made me mature and I got to know how to tackle some situations.
Do you consult your father while signing a film?
Yes as he can use his skill to judge films. I heard this script, loved it and was excited about it. He told me do this film, you will be successful but I cannot tell you what kind of hit it will be. I can tell you to do it. You will learn a lot. Mohan is a good director, Damu is a passionate producer and the whole team is good.
'The concept, performances, music and dialogues worked for the film'
September 25, 2013 08:57 IST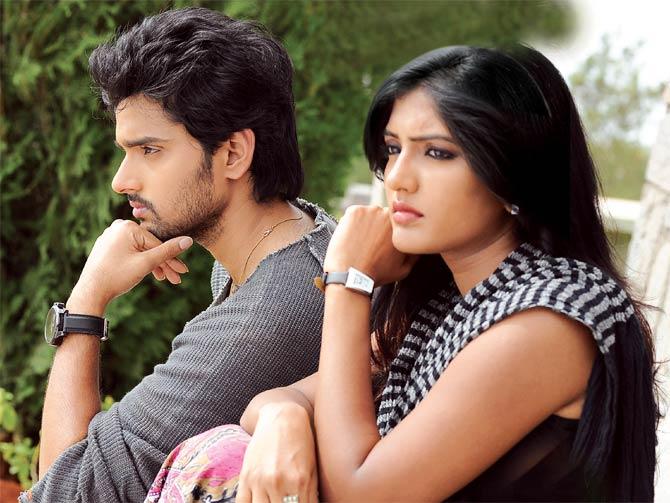 What is the biggest compliment you received?
The biggest compliment was when the audience was glued to the screen in one particular scene at a theatre where I too watched the film.It was the scene where the hero goes to Madhubala (the mother of the heroine) to convince her. I loved the dialogue sequence.
I am not a superstar or a star comedian.
It is difficult to carry the scene unless the actor does a good job. I was scared how people will react to it. The hero had to give a subtle performance and I thought people may get out of the theatre. I saw this with 1200 people and not one person got up from the seat. Everyone was completely involved. It was indirectly the best compliment I got.
I normally see people get up and go but the story here was involving the people that they sat and watched.
What do you think worked in the film's favour?
I think it's the concept, performances, music and dialogues. The concept was shown in a clean way. It can be done in a vulgar manner but since it was clean girls and the family audience enjoyed it.
Was it difficult to shed the character of Anil?
Not at all. I believe whenever the shoot is 100 per cent done I have to let go of the character. I tell myself that.
What's weighing on your mind when you have to sign your third film now? Have you signed any film?
I'm doing a film with Maruti (presented by him) and directed by a newcomer. It's a complete entertainer.