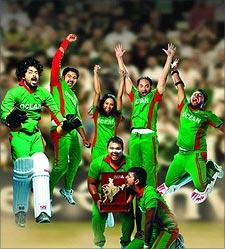 Paresh C Palicha reviews Tournament. Post YOUR reviews here!

It is a rarity that the opening narration of a film in the director's baritone voice makes us sit in rapt attention. In Tournament, director Lal explains that this Malayalam film is not about sports or competition, but about reaching the venue of an important tournament.

It is a road movie where a bunch of youngsters try to reach Bengaluru from Kerala to participate in a cricket tournament where one out of the five short-listed guys from South India will be selected to play in the coveted APL (whatever that is).
The film revolves around the games these guys play against each other en-route to secure their own selection despite pretending to be close friends.

Vishwan (Fahadh Faasil), Usman (Praveen) and Balu (John) represent the same club under the tutelage of a coach played by Siddique (in a guest appearance). Balu opts out before the trip after fracturing his hand in a bike accident. But, they meet Bobby (Manu) the fourth guy at the airport, hailing from Thrissur (with a peculiar accent that becomes his trademark). They are accompanied by Ashwathy Alex (Rupa Manjari), a freelance photographer.

The flight is cancelled due to a bomb scare. So, they hitch-hike on a truck, carrying furniture. It is driven by Kochupreman and his assistant (Biju Kuttan). This section is filled by crass toilet jokes.

Usman is the next to go after food poisoning, caused by eating snake meat in a roadside eatery, lands him in a hospital. The other three continue the journey along with Salim Kumar, a local MLA in rural Karnataka, which becomes manure for some more crass humour.

The premise and the treatment look cool and innovative, and sustain our interest till the interval. After that it becomes predictable. There are few more illogical twists and turns that play on our nerves.

It is clear that the screenplay is heavily inspired by Christopher Nolan's cult classic Memento, where every scene is rewound to show us the actual happening after the scene is un-spooled in the conventional way.

Fahadh is subdued; there are a few comic situations where he remains in control and keeps his performance polished. Manu is exaggerated, while Rupa seems to have a Rima Kallingal fixation.

With Tournament, director Lal makes a departure from his typical mimicry humour. But the film falls into the genre of crass comedy, which is a huge disappointment.
Rediff Rating: