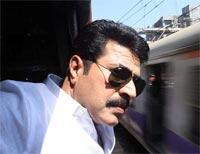 Paresh C. Palicha says Malyalam film The Train has an interesting premise but the overall treatment is a let-down. Post YOUR reviews here!

Stories inspired by real life incidents usually make for gripping scripts. So expectations were high from director Jayaraj's The Train with Mammootty in the lead. The film is based on the serial bomb blasts that took place in a Mumbai local a few years ago.

 It tells the story of a couple of Malayalees who were the victims of the terror attacks. The premise is interesting and the individual stories have some spark but the overall treatment is a let down.

One of the tracks follows Karthik (Jayasurya) who wishes to make it big as a singer. On the fateful morning he gets a call informing him that he has got a chance to sing for A. R. Rahman and has to travel to Chennai the very evening.
 Next we have a female in her mid-twenties (Aanchal Saberwal) who is on the brink of committing suicide and is saved by a mistaken call on her cell phone from Karthik, who gives her the good news that his dream of singing for Rahman has come true and they should record their dream song soon to gift it to the Mozart of Madras. After a while she tries to contact him to thank him. He is initially rude to her but they are attracted to each other.
The real damper in this film is the characterisation of Mammootty as Kedarnath, he is a 'one man army' against terrorists, he cannot relax even when he is sanctioned leave and has promised to be with his only daughter. It seems that he is the only one concerned about terrorism in the whole Police Force and is hell bent on vanquishing them. He just takes the help of subordinate Joseph (Jagathy Sreekumar) (that too by giving orders on the cell phone) and his cyber cell colleague Haneef (Saikumar). He almost succeeds in averting the tragic event singlehandedly.
 The Police Force of the uniformed variety is conspicuous by its absence. The other thing that hasn't been done justice is the famous characteristic of the metropolis that is teeming with millions of people almost always on the move. But, here the characters are strolling in virtually empty spaces.
 On the whole,
The Train
cuts a sorry figure as director Jayaraj swings between telling a touching tale and pushing a typical star vehicle.
Rediff Rating: