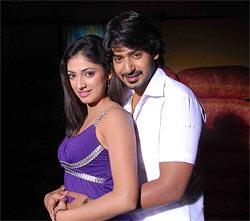 Srikanth Srinivasa says Super Shastri is a complete waste of time.
Super Shastri
, directed by Ravi Raj, is a remake of the Telugu comedy
Seema Sastry,
but fails to connect with the Kannada audiences on all counts.
The director and his team have got all the facts wrong in depicting Brahminism or Brahminical values. He is unable to even decide whether the family is Shaivite or Sri Vaishanava.
Subramanya Sastry (Prajwal Devaraj) is a Brahmin boy working as a priest in a temple. He falls in love with Soumya (Haripriya), a girl from the Gowda community.
 Soumya is willing to sacrifice everything to enter Sastry's household as his wife. His father and the extended family do not initially approve of Soumya.
Soumya's father wants a son-in-law who is a fighter, literally. The Gowda community is shown as always itching
for a fight. There are fights and factional tiffs that cannot be identified with the Kannada milieu.
Prajwal Devaraj should keep away from such inane films that lack direction. Haripriya looks quite pretty but has nothing much to do.
Bullet Prakash has overacted. Umashri is wasted in an insignificant role. Producer G Rajendran acts as the hero's father. He overacts and has let the film down badly. Kashi Vishwanath's camera work is shoddy. Deva's music is nothing much to write about.
Director Ravi Raj has neither understood the language nor has he got a grip on the narrative.
The film manages to raise barely a few laughs. It lacks comic timing and punchy dialogues.
It is better to stay clear from this intolerable film. 
Rediff Rating: