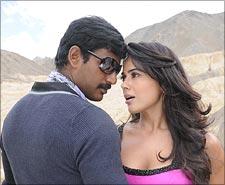 Pavithra Srinivasan feels Vedi is full of cliches. Post YOUR reviews here!
The best thing about Sun Picture's
Vedi
(Firecracker), directed by Prabhudeva, is that it never takes itself seriously. It has some action, adventure, romance, some laughs, a thundering climax and all you need to do is sit back, relax and watch for the meagre turning-points in this story, which is the remake of the Telugu hit,
Souryam
.
Balu (Vishal) arrives in Kolkata for a reason that is not disclosed to us. He runs into the balloon-stuffed Sandesh (Vivek), masquerading as a muscled wonder, and asks to be appointed as a physical training teacher in a college. He's forced to seek accommodation at the home of Paru (Sameera Reddy), who, in filmi fashion, takes some sort of dislike to him, does everything to oust him, but ends up falling for him, and sings songs in bewitching foreign locales.
At the other end there's Aishwarya (Poonam Kaur), Paru's college-mate and neighbour, in whom Balu shows inordinate interest (though not in a romantic way). Exactly why he takes such an interest in her affairs, and who he really is, is revealed in the next two hours. There's also a villain, Eswaramoorthy (Shayaji Shinde) who is the epitome of silliness.
The template of a story like this goes according to a pre-set pattern, with plenty of mindless comedy and action thrown in and
Vedi
is no different. The first half, with its liberal doses of humour, moves
at a brisk pace. The second half, once the minor knots have been untangled, drags and dithers.
As expected, Vishal flexes his muscles, throw goons into the air and smashes into them like a pile-driver, all the while never moving a muscle. He throws out both physical and verbal punches with barely an effort.
Vivek struts around as a pseudo-macho man and tickles your funny-bone slightly. Poor Shayaji Shinde, a man capable of great acting, has been reduced for the umpteenth time to a giggling, silly villain who makes brawny men quiver, but not the hero.
Urvasi, in a tiny role manages to wring some laughs, along with Sriman, who looks silly.
It's Sameera Reddy who is a real joy to watch. She brings a great deal of enjoyment to her tiny role. She dances, laughs and delivers her lines with such enthusiasm that she invests it with an energy that's infectious. Beside her, Poonam Kaur, though in an important role, appears washed out.
None of Vijay Antony's songs stand out. If not for R D Rajasekar's snappy camera-work, they wouldn't be watchable either. V T Vijayan's editing is rather effective. But, then, nothing in the movie really requires superlative work from anyone.
None of Prabhudeva's signature touches are visible in the film. In fact, the movie looks like a mass-product that could have been turned out by any random commercial director.
Vedi
is just another run-of-the-mill entertainer.
Rediff Rating: