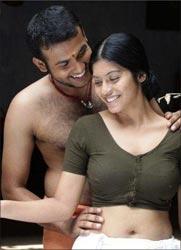 Paresh C Palicha mentions that Rasaleela is tacky to say the least.
Rasaleela, the remake of the controversial Kamal Haasan film released way back in 1975 shocks you with its numbing tackiness.
The film, about a young woman who was widowed before her marriage was consummated, is directed by Majeed Maranchery (who had assisted the late director Bharathan once upon a time).
It stars newcomers Darshan and Prathishta in the lead.
Unni Maya (Prathishta), a widow in a big tharavadu, develops a fondness for Devan (Darshan), who has accompanied a godman, who has been called in to get rid of the bad omens that surround the family.
The girl is always skimpily dressed and suggestively coy with the boy. But if you are expecting some steamy excitement you are bound to be disappointed because of the amateurish handling of the love affair and the lack of chemistry between the lead pair.
Even the music that is supposed to be the USP of this film suffers because of the treatment.
The overall tackiness that pervades this film makes it repulsive.
Rediff Rating: