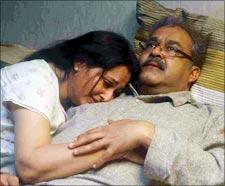 Paresh C Palicha feels Pranayam fails to work despite an impressive cast. Post YOUR reviews here!

What happens when former lovers cross paths in the autumn of their lives? Do they hold grudges or does wisdom eventually take over? Director Blessy tries to tackle these issues in his new film
Pranayam
. The film has been in the
news
for it's impressive cast -- Mohanlal, Jayaprada and Anupam Kher play central roles in the film.
Despite all the hype, by the end of it we wonder if the director has done justice with the resources at his disposal. The story, written by Blessy himself, is flawed from the word go. We begin with Achutha Menon (Anupam Kher), a man in his late sixties arriving in the city to stay with his daughter-in-law and granddaughter after suffering a heart attack. His son Suresh (Anoop Menon) is working in the Middle East.
One day he sees his former wife Grace (Jayaprada) in the elevator and collapses. Grace, who is staying in the same building with her husband, daughter and son-in-law, arranges for him to be taken to the hospital and even pays the deposit for the emergency treatment. Slowly their relationship is revealed as she is very anxious about his condition.
Grace's husband Mathews (Mohanlal) is bedridden and requires his wife's help to accomplish the most basic day-to-day
tasks. Their physical intimacy is an indication that they may have led a fulfilling life as a couple before the tragedy struck.
The children start acting up as the old couple revive their acquaintance. In the later half of the film, even Mathews joins the former couple with Achuthan helping Grace in manoeuvring her husband's wheelchair in rough terrains. So much so, they elope to a distant beach resort leading to the climax.
Blessy tries to prove that there is depth in the proceedings by making the characters mouth philosophical dialogues and punctuating scenes with showers and rain as his mentor late Padmarajan did. But, the shallowness of it all is barely hidden. The actors too put in an extra effort to lend some plausibility to the narrative. Mohanlal is the pick of the lot; even with limited mobility he shows that he is a man who has led his life on his own terms without any regrets and is at peace with himself even in his crippled state. Anupam Kher as the guilt-ridden Achutha Menon, who carries lot of pain in his heart is near perfect. Jayaprada as Grace, who is torn between the two men is impressive too. All three rise above the script occasionally to keep us hooked.
Pranayam
, that claimed to be an unusual love story, has to depend on its protagonists to work as it lacks depth and is much below expectations from a director of Blessy's calibre.
Rediff Rating: