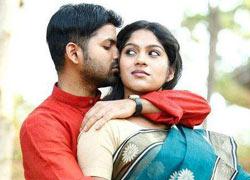 Paresh C Palicha says Prabhuvinte Makkal has some interesting insights into religious thought but peters out along the way.
Religion has progressed from being the faith professed by an individual, to becoming the property of middlemen—the clergy or self-proclaimed god-men—and politicians who are milking it for their own benefit.
So, it feels good to hear some rational voices in
Prabhuvinte Makkal,
made by first-time director Sajeevan Anthikad and produced by Free Thought Cinema.
The story sprawls over many decades underlining many important events in the country's history.
Madhu, the veteran actor, plays a patriarch who assimilates everything and, being a sensible man, gives sane counsel to the people around.
He has two sons Siddharathan (Vinay Fort) and Mani (Jijoy). Siddharathan wanders off to visit holy places, leaving behind his fiancée (Swasika). Mani, an atheist, stays put and steadfast in his beliefs.
Then Siddharathan returns after 11 long years with his beliefs shaken and having turned atheist and marries his fiancée.  
Madhu has promised 60 acres of land to a godman Prakash Bare to build a multi-specialty
hospital. His sons carry out a sting operation with the help of their friends to prove that the god-man is a fraud. They hold a press conference at which they challenge others to prove that their miracles are real. Next, we see Madhu getting killed in a road accident.
We sit through the first listening to some interesting balanced discourses, not bothered too much about the low production values that are evident.
But the second half nosedives, taking its inspiration from out and out commercial films to drive home the point.  The appearance of Kalabhavan Mani as a typical police officer (though he is not as loud as in other films), to help the heroes to accomplish their mission of capturing their father's killer (no points for guessing the culprit) is a let down.
On the whole,
Prabhuvinte Makkal
, turns out to be a let down because it promised a lot before the release.
Rediff Rating: