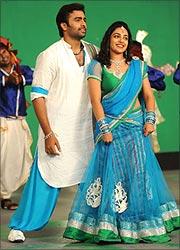 Telugu film Okkadine has action, romance, twists and turns in the plot and even an item number. Yet, it fails to sustain interest due to its predictable story, says Radhika Rajamani.

Director Srinivas Raga seems to have a fascination for mysteries and thrillers. His film Katha was on those lines. In his latest release, Okkadine, he tries to bring in an element of mystery towards the interval, but it falls flat.

The film itself is a revenge tale with a few twists and doesn't much appeal despite the love story woven into it.

Shailaja (Nithya) is the daughter of Sai Kumar who runs an orphanage and is respected in society. She comes to Vizag on a holiday at the behest of her friend whose uncle Seenu mama (Nagababu) suggested the resort.

There she encounters the family of Sivaiah (Kota Srinivasa Rao) and spends a happy five days with them. She falls in love with Surya (Nara Rohith), one of the sons of the family.

Surya, a forest officer under training, proposes to her. Some uncanny killings happen along the way. On the last day, when she's waiting to meet them before returning to Hyderabad, Shailaja is told there is no such
family. The whole family, including the son Surya, were killed two years ago!
The director tries hard to get the ambience right. In the second half, post the paranormal twist, the film descends into a vendetta tale. It becomes difficult to watch, hackneyed, and even the cast seems to be labouring.
The item number and the last song were unnecessary and a distraction. Some of singer-turned-music director Karthik's songs were melodious.
Nara Rohit suits the role easily, but could do with some improvement on the dancing and action fronts.
Nithya Menen is her usual bright self. She has sung some songs in this film. It's a pleasure to see her on screen. Sai Kumar can play roles like this one with his eyes closed, veteran that he is.
Nagendra Babu does a fine job. For a change Brahmanandam has something different to do. Ali doesn't have much and his screen time and role is hardly worthy. MS Narayana plays a drunkard yet again.
Srinivas Raga's
Katha
was a gripping film. But
Okkadine
doesn't come close. It just doesn't make for absorbing viewing. Watch it if you have nothing else to do.
Rediff Rating: