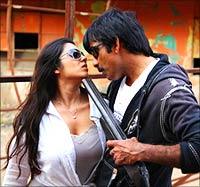 Radhika Rajamani reviews Dongala Muta.
Post YOUR reviews here!
Ram Gopal Varma sure evokes curiosity for his films before release. Doesn't matter that this curiosity tapers off no sooner the film hits the screens.
With
Dongala Muta
RGV has strengthened this trend further.
Coming back to Telugu films after a hiatus with
Katha
screenplay (writer) Darshakatvam Appalraju, Varma ventured into shooting
Dongala Muta
in five days with Canon 5 cameras.
Varma surely has new ideas (like the idea ad
'What an idea Sirjee'
which Ravi Teja mouths in the movie) and explores new technology. But eventually the idea has to work. But Ramu has apparently fallen short of converting this tech-edge into gripping, engaging cinema.
Well,
Dongala Muta
started with the idea of using a particular camera to film it but it has such a wafer thin story (practically nothing) resulting into a 90-minute film that lacks pace and content. Instead Ramu tries to fill -- and fails miserably -- this void by an overpowering background score.
Although the work with the camera is alright mere camera work cannot sustain a film! Every effort is made to try and scare -- in typical Varma style -- the audience with the background score.
The film is loosely strung together. The initial portions don't make much sense. There's a kidnap. A person in a resort is beaten up. Lakshmi Manchu is shown flexing her arms and beating up people. And then suddenly you see Ravi Theja and Charmi in the car in the next frame.
Sudhir (Ravi Theja) and Rani (Charmi) are travelling in an unknown area when their car breaks down. They find a dilapidated resort where they find strange people (Subbaraju, Supreet and Brahmaji). They are ushered in to a room where
they hear voices. They are told about a ghost. The whole place is pretty eerie and people's behaviour is also very weird. All that the audience get to see is these people walking up and down in the old place with loud background score trying to enhance the eeriness and create a scary atmosphere.
Characters like Narayanamurthy (Brahmanandam), Shiva (Lakshmi Manchu), Sunil, Prakash Raj enter the frame in this scene. So, one can imagine the hurly-burly situation.
The film is like a patchy jigsaw that Varma tries to arrange together to make sense of the happenings. Emphasis is laid on odd camera angles (which is Varma's forte) -- an attempt to pull attention towards it. There is hardly any story which is narrated here -- whatever is there is slipshod. It's just the movement of the characters in the precincts of resort. At times there is a feeling that everything is deliberately bizarre including the characters' peculiar behaviour.  Dialogues are repetitive to the point of ennui. Some of the camera angles, especially of Charmi, are unwarranted and awkward to watch.
Amar Mohile's background score initially is too overpowering but gets a little better towards the second half. Technically the film is okay. Ravi Theja (sporting a slightly different look with spectacles) does his job well. Charmi's dubbing of dialogues is annoying. Lakshmi Manchu impresses though the American twang in her dialogues is noticeable. Brahmanandam, Prakash Raj, Subbaraju, Supreet and Brahmaji do what is expected of them.
Ramgopal Varma may have done
Dongala Muta
to prove a point -- the use of Canon 5D and cost reduction. But the effort is disappointing sans a substantial script. Nobody wants to watch a film only for its technicalities.
Thankfully the length of
Dongala Muta
is only 90 minutes. Varma could have ensured a better narrative and film despite his experiment!
Rediff Ratings: