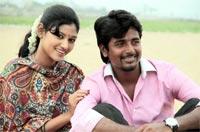 Pavithra Srinivasan feels that Tamil film Merina beautifully captures one of the the liveliest beaches in all of India.


With the classic
Pasanga
, Director Pandiraj proved just how much at home he was, in portraying the world, their imagination, and their trials and deepest desires. With Pasanga Productions'
Merina
, he comes back with an ensemble cast about the world's second longest beach, and the pride of Chennai -- the Merina Beach.
This time too, he delves a great deal into the world of children who make a living on the beach, but here, the hero is not them. It's the beach.
In choosing a place that thrives on people, their livelihoods emotions, loves and losses, Pandiraj has taken up a very fertile subject, indeed: you have a young boy (Ambikapathi) who runs away to Chennai and lands up on the beach, having taken the sights: a lonely beggar of a grandfather who turns out to have a sorrowful background, a group of gaggling "entrepreneurs" who each are forced to eke out a living selling water-packets, sundal or even the random conch, men who make a living out of horse-riding, flute-sellers, corn-vendors; you name it, the Merina Beach has it all. In the midst of it all is the couple in love as well -- one among the thousands who consider the beach their personal drawing-room and indulge in all manner of public displays of affection. Senthilnathan (Siva Karthikeyan) and Sopna Sundari (Oviya) are the epitome of a couple that has a mild romantic interlude, full of hilarious one-liners and quips.
Their lives intertwine with those of the vendors and the youngsters who sell random objects on the beach only peripherally; it's the boys themselves who grab your attention. They have their own world, which, though far from perfect and filled with the rubbish of the beach, has its ups and downs: one wishes to study, desperately; another wants to become an IAS officer; still others have their own dreams.
There's even a father-daughter couple that sings and dances to old movie songs. Together, they form a formidable raucous yet loveable team that does pull you into their life.
The dialogues ring true, and the cast has performed so naturally that you don't feel as though they are performers.
Merina
does have its minuses: the first half is brilliant and moves at a rapid pace; the second dithers a little, and tries to tie up all ends in an idealistic fashion, proving a happily-ever-after feel that rather clashes with the first, very realistic half. The romance track, while providing plenty of laughs, doesn't seem to fit in with the serious side.
But these are minor quibbles. Girish, debuting as music director, scores with the song
Vanakkam Vaazhavaikkum Chennai
(although the rest seem largely run-of-the-mill.). Cinematographer Vijay does a neat job as the camera weaves through the beach, documenting everyone's lives in a non-intrusive fashion.
Pandiraj's movie, although it slips and slides at places, is largely a faithful documentation of one of our country's liveliest beaches, as it showcases lives far removed from ours in a poignant fashion. Definitely worth a watch.
Rediff Rating: