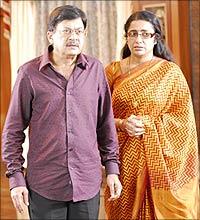 Shruti Indira Lakshminarayana reviews Matondu Maduvena!.  Post YOUR reviews here!

We learn best from our mistakes rather than from those of others. That's what director Dinesh Baboo wants to tell you in the Kannada film, Matondu Maduvena!, the sequel to his successful Eradane Maduve.

Without much fanfare and nach gaana, Vishwanath (Ananth Nag) and Malavika's (Suhasini) daughter Mridula (Priyanka) is shown getting married to her boyfriend Vivek (Naveen Krishna).
Even as you start feeling that Malavika and Vishwanath have set aside their differences (that ruled the roost in the prequel), the couple find a new problem to bicker over -- the inter-caste marriage of their daughter. Instead of helping the newly-weds settle in well, the two are seen tipping the bride and groom about how they should control each other.

Will the love that the new couple have for each other save them from marital discord and at the same time help set the lives of their suspecting elders right or will suspicion get the better off them?

Matondu Maduvena! is a family drama laced with humour. What else can you expect with Sharan and Ananth Nag at the helm of affairs? While the comedy works at most places, the film is not without scenes that look forced; especially a few between Sharan and Naveen Krishna were better off avoided. Not only do they eat into your time but also add very little to the plot.
Scenes between Umesh and Naveen also drag. The film confines itself to one song but the time it makes up by cutting out on songs is eaten up by forced comic situations.

The story is no new or unexpected but what makes it a tad bit different is the performance of Ananth Nag. He gets his comic timing right in every scene and doesn't overdo his emotional scenes either.

Sharan comes out with a good performance too.
Naveen Krishna strays from his comic side. He gets to play out varied emotions and does a decent job.

Suhasini plays her part with ease. Tara sprinkles humour every now and then. Raju Thalikote adds weight to the comedy brigand. Jeniffer Kotwal plays a cameo.

Matondu Maduvena! would have been more interesting if it was backed by a power-packed story. The prequel Eradane Maduve had, after all, set high standards.

Rediff Rating: