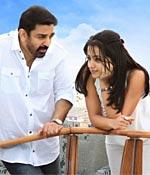 Pavithra Srinivasan reviews the Tamil album Manmadhan Ambu. Post YOUR reviews here!

Any Kamal Haasan movie generates an explosion of interest in the Tamil film world. Red Giant's Manmadhan Ambu (Cupid's Arrow), directed by K S Ravikumar, promises a romantic comedy fare that's bound to entertain. Added to the frothy mix is Devi Sri Prasad's music, and Haasan and Viveka's vocals. Here's a listen at what the album has to offer:

Rather melodious heartwarming violin strains lead to Haasan singing Neela Vaanam in his trademark voice, as Priya Hemesh accompanies him. The pace is slow, with a steady beat even as guitar strings play out a appealing melody. The charanam changes tack abruptly, shifting from one musical plane to another, making it a bit difficult to sink into it before morphing into a surprisingly operatic Pallandu. The first few lines are easily the best part of this soft and alluring song.

Manmadhan Ambu begins in standard DSP fashion. DSP introduces himself in a scratchy voice and signature tune. The "song" is actually more like a mishmash of rap and spouting of lyrics with just a smattering of a tune. Perfect for the dance floor.

What seems like something out of a 40s Broadway production wafts out even as Haasan takes over the reigns ably in Dhagidu Dhaththam, to launch into a curiously effectively mix of western rhythms and ethnic instruments. The lyrics seem philosophical. Quite catchy, this one, and one for the charts.

Yells of "Lights! Camera!" starts off Oyyale, as Suchithra, Mukesh and Karthik Kumar pitch in with the vocals. It's your typical folksy song, with all the kuthu overtones required, semi-erotic lyrics and thundering refrain. The charanam is a quirky mix of rapid words and fast-paced rhythms -- nothing new, but its swift and over before you tire of it.

It almost feels like you've stepped into a church choir, as something like the background music of the 50s and 60s begins. Trisha's rather deep voice begins a recitation of all the sentiments and emotions a woman in lust (and love) might go through -- the disappointments, the sarcasm and a certain fatalism about how the world perceives her. She then challenges Haasan to come up with a poem in return, Kamal Kavithai, and he launches into what must possibly be the most emotional and heartfelt prayer of a young woman in search of the perfect husband in recent times. It touches all the right notes and brings a smile to your lips. This is after all what love and commitment is really about but it's the end that really catches you off-guard. Score one for the poet.

More Broadway-esque music and this time, its Andrea Jeremiah who picks up the vocals with Who's the Hero? She does a neat job of it; her voice suits the number. The finale is particularly peppy, ending in a crescendo that's enervating.
Manmadhan Ambu's theme music is perhaps, not surprisingly, a melodious blend of angsty violins, choruses and strumming beats interspersed with DSP's signature violin strains; some of it youthful, others sober. Its short, swift and you wish it was longer.
DSP has a reputation for sticking with his regulation format of tunes and here too, you can see it pop up at certain places but there's also a departure from the usual, mostly an influence of Haasan in both lyrics and music. Whatever the reason, the end result is an album that provides you a treat. Go for it.
Rediff Rating: