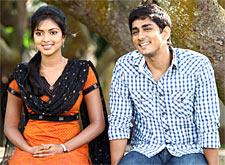 Radhika Rajamani feels Love Failure is an urbane and contemporary take on the subject of love.
Love Failure
isn't one of those run-of-the-mill candyfloss romances we have seen all too often. It is well written and talks about love and failure in the context of life today. It gives an urbane, contemporary and realistic take on the subject.
The story is told in a slightly new format through the main character, Arun (Siddharth), who speaks directly into the camera. With a modest budget, director Balaji Mohan has produced a good film technically, and his script is simple yet meaningful.
There's some fine music by S S Thaman and excellent cinematography by Nirav Shah.
Arun (Siddharth) and Parvathi (Amala Paul) fall in love while studying in an engineering college. But they realise that it takes quite a bit to keep the relationship going. Parvathi demands a lot of Arun's time. To meet her, he has to give up playing frisbee. There are many small squabbles like this and other minor issues. Eventually they separate and try to find reasons for doing so.
This love story is just one of many the film touches on. One is of Parvathi's parents (played by Suresh and Surekha Vani) who had a love marriage but are on the brink of a divorce. There are other love stories of friends too.
As Arun narrates the sequence of events, the film goes
back and forth as characters are introduced. This narrative technique of talking directly into the camera is quite novel but effective. It is well shot by Nirav Shah.
The film is heavily dialogue-driven, which can get a little stifling at times. The pace slackens a little in the second half, but otherwise, the interest and momentum is maintained most of the time. 
A definite negative is what looks like a gender bias against women. Generalisations are made about women's behaviour through the character of Parvathi, who is portrayed as an eccentric, and it's made out that men don't have these characteristics. And using the metaphor of a waterfall for tears is a definite no-no.
Siddharth is the heart and soul of the movie besides the writer-director Balaji Mohan and director of photography Nirav Shah. The actor looks young and hugely believable and carries off his role in a realistic way.
Amala Paul made a perfect pair with Siddharth and was able to stand on her own too. Surekha Vani and Suresh make their presence felt.
Love Failure
is essentially a multiplex film in that youth from urban areas will relate to it much more. Balaji Mohan makes a good debut. Siddharth, Nirav Shah and Sashikanth should be complimented for making a film like this out of a short film originally posted on the Internet by the director.
Rediff Rating: