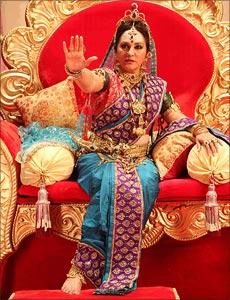 Kannada film Krantiveera Sangolli Rayanna lives up to expectations, writes Srikanth Srinivasa.
After missing many dates and deadlines, this much-awaited historical biopic has got a befitting thunderous opening on Kannada Rajyotsava Day, today.
Krantiveera Sangolli Rayanna
directed by Naganna, which is also one of the costliest Kannada films ever made in the history for its grandeur and production values, has lived up to its expectation despite a few flaws.
Historical films require a different thinking in terms of creating the ambience and period so as to give it an authentic feel. There are some missing chinks in this film although the film carries a lot of vigour and energy in the form of performances from Darshan and Jayaprada.
The film is based on Rayanna's story who is the army chief of Kittur in Rani Chennamma's kingdom. The film starts with Chennamma raising a banner of revolt against the British as she refuses to pay tax to the British government. The British get slighted over Chennamma and they decide to attack Kittur with all their might. Rayanna awaits orders from his queen mother to attack but is forced to keep mum until the British launch an attack. The British get defeated in the battle that follows.
In a bid to avenge the defeat, the British plan another attack and by deceit they capture Kittur and Chennamma. The queen is taken in as a prisoner of war and thus Rayanna is also held. Soon after Rayanna is out, he begins to build his own army with all and sundry to recapture Kittur and reinstall Chennamma on the throne.
The British play a foul game in conveying to Chennamma that Rayanna is killed. Chennamma is unable to believe but the British provide her with a concocted proof. Chennamma breathes her last in the prison. Chennamma's death puts paid to Rayanna's struggle to build an army to fight the British. But his friends and erstwhile force him to change his mind.
The uprising against the British rule begins as Rayanna goes about destroying the British camps with his skill as a guerilla fighter. As usual the British devise a divide and rule policy in fixing Rayanna. What happens to Rayanna? Does he succeed in fighting the British? Does Rayanna giving a fitting reply to the British? This is revealed towards the end.
Darshan has delivered a power-packed performance from the word go. He has truly lived up to the role of a patriotic warrior who stirs the emotions of his villagers. Nikitha Thukral who plays Mallamma and Rayanna's love interest disappears after a song and dance sequence never to return in the second half. She is completely forgotten and her absence is not justified in any way.
Jayaprada delivers a forceful performance. Umashri shines in the role of Rayanna's mother. Shashi Kumar as Rayanna's trusted lieutenant has done well.
Yashovardhan's music is a let-down although the background score is good. Ramesh Babu's camera work is good especially in the war scenes. The war scenes have been shot well in Rajasthan.
The climax is quite touching and it appeals to your patriotic motives. Though director Naganna could have done away with at least 25 -30 minutes of footage, it still manages to keep you engaged which is quite an achievement. There are a few flaws in documenting the period.
Krantiveera Sangolli Rayanna is a must-see film for all. Rarely do historical films get made and this is a rare opportunity for people of this generation to watch such a movie.
Rediff Rating: