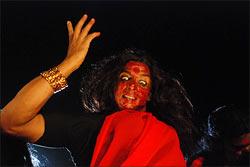 Kannada film Kalpana makes for a good watch, writes Srikanth Srinivasa
Kannada film
Kalpana
starring Upendra and directed by veteran Ramnarayan is the remake of the Tamil horror comedy
Kanchana
.
Raghava (Upendra) is a fun-loving youngster who enjoys playing cricket with his friends. But at night he is afraid of ghosts and is always confined to his home under the care of his mother (Umashri) with whom he sleeps. She also accompanies him to the toilet. His brother (Achyuth Rao), sister-in-law (Shruthi) and their children live together in the same house.
When Raghava and his friends go in search of another ground to play cricket, they find an abandoned field, which, it turns out, is haunted.
At home, his mother and sister-in-law witness some strange happenings. With the help of a temple priest, they confirm the presence of a ghostly spirit haunting their home.
Raghava begins to act funny and shows effeminate behaviour which is when the presence of the ghost is identified.
The film goes on to unravel the mystery of the ghostly Kalpana and her relationship with Raghava.
Upendra takes some time to warm up but soon gets under the skin of the character and acts well as a possessed man. The last scenes in the movie show his prowess and are impressive.
Shruthi as the sister-in-law is superb. Umashri is good in some portions but tends to overact. Achyuth Rao is good. Lakshmi Rai has limited scope. Saikumar, who enacts the part of a transgender, surprises with his superb body language and dialogue delivery.
The music by Harikrishna is adequate.
If you like horror films you may like this.
Rediff Rating: