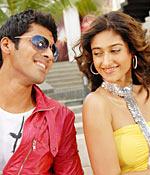 Shruti Indira Lakshminarayana reviews the Kannada movie Huduga Hudugi. Post YOUR reviews here.


Director Indrajit Lankesh makes a comeback after a three-year hiatus with
Huduga Hudugi
, a romantic comedy set in a TV station.
Sachin (Dhyan) and Sonia (Lekha Washington) are co-hosts of a popular TV show. Their '
hum-tum'
attitude not only gets the TRPs of the channel soaring but also makes them a household name. It is in fact Sonia's screen image that fetches her a marriage proposal from a business family. Sonia agrees instantly but the guy rejects her due to her ordinary looks.
Sachin, sensing her disappointment steps in to help her undergo a makeover. She manages to look like a trophy wife. But then is Sonia making the right choice?
Huduga Hudugi
no doubt brings out a fresh pairing in Dhyan and Lekha, but there is no newness in the story which generously borrows from several popular Hindi and English rom-coms.
Be it the scene where the heroine suddenly becomes aware of an engagement ring while dancing in the rain with her 'close friend'--
Kuch Kuch hota Hain
style; a mall hijack sequence where the fiance stands mute spectator while the friend jumps in to rescue the heroine or the one in which the heroine says how she has noticed five different smiles in her 'friend'... the film is peppered with been there done that incidents. In fact the film is also heavily inspired by Gerard Butler starrer
The Ugly Truth
. 
As shown in the posters and trailers, there is a lot of oomph factor. With
huduga
Dhyan, there are four other
hudugis
barring Lekha.
While Sada is limited to a short flashback and a duet sung on pristine Goan beaches, there is Ileana, who appears in a special song looking as stunning as ever. Sanjana is seen in a small role while Bianca has to her credit an item song. Anita, who was seen in
Veera Kannadiga
has also done a minuscule role. A bunch of foreign models also find place alongside these ladies. They specifically hog limelight in a forced song in which the director also shakes a leg. Dhyan and Lekha get majority of the screen space and could have definitely used it for better performances. 
The songs are catchy and comedy by Sharan and Rangayana Raghu stand out. Raghu does a good job with his Shankar Nag act. Suchendra Prasad carries his role as a TV anchor with ease. The film takes a dig at several popular tv programmes and hosts, but at the same time leaves enough scope for the media to pick out its flaws.
The 'ugly truth' about
Huduga Hudugi
is that it is a collage of several mushy movies. There is nothing new even for the die-hard romantics.
Rediff Rating: