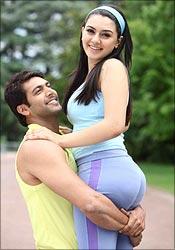 Pavithra Srinivasan reviews Tamil film Engeyum Kaadhal. Post YOUR reviews here!

There are several plusses to the romantically titled Engeyum Kaadhal (Love Everywhere), produced by AGS Entertainment and directed by Prabhu Deva.

The first of which, undoubtedly, is the scintillating location: Paris. Nirav Shah's camera-work is brilliant, capturing the colours in a way that thrills everyone.

Another advantage is Nalini Sriram's pretty costumes that show off the leads in a very favourable light.

Editor Anthony shows his skill, while Harris Jeyaraj's foot-tapping numbers, already chartbusters, have been picturized very well.

The minus: the story is practically non-existent.
This means that in the place of an engaging screenplay, you've got to fill approximately two-and-half hours with plenty of gimmicks. Like director Prabhu Deva himself making a guest appearance, singing Engeyum Kaadhal along the streets of Paris, with couples kissing each other every two seconds. You also have Prakash Raj with no real role whatsoever except to give the director his call-sheet dates.
You have perky, bubbly, enthusiastic Kayalvizhi aka Kayal (Hansika Motwani), resident of Paris, a music college student who plays the cello on the streets to help the infirm, speaks with a baby voice to her father, private detective Rajasekhar (Suman).
One fine day, she sees multi-billionaire Indian businessman Kamal (Jayam Ravi) on the streets, waltzing with gorgeous women and instantly falls for him. It's love at first sight.
Kamal has no time for love; he believes in working hard for 11 months at home (which we're shown in two seconds) and then spends a month in Paris with women of his choice.
Kayal, of course, is a diehard romantic, bent on getting Kamal to fall in love with her.
Director Prabhu Deva makes his mark with his usual humorous touches, and brings some comic relief. Raju Sundaram provides some laugh-out-loud moments too, but his track is almost completely disconnected from the story.
There are no villains, no twists and turns, not even brilliant dialogues. Such stories do work, but you need a lot more than just love for that. Here, you have nothing to distract yourself with but beautiful Paris (which is a character in itself), and Hansika's pretty dresses. She does look angelic at moments, courtesy the camera and exotic locales. Her voice, though (dubbed by Savitha), does her no favours.
Jayam Ravi is much more the boy-next-door rather than a Casanova, and his effort to appear a ladies-man looks strained at times. Still, he does try his best. In this case, it's not the fault of the leads, but the lack of a story, that works against them.
The climax is a joke. 
Engeyum Kaadhal is one of those movies that promises a lot, but delivers little. Watch the film only if you're in the mood for arm-chair travel to Paris and foot-tapping music.
Rediff Rating: