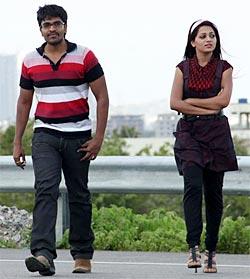 A more holistic treatment of the subject would have made Telugu film Ee Rojullo better, writes Radhika Rajamani.
Ee Rojullo
has new faces, is made on a low budget (with almost the same spent on promotion), and tackles the subject of, what else, but love.
Director Maruthi has made an earnest effort at making this seem like a whiff of fresh air in terms of treatment and has definitely played to the young crowds. However, it still looks like an amateurish effort.
Sree (Srinivas) and Shreya (Reshma) have each been jilted and so are averse to the other sex. While Sree's girlfriend Rajni takes him on a ride making him spend all his money and later shifts her attention to another boy, Shreya's friend Kishore stalks her and she loses trust in friendship.
Both vow not to fall in love again and waste their time. They
get friendly with each other and soon cannot be without each other. They prefer not to give a name to this relationship.
Then, of course, circumstances arise where they can't meet.
The writing seems to generalise a lot and some more attention and a holistic approach to the subject may have improved matters. There are quite a few double entendres that seem to have escaped the censors.
Technically the film seems fine even though it was shot on Canon 5 D (compared to the disastrous
Dongala Mutha
). The camera work and music are the highlights and it doesn't give the impression of being shot on 5D.
Sree and Reshma were just about okay. Sai, who acts as Sree's friend, is worthy of mention. M S Narayana in a cameo didn't make much difference to the film.
Perhaps a youthful subject like
Ee Rojullo
may go down well with urban youngsters.
Rediff rating: