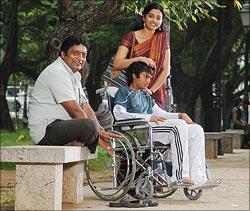 Pavithra Srinivasan feels Dhoni is a realistic film.
It's a treat to watch films that move away from showcasing unrealistic situations and people, to something that focuses almost exclusively on the travails of the middle class man who struggles to make ends meet, feed his children, educate them and try to make their dreams comes true.
Said to be a remake of the Marathi film
Shikshanachya Aaicha Gho
, directed by Mahesh Manjrekar, Duet Movies'
Dhoni
, actor Prakashraj's directorial debut in Tamil, manages to tick all the right boxes, most of the time.
You would be forgiven for thinking that the movie is about a would-be cricketer's dreams of becoming another Mahinder Singh Dhoni, but it's actually more about the journey of the boy's father.
Subramaniam (Prakashraj), a widower, works in a registrar's office and lives a hand-to-mouth existence selling pickles on the side to make sure his two kids get a good education. 
While his daughter is devoted to her studies, son Karthik (Akash Puri) is interested in only one thing: cricket consumes his whole life and Dhoni is his god.
Subramaniam or Subbu, tries to change this. His friends and neighbours watch his efforts, including the pretty Nalini (Radhika Apte), whose help Subbu doesn't want at all for various reasons.
The more Subbu tries to din it into Karthik's head that he must study, the more Karthik rebels, aided by his coach (Nasser) who insists that he is supremely talented. With the board exams looming, his school obviously doesn't think so.
Matters escalate but Subbu is finally forced to realise that what he wants for his son may not necessarily
be the best thing for the boy given the pitfalls of the preset education system.
Along the way, he also meets several people who turn out to be a godsend--even the irate Ghani Bhai (Murali Sharma), the moneylender.
Prakashraj excels in the fast-paced first half, pouring emotions, humour and embarrassment into every situation, from buying vegetables, wandering around wearing a helmet, and begging his son's school principal to give him another chance.
He brings the slightly rotund, hapless, middle class man to life as he harangues against an education system that will not let his child excel in what he wants.
The minus, if anything, is that he is very much the same as he has been in every movie before this, and offers nothing new. Akash Puri fits the bill.
Radhika Apte is very pretty but more than that, she brings a vulnerability to her role that is very convincing. Murali Sharma is great to watch, with his hilarious and emotional turns.
Ilaiyaraja's music is gentle and unobtrusive, and although it doesn't rise to great heights,
Vaangum Panathukkum
is a nice touch (with Prabhudeva in a cameo).
K V Guhan's cinematography is an added bonus, while Kishore Te's editing makes sure the pacing stays right.
Prakashraj certainly hits the right notes: his dialogues are meaningful, and the screenplay has few dull moments.
The second half gets slightly tedious with its platitudes and overt emotion and the very predictable turn of events but maybe that's inevitable in a feel-good movie.
Dhoni
is definitely worth a watch.
Rediff Rating
: