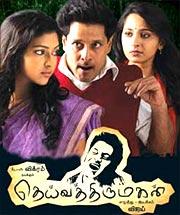 Pavithra Srinivasan reviews the Tamil album, Deiva Thirumagan.
Post YOUR reviews here!
Mohan Natarajan's Deiva Thirumagan (The Son of God), directed by A L Vijay, stars Vikram, Anushka Shetty and Amala Paul. G V Prakash scores the music while Na Muthukumar has penned the lyrics.
Let's have a look at what the album has to offer:

"Kadha Solla Poren," says Vikram and a child asks for the story, and the song begins in a recital fashion to the accompaniment of guitar strings. Vikram's voice is fluid here, as he intersperses conversation and song with ease. As far as melodies go, this one's perhaps not brilliant but the lyrics provide some spice.

Piano notes start Vizhigalil oru Vaanavil, and Saindhavi starts off the number slow and smooth. She maintains a low, breathy tone that is pleasing. The notes have an eternal appeal as they mix gentle sorrow with affection. The pace is steady, and the appeal continues in the charanam as well. This is one of those numbers whose every variation you've heard and yet it manages to captivate you.

Pa Pa Pappa starts off with bird sounds and a whistle, an enthusiastic beginning. This time too, it's Vikram who does the honours, and he manages to bring a child in front of your eyes, with his quavering and slightly off-key voice. There's a proliferation of a flute's notes and a simple beat that gives importance to the vocals. The song shifts from a nursery-esque feel to a tribal setting, but returns to a child's voice soon.

The beginning of Vennilave turns out to be somewhat somber, and it's G V Prakash who holds the vocal reins. In keeping with his uncle, A R Rahman's tradition, he manages to throw his voice high and low. The background instrumental score is almost austere, and it adds some depth to the song. And you're reminded of Yaar Yaar Sivam, from Anbe Sivam.

Jagada Dhom begins in quite a different fashion from the rest: a burst of synthesized music, S P B's strong voice lifted to the high heavens, while Maya and Rajesh add accompaniment. It's set to the mandatory template of win-at-all-cost songs, and has such a strong whiff of Lagaan's Chale Chalo that you start humming the original despite yourself.

A melodious piano piece begins Aariro, with a touch of angst; Haricharan sings in a soothing voice even as he touches high and low notes with ease. The pace rises and falls, taking you along with it. The song, undoubtedly, celebrates a unique relationship and while the first few lines of the charanam aren't all that inspiring, the song regains its appeal in the last couple of lines with the piano accompaniment. The flute plays a large part during the second interlude, and it traverses a familiar musical landscape. Ignoring these minor quirks, though, this is quite a moving piece.

Life Is Beautiful has all the haunting beauty of the Scottish highlands even as Kalyan and Navin Iyer whistle their way gently through the beginning. The violin segment, though it may hold no surprises for lovers of western music, is very appealing. Obviously the theme music, it tugs your heart-strings. A short but melodious track.

Deiva Thirumagan has numbers that fit in, almost formulaic fashion, with the angst and emotion that's required of a movie like this. The good thing is that G V Prakash, despite going with tried and trusted tunes, manages to make them melodious and touching. Go for it.
Rediff Rating: