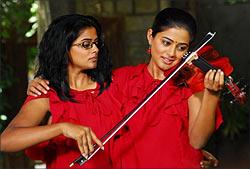 Kannada film Chaarulatha is Priya Mani's show all the way, writes Srikanth Srinivasa
A film on conjoined twins is perhaps the first attempt in Indian cinema.
Chaarulatha
, a film inspired from the Thai film
Alone
, is directed by P Kumar. Dwarakish has produced the film in association with GlobalOne Studios.
The film starts with Charu flying down to Mangalore from Kashmir to see her ailing mother. She is coming back to the bungalow where she spent her childhood with her twin sister and that is where her past begins to haunt her.
She begins to feel the presence of her dead twin sister everywhere in the bungalow. She seeks the help of a psychiatrist and her boyfriend to unravel her feelings.
Flashbacks reveal what led to the separation of the two sisters and how the twin died.
Charu and Latha (Priya Mani) were conjoined twins, joined together at the abdomen. Both were keen to learn to play the violin but the teacher refuses to take them because of their 'deformity'.
The sisters surprise the crowd when they play the violin in sync for a tough notation. 
Ravi (Skanda), an artist, falls for one of the sisters. The other one doesn't accept this and tries to keep them apart.
How they work out this issue -- or don't -- how they get separated and how one of them dies is revealed as the film progresses.
The narrative has some surprises. The first half is breezy, but the second half falls short of expectation.
Director P Kumar should have shown how the sisters bonded from the beginning so that the climax scenes were more credible.
It is here that
Chaarulatha
lacks the emotional content. The film also does not show the predicament of the mother (Sharanya) who offers unconditional love to her little girls.
There are no dialogues in the early part except for an emotional song that signifies the bonding.
Sundar C Babu's background score is loud, sometimes louder than the dialogue. The violin scene is simply brilliant. The song does evoke emotions.
It is Priya Mani's show all the way. The national award winning actress proves herself again with a brilliant performance.
Debutant Skanda is a good find. Sharanya as the mother has a limited role, which could have been expanded given the importance of the subject.   
Panneer  Selvam's cinematography is good.
Chaarulatha
is a brilliant film that could have been more emotionally appealing, but watch it for Priya Mani.
Rediff Rating: