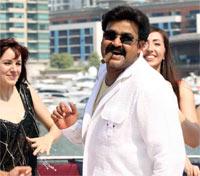 Paresh C Palicha feels that Malyalam film Casanovva is a tedious watch.
There was a time, not in the very distant past, when Malayalam cinema was admired  for its content. Anyone familiar with it was sure that there would be some substance in the films even if there was bare minimum use of technology or razzmatazz.
But lately, there has been a general fall in standard and the industry is struggling to keep pace with the expensive technological advancement all around. Malayalam filmmakers have started borrowing content from other languages in order to pull crowds to the theatres.
We see the same trend being followed in
Casanovva
, touted as the most expensive film made in Malayalam and directed by Rosshan Andrrews, written by Bobby-Sanjay with Mohanlal in the lead. The concept of this film is heavily borrowed from the
Dhoom
series in Hindi, which itself was criticised for giving importance to style over substance.
There is no denying that the expenses are justified by showing off exotic locales, the costliest automobiles, chartered planes and helicopters, technical wizardry and what not. But, the question that bothers us the most is, what about the story?
Casanovva
(Mohanlal), as the name suggests, is a serial womaniser. A super rich flower trader dealing with exquisite flowers, he has women of every colour, creed and nationality drooling over him (you won't get any answers if you wonder how or why).
The story is basically about a gang of sophisticated robbers with dazzling acrobatic skills that they put on display for the first few minutes of the film. That is not all though, the gang has none other than the Interpol (represented by Riyas Khan) on its tail and somehow,
Casanovva
too is inquisitive about this gang and sets out to trap them.
Because of its odd narrative style, the film turns out to be tedious despite a little over two hours of real time. Even the supposedly adrenaline-pumping premise is stretched to such an extent that calling it disappointing would be a gross understatement.
Rosshan Andrrews, the blue-eyed boy of the industry who is desperately looking for a saviour, had claimed that this would be one of best roles essayed by Mohanlal. He needs to be reminded that Mohanlal has done over three hundred films and this role does not demand much from him and yet he is the reason why one would recommend this film to others.
Out of the four ladies, Shriya Saran, Lakshmi Roma and Sanjana seem to be clueless as to what they are supposed to do in the film.
Of the supporting cast; Jagathy Sreekumar as Luka, the secretary of
Casanovva
gets a role that requires him to be subdued for a change. Lalu Alex in a cameo as a snooping photographer and the dad of Casanovva's ladylove makes his presence felt.
As for the gang of thieves that consists of four newcomers -- Abhishek, Shamsi, Arjun and Vikram -- they will probably learn in due time that acting is more than making faces on the screen and jumping off multi-storey buildings. To put it mildly,
Casanovva
disappoints big time.
Rediff Rating
: