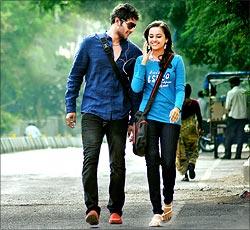 Radhika Rajamani is an urban film targeted at youngsters.
Director Maruthi's second Telugu film Bus Stop, like his first Ee Rojullo, is about love and relationships.
Maruthi draws his inspiration from the young. His films are a contemporary slice of life and mostly urban in nature. The issues and treatment appeal to the target audience of young people.  
Bus Stop is shot with a Canon 5D like Ee Rojullo.
There is some vulgar language and scenes, and the film technique is a little crude.
The film explores the love life of four people and their relationships with their parents.
Seenu (Prince) falls in love with fellow student Shailu (Sri Divya). Muthu (Saikumar Pampana), the son of a food vendor, is busy changing girls like he changes his sim-cards.
Seema (Haasika) is flooded with gifts by a boy who loves her but she loves another guy Raja.
 And the fourth girl has a father who is friendly, understanding and open to today's culture and lifestyle.
Maruthi's films may be different from the usual formula film but they are unpalatable and unsavoury (cyber crime in the bathroom, unwanted pregnancy, lewd dialogues).
The extremes of behaviour are a bit difficult to take in, particularly the depiction of the parents ganging up together to destroy the love lives of their children, which is shown through a song.
The humour is provided by Muthu and his sim-card characters.
The second half is heavy on emotion and is serious compared to the light-hearted first half. The parent-child relationship is constantly stressed.
The ensemble casting of young actors and parents carry the show well in terms of acting. This is Prince's second film and he gives a good performance.
Sri Divya keeps him good company and is quite enthusiastic. Hasika is good in her role too. Muralikrishna, Rao Ramesh and the others who play the parents put in a commendable performance.
Bus Stop is an urban take on what love means to different people—just time-pass or a commitment or just fun. Whatever it is, the urban youth could connect with Bus Stop.
Rediff Rating: