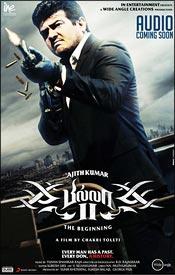 Pavithra Srinivasan says Billa 2 is stylish and has Ajith as its sole shining star.
Superficially,
Billa 2
, the most anticipated movie of the year and prequel to the blockbuster
Billa
(2007), satisfies the mandates of the franchise: a suave Ajith in suit, with guns, girls and foreign locales.
But does this Wide Angle Creations/In Entertainment production, directed by Chakri Toleti make for a worthwhile successor, and provide a fantastic viewing experience? Well, that's open to debate.
The first 30 minutes get kick off with a bang. A bloodied and ragged David Billa (Ajith), stabbed in multiple places and held down by half a dozen goons, mutters his now iconic dialogue about being chiseled by himself in every way. He then suddenly sits up, stabs everyone and everything with incredible style and panache, and the saga of Billa proper begins.
The opening credits tell his story from childhood in pictures, a fairly riveting sequence.
And then, we reach his guns, girls, more guns adulthood, as a refugee in Tamil Nadu where he swiftly establishes himself as someone who is not afraid of either violence or those who instigate it.
From there, it's a very small step to working for gangsters. Armed with his loyal friend Ranjith (Yog Japee), Billa moves steadily from one gang to another, starting with Abbasi (Sudanshu Pandey) and finally to arms-dealer Dmitri (Vidyut Jamwal), before ascending the gangster throne himself.
Two women also walk into his life: Jasmine (Parvathy Omanakkuttan) and Sameera (Bruna Abdullah). The less said about them, the better.
This is all well and good. It's the methods he uses to attain his ends that bore you to death. The guns, girls, more guns, and punchy dialogues ("Losers are terrorists; winners are revolutionaries") may be intriguing in the beginning, but it soon descends into tedium as Billa defeats one vicious gang after another with nothing but his fists, and sometimes a tiny knife or a gun.
Each encounter is fraught with danger with hundreds of armed guards ranged against him, but he wins every encounter, striding stylishly through hail, flames, crashing buildings and hundreds of bullets, with barely a scratch.  Vanquishing ten goons with one swipe of his hand and getting just a stab wound in return is all in a day's work.
Ajith, however, has the Billa charm. His mature looks work in his favour as he builds his crime empire; his strong, taciturn, cold features give you no glimpse of the man underneath. It's a role Ajith has performed well before too.
For a film that's supposed to document the making of the don of all dons, there are no striking insights into his character, which is a major let-down.
Of the two ladies, Parvathy Omanakkuttan is demure, while Bruna Abdullah provides the glamour with her bikinis. Neither has anything to do, however.
Numerous secondary characters arrive and vanish without a trace. Even the chief villains are cardboard cut-outs.
If there's anyone who has poured their heart and soul into the film, it's the stunt crew, and the SFX team. The stunts are a joy to watch, while the SFX team transforms the gangster Billa into a faintly James Bond figure armed with, what else, but more guns and girls.
Yuvan Shankar Raja carries on ably with his signature score, and his
Yedho Mayakkam
is a pleasant listen.
R D Rajasekhar does some slick camera work and the foreign locales are bewitching.
Suresh Urs has edited like a professional.
Billa 2
however doesn't capitalise on all these plus points. Chakri Toleti's screenplay turns the hero into the formulaic figure of the '60s, where he's a demi-god and pretty much no one can touch him. The only difference is that here, Billa is supposedly a villain.
Billa 2
is stylishly shot, and Ajith carries the film on his shoulders, but that's all there is to it. When it comes to screenplay, logical plots and characterisation, it fails to meet expectations.
Rediff Rating: