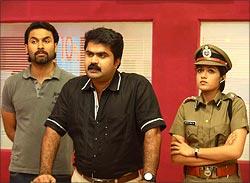 Paresh C Palicha says that a group of young actors led by Anoop Menon fails to click with the audience in Banking Hours 10 to 4.
Malayalam cinema is said to be on the path of a revival as young actors, writers and directors experiment with themes and presentation.
Veteran director K Madhu's new film
Banking Hours 10 to 4
has new writers Sumesh and Amal, and a group of young actors led by Anoop Menon, but the movie doesn't quite click. In fact, it is a reworking of his successful CBI series with Mammootty as Sethuraman Iyer.
The story is set in a bank. A bunch of youngsters are planning a heist in a modern-day bank, but the suspense lies in that they do not reveal the mastermind of their plan—we just know that he will be there at the appointed hour.
At the appointed hour, we see at least half-a-dozen people strolling aimlessly as the would-be culprits. The would-be culprits are waiting for the manager to open the vault. A security guard and the receptionist are shown flirting, and then some more time is taken to show us the back story of every person present there. We are even privy to information that a couple of CC TV cameras are not working. By the end of the first half, one of the customers gets killed when the power goes off for a few seconds (so much for a high-tech new- age bank).
In the second half, the police team led by Anoop Menon and two commandos (Jishnu and Tini Tom)
reach the bank to stop the robbery and also probe the murder.
They want to find the murderer within the working hours of the bank, their logic (however illogical) being that they may lose the real criminal if they delay further.
Along the way the story takes in a doomed love affair, the abuse of cell phones, clicking pictures of females in odd positions…
Yes, there are moments when you connect with the characters, as when Anoop Menon says, "This is turning out to be baffling by the minute." The audience couldn't agree more!
Anoop Menon gets most on-screen time and does most of the talking, which is peppered with some exotic English.
Jishnu has to maintain an intense look without wasting too many words, and the hard work shows on his face. Tini Tom has to indulge in silly talk with all and sundry, and elicit a few guffaws from the viewers.
A clean shaven Asokan has been given a similar task acting as a priest. The other actors that include veteran Shankar seem to be there just to crowd the place and howl whenever needed.
All seen and suffered, it feels like the couple of hours spent on
Banking Hours 10 to 4
was a waste of time.
Rediff Rating: