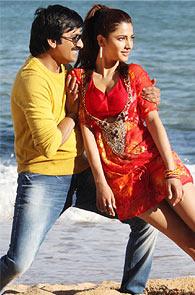 Radhika Rajamani says Ravi Teja and Shruti Haasan starrer Balupu follows a tired old formula and offers nothing new.

Director Gopichand Malineni teams up with Ravi Teja for Balupu after Don Seenu which came out a few years ago. Balupu like most mainstream commercial cinema has the same formula of action, romance, comedy and the mandatory songs, re-churned.

Ravi (Ravi Teja) works in the loan recovery department of a bank. His father (Prakash Raj) is hunting for a bride for him. When his friend (played by Rajesh) is cheated by Shruti (Shruti Haasan) Ravi decides to teach her a lesson.

Shruthi along with her uncle Crazy Mohan (Brahmanandam) embark on a crazy ride to con others and in that, they deceive Rajesh.

Shruti is actually engaged to be married to Sesh Adivi. But Ravi and Shruti fall in love. There is another parallel track of Poorna (Ashutosh Rana) on the hunt for two people – Shankar and Nanaji.

In the second half the film rewinds to a flashback which establishes who they are.

Since the formula the director uses is time tested, there isn't much he can do except some small variations in characterisation or orchestration of action
sequences and songs.
The first half of the film is somewhat entertaining with Brahmanandam and Shruti's antics. The second half drags and is largely predictable.
The dialogues induce a few laughs here and there. Some of the lines have punch, but there are double-entendres too. The violence is rather heavy.
The new element in the film are the two songs shot in Portugal (
Balupu
is the first Telugu film to be shot there). And there's Lakshmi Rai too doing an item number!
For Ravi Teja, such roles are a cakewalk. In
Balupu,
he sails through effortlessly yet again but in a more subdued manner. Comedy is his forte but he has excelled in action too.
Prakash Raj too plays a role that is easy for an actor like him. Brahmanandam tickles the funny bone quite a bit as Crazy Mohan.
Shruti Haasan ups the oomph factor with her stylish costumes and has given a good performance. Anjali could have got more screen time and therefore seems a bit wasted in the short role.
Technically, the movie, produced by PVP Cinemas, is pretty sound with fairly lavish production values.
On the whole,
Balupu
is the regular pot-boiler offering nothing new.
Rediff Rating: