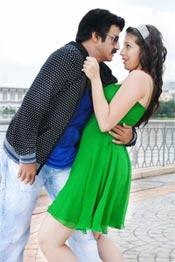 Radhika Rajamani says Adinayakudu the film looks like a kitschy mosaic.
The much delayed
Adinayakudu,
which finally released today, stars Nandamuri Balakrishna (Balayya as he is known) in a triple role and is directed by Parachuri Murali.
The film is unabashedly about Balayya, who is the centre of it and calls all the shots. His fans will love it, but others will find this hackneyed theme of good versus evil, or a man fighting for the betterment of his people, less than appealing.
Director Parachuri Murali shows a spark occasionally and has given some punchy dialogues. But on the whole, the film is gruesomely violent, tedious in terms of length, with an unimaginative plot and is technically below par.
At some points one felt the director was not certain what he wanted to do or tell.
The story is set in Rayalaseema where politics and factionalism are intertwined. Bobby (Balayya), a professional killer, goes about killing wrong-doers, including a minister, and gets away scot-free.
He comes to know that he belongs to the family of Ramakrishna Prasad (Balayya) who is revered in the village as a good samaritan.
Ramakrishna's father, Harish Chandra Prasad (Balayya), was a respected elder who entered politics but fell prey to the evil schemes of the villains (Pradeep Rawat and Kota Srinivasa Rao) before his proposed steel plant with foreign collaboration took off.
The villains gun for Ramakrishna Prasad, and later, when Bobby joins him in the village, there is a twist in the tale.
When Bobby is not involved in ghastly violence he romances Deepti (Lakshmi Rai).

For the rest of the time he mouths hard-hitting dialogues, much to the delight of his fans, gyrates with the sensual Lakshmi Rai, much to the delight of the front-benchers, and indulges in horrific violence all in the name of doing good.

The plot is unexciting, the twists predictable. The villains don't really look menacing and the dances are pretty tacky.

Balayya does justice to his triple roles in his characteristic style. The lissom Lakshmi Rai just has to look sensuous. Saloni has such a bit-sized role that she's almost wasted in the film.

Brahmanandam provides relief in his comic acts. Jayasudha (who plays Harish Chandra Prasad's wife) leaves her mark. Pradeep Rawat, Kota Srinivasa Rao, Murali Sharma (who plays a cop), and Rahman do what is expected of them.

Nothing stands out in the cinematography or editing. On the whole the film looks like a kitschy mosaic. Watch the film if you are a fan.


Rediff Rating: