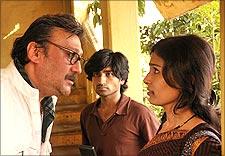 Pavithra Srinivasan says Aaranya Kaandam is entertaining. Post YOUR reviews here!
Yes, it's a gangster flick. And yes, it's set against the brutal and largely rubbish-filled background of the dirtiest parts of Chennai. Capital Film Works'
Aaranya Kaandam
, directed by debutant Thiagarajan Kumara Raja, bypasses all the gangster clichés and delivers a movie that is entertaining even if the pace does dip and rise at places.
The film won the Grand Jury Award for Best Film at the South Asian International Film Festival.
This is the story, essentially of a Godfather-esque drug-lord, Singamperumal (Jackie Shroff), as scruffy and impotent as they come yet his long, dangerous "career" keeps his men, their knives, guns and various gangster paraphernalia in check. His mistress Subbu (Yasmin Ponnappa) bemoans her fate with the similarly timid Sappai (Ravi Krishna) so named because he's incapable, literally, of anything. Sappai is ribbed and teased by Singamperumal's underlings mercilessly, and is also trusted with Subbu's well-being for the same reason.
Meantime, there's Pasupathy (Sampath Raj), Sngamperumal's sub-ordinate, who's straining at the leash to branch off on his own -- but is given little freedom.
On the other end of the spectrum is Kalaiyan (Guru Soma Sundaram) and his son, Kodukapuli (Master Vasanth) who arrive from the rural wilds down south to Chennai, to take part in a rooster fight. Kalaiyan is a garrulous drunk who has intense, but a hilarious sense of loyalty (one of his maxims is "Saarayam kuduthavan saami maadhiri!" He Who provides you with drink is God), yaps incessantly, worships his pint-sized son but is far more of a survivor than you realize.
And their paths all cross, one fateful day, resulting in a truly Tarantino-like blood-fest, complete with ringing knives, splatters of blood (and teeth) but the twists lie in who emerges as the survivor. It even comes complete with a merry music-aided Mexican stand-off, minus the guns and boots.
The best part of Aaranya Kaandam is that there are villains aplenty  but no one shrieks, rants or rages. In fact, in almost Mani
Ratnam fashion, they rasp and speak in low, measured tones. Most of them aren't stupid either;  just careless or arrogant, as their situation places them.
The dialogue doesn't pander to you, but family audiences be warned. This is a film that does deserve it's A certificate: its riddled with profanity in large, gleeful doses.
There are, however, large dollops of situational humour that help the film along: the colourful flower astrologer is one, as is the little boy Kodukkapuli.
As far as acting goes, kudos to the casting team. Each man or woman has lived his or her part, but the honours undoubtedly go to Guru Soma Sundaram. His gleeful cackles at the rooster fight, pathetic rumblings to his son and wide-eyed act in the Lodge are wonderful to behold. Equally applause-worthy is Master Vasanth's turn.
Jackie Shroff is completely un-selfconcious, but isn't given as much screen-time as you're led to believe.  The so-called nude scene, though, is rather gratuitous, and doesn't seem to add much to the movie itself.
Ravi Krishna is convincing as the week-kneed guy who shows hidden depths (his whiny voice is a big plus.) Yasmin Ponnappa makes you gnash her teeth as the dumb blonde but it's a measure of her success that you feel the exasperation.
Sampath is his usual, competent self.
Easily among the movie's biggest strengths is its music. And thankfully, this is relegated completely to the background score; no song mars the narrative. It's obvious that Yuvan Shankar Raja has simply had a ball. Regardless of his "inspiration" from various world movies, he's used his music effectively, as well as the silences. The music adds to the stylized effect of the sequences themselves.
P S Vinod's camera work is completely convincing; several of the shots increase the dramatic effect. Praveen K L and Shrikanth N B's editing is slick.
On the downside, Aaranya Kaandam does suffer from a few drawbacks: the plot of the movie is not new and predictable. The pace is a bit uneven.
Still, Thiagarajan Kumara Raja's quirky, zany characters take a life of their own, and appeal to you with their freshness. They're not cardboard cut-outs and appear fairly fleshed out, and the razor sharp dialogues help. Enjoy this day in the life of Chennai's underworld.
Rediff Rating: