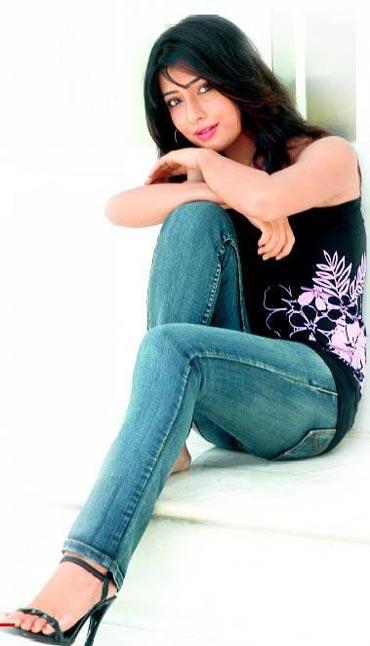 Ajay Rao and Radhika Pandit are 'breaking news' now. Don't let your imagination go wild -- all we are talking about is their next film together called

Breaking News.

The actors, who had starred in

Krishnan Love Story

, are back together in this film. While their first outing together was a tragedy,

Breaking News

is a comedy set in the frenetic media world.

"The film is being directed by Nagathihalli Chandrashekar. I play a very hot-headed, rich, spoilt brat in the film. This is the second time I am working with Nagathihalli sir and I am looking forward to the shoot," says Radhika.

Nagathihalli, who had directed her in Olave Jeevana Lekkachara, is also eager to work with her. "She is a very sensitive and dedicated actor. It is also a good feeling to be working with an award-winning actress," he says.

For hero Ajay, however, it is his first film with Nagathihalli. He was to act in the director's Paris Pranaya, but the role finally went to Raghu Mukherjee. "I have been waiting for this opportunity for ten years. In fact, I came to Bangalore after seeing an advertisement placed by the director for one of his projects. But it is with this project that I am gaining admission into his illustrious school of acting," says Ajay.

The actor plays an ethical media person in the film. "I have been preparing for the role by observing journalists at press conferences," Ajay says.

Breaking News is about the hunger for news. "I have been working on the film for over two years now and have put my

experiences and interactions with media persons to use in this film. I am out to tell how people feel the need for news and how media houses are mushrooming to cater to this ever-growing need. The film will also look at how news has a different meaning for different people. The film, though, is very light-hearted and there is a love story running through it," says the director.

Is the film going to come with a message for media houses as well? "No more messages for me after my producer burnt his hands with Mathad Mathadu Mallige!" he jokes.

Ananth Nag, Rangayana Raghu and Arun Sagar have been roped in for Breaking News. Veteran actor Ambareesh has also been approached to play a pivotal role.

Award-winning music director Stephen Prayog has composed the music and the lyrics are by Yograj Bhat and Nagathihalli. The technical team that was part of his hit, Amrutadhare, has been repeated.

Nagathihalli is getting back to direction after a gap of 18 months. His last release was Nooru Janmaku, which is best forgotten. Why this hiatus? "Breaking News is my 13th crime," he says jokingly.

"In 25 years I have directed only these many films because I take a lot of time to finalise a script. I need to get excited about a subject before going ahead with it. The gap is also because I don't believe in making remakes. My commitment to development works in my village also kept me busy. But now I will dedicate time to this project. For many days now I have been feeling the need to laugh and make others laugh and I feel this film will achieve the purpose."

Shooting is expected to be completed by December.