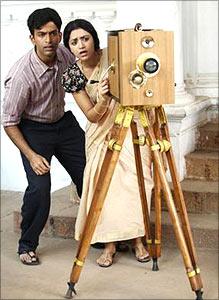 Former Kerala Chief Minister K Karunakaran's followers vehemently attacked the director for misrepresenting the facts.
Controversies often spring up around certain films. And since it brings free publicity, most filmmakers encourage it silently, though they may deny this on record.
The latest controversy that is hogging the headlines in Kerala is director Kamal's film, Celluloid.
Celluloid showcases the life of J C Daniel, who is regarded as the father of Malayalam cinema. He made Vigathakumaran (The Lost Child) in 1928, the first film in Malayalam.
The only female artiste in the cast was P K Rosy, a Christian convert. Orthodox groups in Thiruvananthapuram vehemently opposed her acting in the film and shows were disrupted.
Rosy had to flee Thiruvananthapuram after angry fundamentalists attacked her house. She married a lorry driver who saved her from the mob, and died in oblivion.
Daniel incurred heavy losses. Later he studied dentistry and had a roaring practice. After a while, he tried to make a Tamil film but his friends cheated him and he died in poverty.
It was cinema historian Chelangad Gopalakrishnan, who brought the tragic story of J C Daniel to the world.
The film shows how bureaucrats such as Malayattoor Ramakrishnan and the then chief minister, K Karunakaran, denied Daniel any benefits and the fame that comes of being Malayalam's first filmmaker.
This is the basis for the current controversy. Karunakaran's followers vehemently attacked Kamal for misrepresenting facts. Though the film has been appreciated for bringing the life of J C Daniel on screen, inaccuracies in historical facts have been criticised.
The film won several awards at the recently announced Kerala State film awards, including the award for the best film and also for Prithviraj's portrayal of Daniel.
Kamal has now clarified that he had no intention to malign anyone. He has stated that Celluloid is his version of Daniel's story.
The end of the controversy is surprising. K Muraleedharan, an MLA and K Karunakaran's son, finally saw the film. He has reportedly congratulated Kamal on his effort. He found nothing objectionable in the film.
And that could be the end to the Celluloid controversy as well.