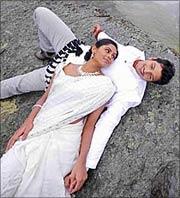 Pavithra Srinivasan reviews the Tamil album, Ko. Post YOUR reviews here!

Cinematographer-turned-director K V Anand is back with Red Giant Movies and R S Infotainment Pvt Ltd,  Ko (King), the tale of a photo-journalist. His chosen leads are Jiiva and Karthika. Harris Jeyaraj, a firm favourite has scored the music, and it carries with it all promise of exciting fare.

Here's what the album has to offer: 

Everything's chill now, floats a female voice, in the best western feel-good tradition and thus kicks off Venpaniye. Sriram Parthasarathy's voice is gentle. Bombay Jayashree, yet another Harris Jeyaraj favourite, pitches in with her fluid voice as well. The tune ranges everywhere from the Dhaam Dhoom hit Anbe En Anbe to Kaakha Kaakha's Ondra Iranda. Pa Vijay's lyrics satisfy the romantic template; words like youvanam and sevvanam just thrown in to fit the meter. It's the typical Harris number -- melodious, but nothing earth-shattering.

Amali Thumali begins almost like Aadhavan's hit number Hasili Fisiliye. Hariharan, Swetha Mohan and Chinmayi pick up the vocal reigns. There's a sudden qawwali-esque turn here, and the latter half of the charanam is a bit interesting. Viveka's lyrics are part romantic, part light-hearted, meant to appeal to the youthful crowd, obviously, complete with Harris' incomprehensible foreign mutterings. It's got pace going for it, but you can't help losing interest during parts of the song.
Ennamo Edho kicks off in just the right fashion for a romantic number, with a slow pace, before bursting into the soft, smooth, "Yeno, Kuviyamilla ..." phrase, which is the intriguing peg around which the whole song hangs. Lyricist Karky explains that a Kuviyam, in chaste Tamil, means Focus, essential to a photographer. Aalap Raju invests the song with the right touch of wonder and love, while Prashantini accompanies him. In the midst of all this romance appear Sri Charan and Emcee Jesz's rap sequence, which, for once, actually fits in with the song. Everything comes together for this one: easily the chartbuster of the collection.

Gentle plucking of guitar strings, and in a low voice sings Naresh Iyer, beginning Netri Pottil; it sounds remarkably like the beginnings of A R Rahman's Thai Manne Vanakkam, before veering off into a slightly angsty song, shot with bursts of zeal. Karky has penned the lyrics for this one.

Come on, Come on, urge a female rapping group as Gala Gala begins, with Tipu, Krish, Haricharan and Sayonara charging ahead with the song. The beat might seem urban, but it transforms itself into something almost completely rural, complete with dashes of a harmonica. The tune does try to do an about-turn from Harris's usual rhythm-heavy, with Kabilan's lyrics providing a heavy dose of enthusiasm. It doesn't help that the number sounds like a rehashed Dosth Bada Dosth from Saroja. Not particularly enervating.

Emcee Jesz and Srik start off Aga Naga with their own special blend of rap which brings a smile to your face. Vijay Prakash, Tipu, Ranina Reddy, Priya Subramani and Solar Sai try their very best to take you unawares at every point. Pa Vijay adds some quirkiness to the proceedings with phrases like "biting off cheese" and asking for a "love Ferrari." A sudden burst of angst in a mixture of Hindi and Telugu doesn't sound out of place at all. Somewhere during the second half, things begin to get interesting, before descending into something mundane. The best part, though, is the sudden thundering beats, right at the end.
Harris Jeyaraj is one of those music directors who can't really deliver a terrible album, but there are moments when he runs out of inspiration. Ko, obviously, is one of them. Aside from the sweetly melodious Ennamo Edho, the other numbers are all mish-mashed versions of his earlier hits.
Rediff Rating: