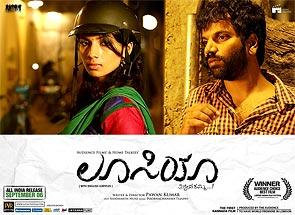 Pawan Kumar's first crowd-funded Kannada film, Lucia, will be released under PVR's Director's Rare on September 6, 2013.

After being rejected by several stars and producers, Pawan Kumar made Lucia by inviting people to fund his film through his blog, Project Lucia, in April 2012.

Despite winning awards and appreciation at the London Film Festival, distributors shunned the film and it was struggling to

find takers in the Karnataka market.

Now, PVR has come forward to release it under their Director's Rare category across Bangalore, Chennai, Kochi, Hyderabad, Mumbai, Pune, Ahmedabad, Surat, Delhi and NCR. The film will have English subtitles.

Lucia will be the first Kannada film to be part of Director's Rare and also the first Kannada film to have a countrywide release.

Directed by Pawan Kumar, Lucia stars Sathish Neenasam and Sruti Hariharan. Music is by Poornachandra Tejaswi and cinematography by Siddhartha Nuni.