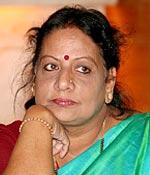 Noted director and actress Vaishali Kasarvalli passed away in Bangalore on Tuesday of kidney failure. She was 59. She leaves behind her husband and award-winning director Girish Kasarvalli, daughter Ananya and son Apoorva.

Vaishalli had acted in over 70 films and was best known for her role in late actor Vishnuvardhan's Hombisilu. Kittu Puttu, Maanasa Sarovara, Bhutayanna Maga Ayyu, Palitamsha, Thabarana Kathe, Asegobba Meesegobba, No 73 Shantinivasa and Ganeshana Maduve are among her other popular films.

Her performance in Girish's directorial Akramana was also appreciated. She was a versatile actress and carried off glamorous, comic and traditional roles with equal ease.

Vaishali's tryst with acting began with the Gubbi Veerana theatre company in Gulbarga, her home town. Her stage debut happened when she was 12-years-old.

Vaishali was also a dubbing artiste and a celebrated costume designer. She had even won a National Award for her costumes in Thayi Saheba. She had designed costumes for Girish Kasaravalli's Dweepa and Gulabi Talkies as well.

Vaishali was also well accepted as a tele-serial director. Mudala Mane and Muttina Thorana are two of her most popular serials. She has acted in several serials including Malgudi Days and Kshmaya Dharitri as well.
Vaishali's body will be kept for public viewing at Ravindra Kalakshetra on Tuesday. Cremation will take place at 4 pm.