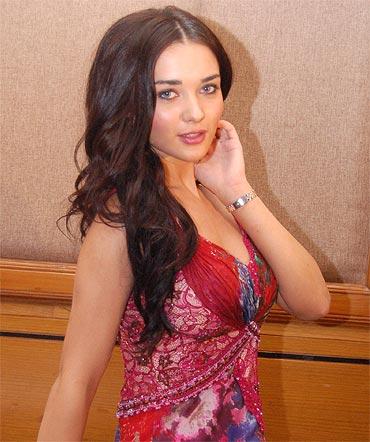 One Tamil film that is arousing a lot of curiosity is the period drama Madharasapattinam, directed by Vijay of Kireedom and Poi Solla Porom fame.
Both the earlier films were remakes -- the classic Mohanlal starrer Malayalam movie Kireedom and Anupam Kher's Khosla ka Khosla in Hindi.
Though remakes, Vijay showed his originality in both the films. But now comes the real test.
Madharasapattinam, his third, is a period drama based on 18th century Madras. The movie stars hot and happening Arya and an English girl who has been the talking point of the movie.
She is Amy Jackson, an English girl from Liverpool who participated in the Miss Teen World pageant. Jackson plays 18-year-old Amy Wilkinson in the film.
The story that led to Vijay's discovery is interesting. He happened to see her pictures from the Miss Teen World pageant on the Internet and decided that she was going to be his heroine in Madharasapattinam.
But he was unsure whether she would agree to act in a Tamil film. Locating her also was tough as the director and his people searched for her all over England and finally got to meet her in London.
Though she was unsure whether she would act in a Tamil film, the language she has never heard of, the director and the story bowled her over. She was in Chennai for six months and worked for 90 days on the film.