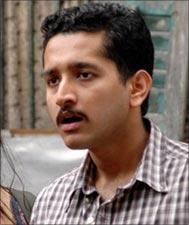 Parambrata Chatterjee has become a name to reckon with after Kahaani, where his performance has been greatly appreciated.

Well known in Bengali cinema, the actor has worked in several movies with Bengali film legend Soumitra Chatterjee, who recently won the Dadasaheb Phalke Award.

The award has come at the right time in the illustrious life of Soumitra Chatterjee, Parambrata tells Patcy N.

"I have worked with Soumitrada in quite a few films like Kaalbela, Nishijapon and Bhalo Theko. Bhalo Theko was also Vidya Balan's first film," says Parambrata Chatterjee.

In Goutam Ghosh's Kaalbela, Soumitra Chatterjee played his grandfather, in Sandip Ray's Nishijapon he played his father and in Gautam Halder's Bhalo Theko he played Parambrata's neighbour.

Parambrata envies Chatterjee's energy.

"At 77, he is the youngest member of the film industry; he is full of energy, new ideas and innovation that younger actors don't have, he is much, much younger than us. It is good to just sit in his company and chat and talk to him about theatre, music and films," he says.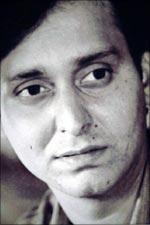 He rates Apur Sansar and Jhinder Bhondi as Chatterjee's best films.

"In Jhinder Bondi, he worked with the legendary Uttam Kumar. They are both great actors. Soumitrada played the antagonist and Uttam Kumar played the protagonist. Still, Soumitrada overshadowed Uttam Kumar. After watching Jhinder Bondi, many people fell in love with the antagonist more than the protagonist.

"For me, Soumitrada is an inspiration. I have worked with him in many films but I have never asked him for acting tips nor has he given me any. He is not that kind of person. When you are with him, you would like to chat with him as he is full of knowledge."

Parambrata admits to being nervous the first time they acted together. "I was standing in the same frame as the legend. I had never expected that. It was like sharing the frame with Apu or Feluda!"

Parambrata feels that Soumitra Chatterjee got his National Award very late in life (he got it for Suman Ghosh's film Podokkhep, 2006).
"Soumitrada has given many memorable performances and done so much good work that he should have got it earlier in life," he says.

About the Dadasaheb Phalke Award, Parambrata says, "It's like a lifetime achievement award and I think he got it at the right time."

Parambrata says he has spent many beautiful moments with the star. "For me, every interaction with Soumitrada is a memorable incident."