'The skill, the poise, the grip on the art.'
As Soumitra Chatterjee passed into the ages on Sunday, colleagues pay rich tribute to him.
Abir Chatterjee: 'I was in complete awe of him'
<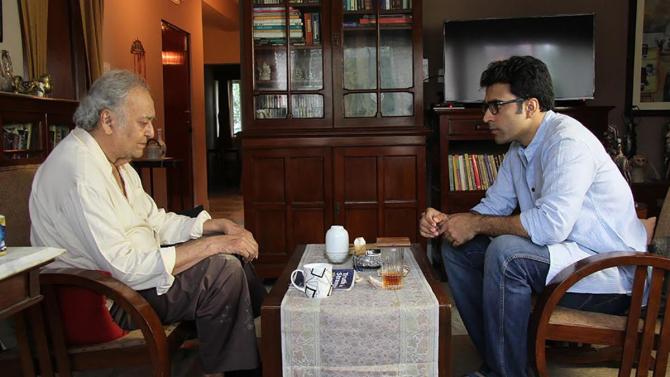 The Last of the Mohicans.
Irreparable loss.
He was an institution.
He is part of our growing up... not only as an actor, but everything.
I did a short film with him -- it was 17 minutes long and had only two of us.
It was directed by Atanu Ghosh, and called Reality Show.
Later, Atanuda made a compilation of five short stories, and named the film 72 Ghonta. Sadly, the film is yet to release.
I was in complete awe of him.
He knew my parents due to the theatre connection, and was very fond of them.
So he knew me too.
I was more than happy and ecstatic to work with him.
The way he creates magic in front of the camera... the skill, the poise, the grip on the art.
You tend to absorb everything, when you see him from closest quarters.
The hunger for more!
Even at 80, he was eager to explore more as an actor.
The humility... Can you imagine, the moment the director says cut, he would ask his co-actor. 'Was it okay?'
Unbelievable!
Never ever did he give a vibe that he was a star of an epic level.
Such an erudite handsome actor.
His sense of literature, his theatre, his political inclination... exemplary!
The variety of roles were exceptional.
I played Feluda once. That's the biggest tribute to him that I could dare.
Roopa Ganguly: 'I am in shock'
I am in shock.
I can't speak.
The void his death has left behind can never be filled.
I faced the camera for the first time with him, in the short film, Dena Paona.
My latest movie Punoshcho was also with him.
He was a great teacher. An institution on his own.
Victor Banerjee: 'Sleep in peace'
Goodnight for all time my dear Soumitro.
Sleep in peace and in eternal harmony.
I pray your family find the strength to accept their loss.
Affectionately still alive and fighting, your brother Victor.