'He never went to the Bombay industry.'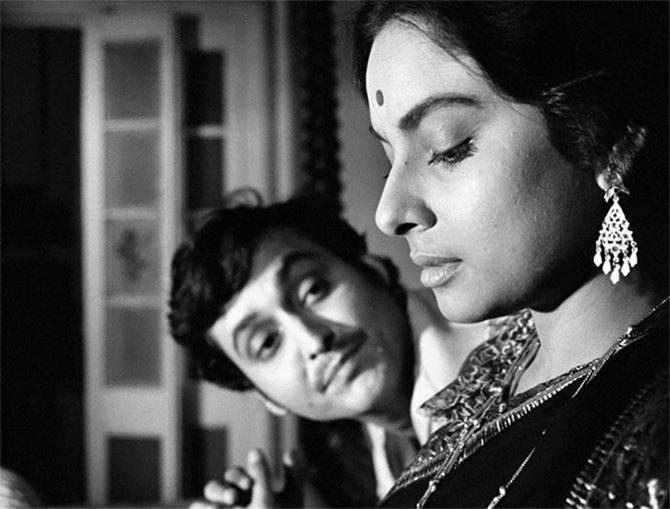 There is a story Soumitra Chatterjee likes to tell.
In the mid-1950s, he heard that Satyajit Ray was casting the Apu character for the sequel to Pather Panchali.
Chatterjee went to the director's home, but the moment Ray saw him, he said 'Oh, you are too grown up for the college-going Apu.'
Chatterjee was shocked and he adds in a new book, 'It immediately struck me how engrossed he was in his work! Those were his first words to me. I can never forget that.'
But when Ray was ready to make the third film in The Apu Trilogy, he immediately contacted Chatterjee.
In fact, according to Chatterjee, that first meeting itself had convinced Ray to make the third film, Apur Sansar.
Together, the two would work in 14 films.
Writing in the New Yorker, critic Pauline Kael said this about Chatterjee: 'Soumitra Chatterjee, Ray's one-man stock company, moves so differently in the different roles he plays them, he is almost unrecognisable.'
Chatterjee's memory of meeting Ray for the first time is recorded in a lengthy Q&A section in the book, Beyond Apu: 20 Favourite Film Roles of Soumitra Chatterjee.
The book is written by Kolkata-based journalist and critic Amitava Nag.
In the book, Nag tracks 20 of Chatterjee's films -- starting with his first, Apur Sansar in 1959 to Dekha in 2001.
He discussed the plots, Chatterjee's roles, his performances and also quotes critics and journalists extensively.
The result is a fascinating book that any fan of Chatterjee, those interested in Bengali cinema, and film lovers and historians would enjoy reading.
Long-time Rediff.com Contributor Aseem Chhabra spoke to Nag via Skype, at the author's home in Kolkata.
This interview was first published on Rediff.com on January 27, 2016.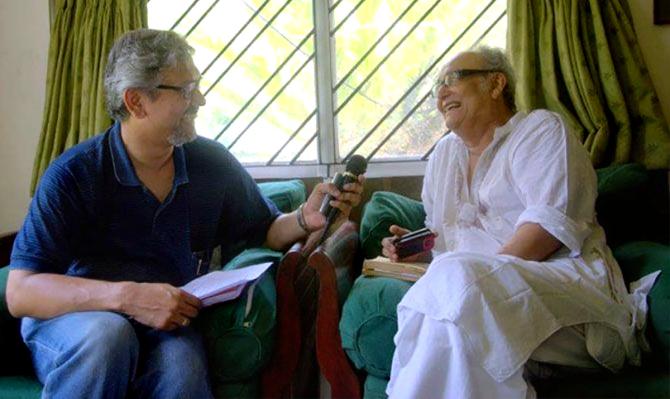 Amitava, last week was Soumitra Chatterjee's 81st birthday. So how was it celebrated?
Yes on January 19.
Soumitra Chatterjee has his own theatre company.
For the last two-and-a-half decades he is more into theatre.
Normal mainstream cinema does not give him many good roles, so this way he can do what he wants to do.
In films, he only gets sidekick roles -- the father or the grandfather of the hero.
That's sad, but doesn't he need to work in films for money?
Yes, and he also wants to be engaged in the art of cinema.
There have been a few films in recent years where he is the main character.
There is a film called Peace Heaven which has been going to festival circuits.
Oh yes, that's by Suman Ghosh who also directed the recent film Kadambari with Konkona Sensharma.
Yes, by Suman Ghosh.
So while Soumitra Chatterjee gets roles on a rare occasion, he is mostly into theatre production and direction.
This year on his birthday there were performances of two plays in which he has acted in the past.
One is called Phera which means The Return.
He first acted in and directed the play 30 years ago.
That was a long play.
Now his daughter Poulami Chatterjee has cut down the old play and directed it.
He is acting in it.
The second is a dance drama by Tagore called Kalmrigaya, which is based on a story from the Ramayana.
He has a small part in it.
Sharmila Tagore was there for the performances. She was visiting the Kolkata Literary Festival.
You mention in the book that the French film-maker Catherine Berge, who made the documentary Gaach on Soumitra Chatterjee, suggested you write this book. How did you decide to approach the book?
In 2012, Catherine was in Kolkata for a photo shoot.
I joined her in the shoot with Soumitra Chatterjee.
I had earlier interviewed him for my magazine Silhouette.
We were later in a coffee shop and Catherine suggested I write a book on him.
I said fine, but I need to find a publisher and also if Soumitra is willing.
He was very categorical that he didn't want a biography.
He thinks no one speaks the truth in biographies and autobiographies.
Also, I have known him for about seven years and he has acted for the last 56 years.
I haven't seen the prime time of his acting.
You have seen all of his earlier films right? I have seen all of his works with Satyajit Ray.
Yes, I have seen the Ray films.
But since I am not a contemporary of his, I haven't seen his progression in social life.
Whatever I know is from hearsay and writings.
Catherine asked me to write a proposal, which is when I decided I will write about 20 to 25 of Soumitra Chatterjee's films.
I told him about the book and he was okay.
You mentioned in the book that he was involved in selecting these films. How did that work out?
You told me earlier that you have only seen him in Ray's films right?
Yes. I have seen films by Mrinal Sen, Tapan Sinha, Ritwick Ghatak. But yes, Soumitra Chatterjee I have only seen in Ray's films.
I told him that the perception about him, among many Bengalis, as well as those not that conversant with Bengali cinema, is that he is mostly a Ray actor.
There are many other films I talk about in the book which have exceptional performances by him.
Probably those films didn't go to festivals and in India, we didn't have subtitling and dubbing of regional language films.
So those films were not seen outside of Bengal.
I told him I will try to minimise the Ray films in the book.
He acted in 14 films with Satyajit Ray, but in the book I only discuss seven.
He is bigger than a Ray actor.
He has been predominantly a Bengali actor.
He never went to the Bombay industry.
This book gives inputs to people that there are other films of his as well.
There are a few which he wanted to be part of the main list, which are mentioned at the back of the book -- films like Ektuku Basa by Tarun Majumdar and Swayambara by Asit Sen, who later made Safar with Rajesh Khanna and Sharmila Tagore and Khamoshi.
Those films I couldn't write about since I have not seen them and there are no prints available.
Even on YouTube you can't get them?
Nowhere.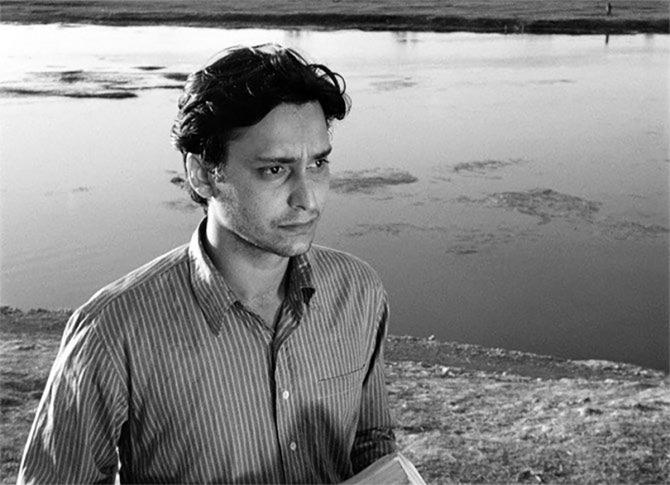 But in the main list, you have a Mrinal Sen film right?
The only one I talk about is Akash Kusum, which was later remade into a Hindi film Manzil with Amitabh Bachchan and Moushumi Chatterjee.
Yes, that is a well known Mrinal Sen film. I wonder if it is available on YouTube.
I think it is, although I am not sure if it has subtitles.
But remaking of successful films into Hindi was a common practice.
Asit Sen first made Safar in Bengali.
It was called Chalachal.
Well, that was also happening in music. Many of Hemant Kumar, S D Burman and Salil Choudhury's Hindi film songs were composed based on original Bengali songs.
Yes.
So we talked about the films in the list.
At times, Soumitra Chatterjee wanted to add a few more films to the list of 20, but I had to say that is the number the publisher had agreed to.
Actually in this list of 20, I wanted to include three or four plays with him.
One is called Raja Lear -- the Bengali version of King Lear.
He acted very well in that play.
But the publisher's logic was that one cannot preserve theatre.
If someone reads a chapter about a film, there is a chance he will find a DVD of it.
But that is not possible with a theatrical performance.
So I have a separate chapter in the book on his work in theatre.
He is an important person in Bengali theatre.
There was a time when he was not just a good actor.
He was a star as well in the commercial sense.
He was a romantic star apart from Uttam Kumar.
Soumitra Chatterjee had some advantage in that his star position brought fans to see his plays, but then he survived three decades of acting in theatre.
Bengali theatre is in quite a bad shape and people don't go to see plays.
I think theatre everywhere is in trouble.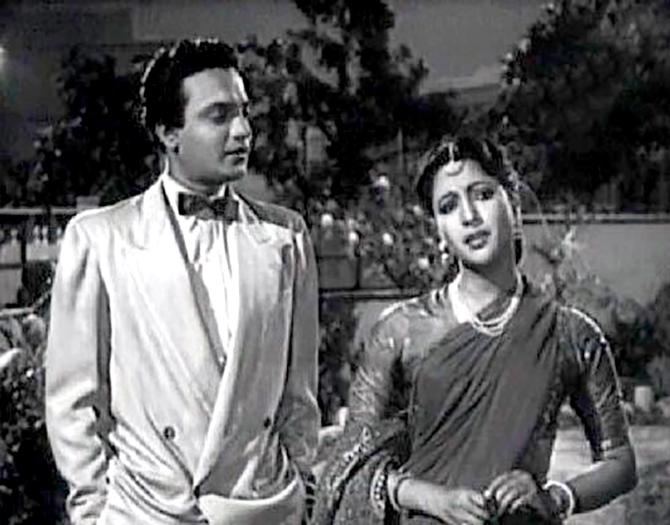 It's the same thing in Mumbai and Delhi. The moment you have a Naseeruddin Shah or a Anupam Kher people come in large numbers to watch those plays.
You just mentioned Uttam Kumar and you talked about him with Soumitra Chatterjee in the book.
The way I understand it, Uttam Kumar was Raj Kapoor, Dilip Kumar and Dev Anand combined together. Soumitra is, of course, a very fine actor.
But what did Uttam Kumar have in him that Soumitra Chatterjee didn't? He could not become that big a star as Uttam Kumar.
When Uttam Kumar and Suchitra Sen started making films together in the 1950s, it was just after Partition, and there was a big influx of East Bengali people into the city of Calcutta.
Most of the films revolve around a boy who has come from the village, trying to settle in the city and he finds a life partner in Suchitra Sen, who is often a modern city woman.
They are trying to make a life together apart from the big family that he has left behind.
Through the 1950s Uttam and Suchitra Sen had about 24 films together.
Almost all were hits.
The way the structuring of this pair happened, there was no one in Bengali cinema before them who was that big.
And Uttam Kumar was not just a big star, he was an excellent actor as well.
Uttam Kumar was making films long before Soumitra Chatterjee joined the industry. Apur Sansar was made in 1959.
Yes, and Uttam Kumar's first film, which was never released, was in 1948 or 1949.
So he was senior to Soumitra Chatterjee.
Soumitra told me the smile that Uttam Kumar used to give -- it was so good, on screen and in the physical space.
And Soumitra said that 'If Uttam Kumar committed a crime and then he gave that smile, I was ready to believe he was innocent.'
But Soumitra was intelligent enough to understand that it was not easy to become a star immediately.
And his background was different.
He came from theatre and his mentor was Sisir Bhaduri, one of the biggest personalities of Bengali theatre.
And his first few films were with Satyajit Ray -- Apur Sansar, followed by Devi.
Then he acted in Tapan Sinha's Kshudita Pashan.
Then he made Abhijan, another Ray film.
So the way Soumitra started off was quite different.
Initially, he did more and more roles with great directors.
He understood that his positioning as an actor was going to be slightly different than Uttam Kumar's.
He did roles that were difficult for Uttam Kumar to do.
Even in the 1960s there were many roles Soumitra did, that Uttam Kumar couldn't think of doing.
I mean he couldn't do those role because of the stardom imposed on him.
In the 1970s, the situation changed.
In 1966, Uttam Kumar acted in Ray's Nayak.
That changed the perspective about him among film critics.
That was followed by Chiriyakhana next year, also directed by Ray.
Uttam probably also got the confidence that directors would think of a him as a character actor more than before.
Also in the 1970s, Soumitra started taking more commercial, romantic, roles.
In Indian cinema, actors can do romantic roles even when they are in their 60s.
You also make a point in your book that Satyajit Ray made his Calcutta trilogy in the 1970s -- Pratidwandi, Seemabaddha and Jana Aranya, by which time Soumitra was older.
Ray was looking for younger actors.
Yes, Soumitra had passed that age.
He looked like a college student in Apur Sansar.
But he didn't look that age in the 1970s.
Ray and Mrinal Sen would not make that casting mistake.
I know. Shah Rukh Khan still sometimes plays a college student.
Yes.
So, Soumitra had to move to romantic roles where he could still play younger characters.
It was pretty unlucky for Bengali cinema that Uttam Kumar passed away in 1980.
He was only 53.
Probably he would have done many more exceptional character roles.
Like Amitabh Bachchan is doing now.
Uttam and Soumitra were never rivals? They were colleagues and they worked well parallel to each other?
We always prefer binary opposites.
That's how the psyche of the audience works.
It was always Amitabh Bachchan versus Rajesh Khanna.
In Kolkata, we have Mohun Bagan versus East Bengal.
So that is how people saw Uttam Kumar versus Soumitra Chatterjee.
But I think in their personal and professional lives there was no rivalry as such.
There were differences of opinions at times.
But they were respectful of each other's acting and talents.
I have read that Uttam after seeing a good performance would call Soumitra and congratulate him.
They had a good camaraderie and rapport.
But the media always wanted to pit them against each other.
I wanted to go back to the selection of the films. You mentioned Devi earlier., Instead of Devi, you chose to write about two other Ray films -- Samapti, which is a smaller film, and Abhijan.
Why was Devi not selected since it is a very important Ray film?
Devi is an important film, but I felt his role there was an amalgamation of a few others he had done later in his career.
He often played a person who is trying to escape a situation, but is bogged down by circumstances.
He is not conquering the world.
He is more of a defeated man.
If I was writing a book on Chhabi Biswas, Devi will always come up in discussion.
Even if you were writing a book on Sharmila Tagore.
Yes, Devi is very important for Sharmila Tagore.
Apur Sansar is a good film and it will figure in every book about Sharmila Tagore.
But she had a small role in it and it's not that significant.
But in Devi, as you correctly pointed out -- and it is made only a year after Apur Sansar -- she has given a very mature performance.
And she didn't do something this good for a long time in her career.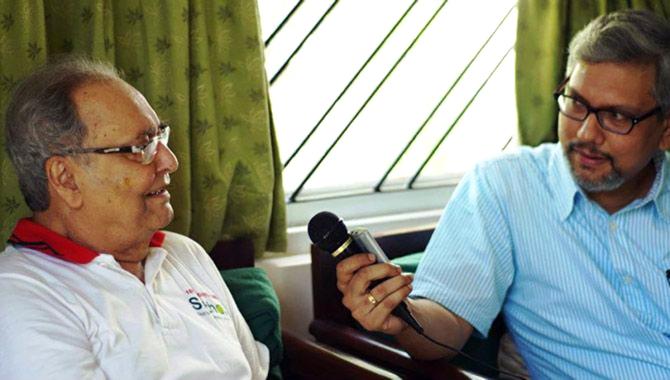 How much time did you spend with Soumitra Chatterjee while working on the book?
I never calculated that.
I started in 2012 and submitted the manuscript the next year.
It's not like I got a slot every week or month.
I would try to cover as much as I could in one go.
But is he very approachable? You can just call him? Do you call him Soumitrada?
I call him Soumitrababu.
My relationship with him is quite informal now.
So I can call him and say I want to meet him.
Even after the book was over and it was with the publisher I went to see him many times.
The one thing I find in him -- he's a creative man.
I mention in the book he has published more than 15 books of poems.
And he has written so many plays.
One day I went to see him at 10 am.
He showed me a painting he had made -- a landscape with mountains and snow.
He had worked with water colours in the past, but this time he used acrylic.
He was so child-like in his appreciation of his own painting.
I found it interesting that with so much fame he still needs something like this to keep him going.
He doesn't need any more awards or fame.
But these small wonders of life keep him going.
For us urban people, we are seldom surprised by anything.
We take everything for granted.
But that is something I saw very unique in him.
I liked what he said in the Q&A about Kamal Haasan, that Bengal hasn't produced an actor of his calibre. And there is a lovely little detail -- Soumitra Chatterjee liked Raj Kapoor and Dilip Kumar, but he didn't like Dev Anand as an actor. I was very amused by that.
Yes, I think he didn't like Dev Anand's style of acting.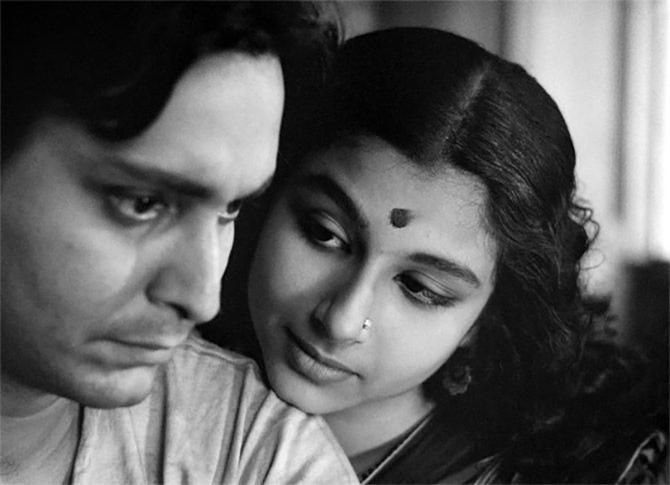 You mentioned that he doesn't get good work, but Sujoy Ghosh just cast him in the short film Ahalya with Radhika Apte.
What is his take on the new cinema happening in Bengal and other parts of India? It's interesting that he liked Kahaani a lot.
He doesn't follow a lot of Indian or Bengali cinema.
He seldom goes to premieres and rarely watches films in which he acts.
That's what he told me. Besides Kahaani, he liked Aditya Vikram Sengupta's Asha Jaoar Majhe.
Oh, I love that film. I have seen it three times.
Even I like it. One of the recent times I visited him, he told me he has seen it.
But otherwise he is very busy and he says he doesn't have a favourable system in his house to get DVDs and watch films.