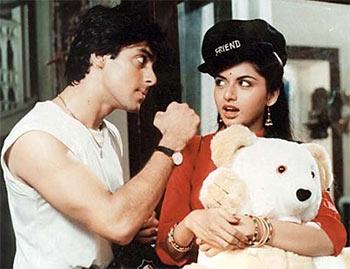 'His auditions and dancing were quite bad but his photographs were beautiful -- give him a guitar and he would set the mood'

As his directorial debut Maine Pyar Kiya turns 25 on December 29, Sooraj Barjatya remembers his equation with his lead star and friend Salman Khan, and how the film came into being.

Maine Pyar Kiya, the 1989 runaway success that spawned a new generation of onscreen love stories, was helmed by a debutant director and starred rank newcomers as leads.

Helmed by debutant Sooraj R Barjatya, who'd also written the film's script, Maine Pyar Kiya launched Salman Khan and Bhagyashree into overnight sensations.
The film completed 25 years since its release on December 29.

Marking the milestone, Barjatya tells Rajul Hegde/Rediff.com how the film came into being (he was just 21 at the time) and how he zeroed in on his dream team for the film.

Read on.

Maine Pyar Kiya was made when our production house Rajshri was rather had a low-key, both as a name and financially.
I was a newcomer, just 21, when I started writing the film.
It was made to launch me as a last resort to resurrect Rajshri.
Salman Khan was new and Bhagyashree was just 18. We were all kids, out there to make a film.
The most important person in my life, my father, felt that love stories have to be made by young people.
So he said 'do it your way, we are there to guide and correct the screenplay but you put your thoughts into it.'
He didn't allow any other writer. He said I should write in Hindi. He allowed me to do the movie and alloted us a budget.
I was fortunate to get music composer duo Raam-Laxman, singers like S P Balasubramanyam and Lataji (Mangeshkar) to work on my film.
I hadn't imagined that Lataji would agree to sing for a newcomer like me. When she agreed, the project got a whole lot of respect.
Then there were people like art director Bijon Dasgupta and choreographer Jay Borade.
The film was four hours long. After editing, it came down to three hours and 18 minutes. It was the longest film to be released at the time.
But then we were striving to compete with the video invasion and wanted to make something big which would attract audiences.
We wanted to make something that will draw people out and we were successful in doing so.
We dubbed in Telugu, Tamil and Malayalam; it was like a dream come true for us.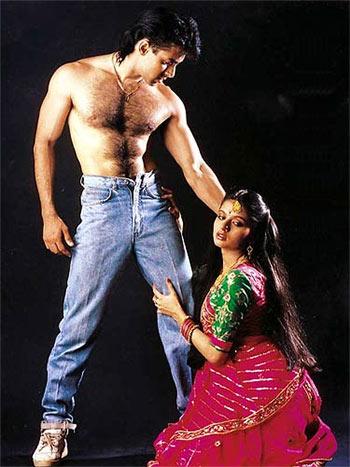 Roping in Salman Khan and the rest of the cast
We were hunting for a hero, and a girl called Shabana Dutt suggested Salman Khan's name. He had done an ad at that time.
I remember him sitting in our office's reception area.
He was thin. I thought he was quite ordinary.
Then he showed me his photographs. They were superb. The way he sat down and posed was magical.
His auditions and dancing were quite bad but his photographs were beautiful -- give him a guitar and he would set the mood.
He would send his friends for the auditions, saying 'If I am not good, take him.'
Because of his goodness, we took a chance and cast him.
When I narrated the script, it struck both of us as special in some ways.

We respected each other as actor and director when working. We never had an argument while filming.
Salman and I are trying to trace Shabana, but we have been unable to contact her.
All the rest were newcomers, except Alokji (Nath). I had worked with him as an assistant in the film Saransh.
I had the vision to cast him as the father.

I had admired Reema Lagoo in Qayamat Se Qayamat Tak. I asked her to play a proper mother's role for the first time.
We cast Bhagyashree by chance.
My father had gone to Allahabad to hunt for a heroine because we couldn't find anyone in Mumbai.
While travelling he read a magazine which had a photograph of Bhagyashree Patwardhan as the Kache Dhoop girl who had acted in a television serial.
I was supposed to go to Chennai to meet actress Neelam. I was planning to sign her on if she agreed to do the film.
Dad told me to wait since we knew Bhagyashree's family through one of our aunts. We had a meeting with her and signed her for the film.
Even now, when I meet Neelam, she reminds me that I didn't go to meet her (smiles).
Laxmikant Berde was popular in Marathi films when I signed him for Maine Pyar Kiya.
Salman Khan, then and now
We were fortunate enough to have grown up together.
Even now, he is photogenic and experimental like before. Over the years, he has become a better actor and dancer.
His most important quality is that he is prepared to admit his mistakes even now, just like in his early days as an actor.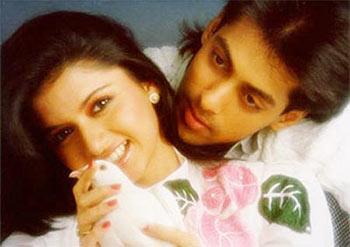 Favourite song in the film
My favourite song in the film is Kabootar Ja Ja.

I like the melody and Lataji's voice in the song. It shows the real confession of love in a different way.
Of course, it became very popular also for its picturisation and Baluji's singing.
Even as I speak, I remember my choreographer Jay, who recently passed away.

We did 52 songs together, which includes all my five films. This was a very special song for him too and it's like a tribute to him.
On giving away the title of the song Mera Rang Mein Ragne Wali to a television show
At first, I didn't want to give Mere Rang Mein Rangne Wali title for the television show because this song is too precious for me.
But my son Devansh is producing the show and it's his first television show. He wanted this title and since it's his first show, I agreed to give it.
I am very happy that I gave it because the show deserves this title.
Celebrations for Maine Pyar Kiya's 25 anniversary
We haven't decided yet. Let's if we can get together and have a party.