'I have seen the tears in their eyes.'
'I want to thank God for giving me an opportunity to help these guys.'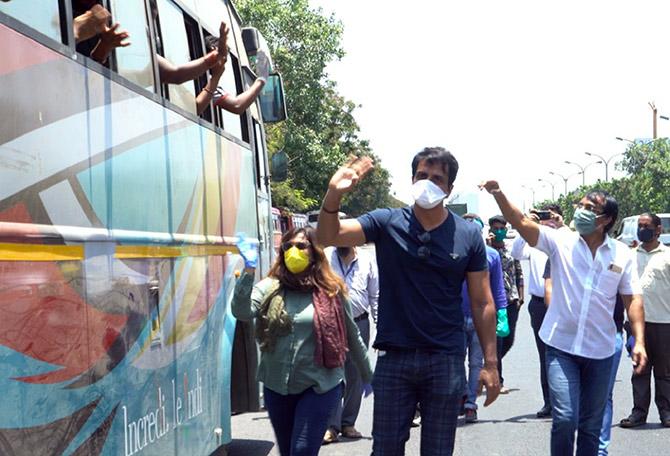 Sonu Sood has stood out among Bollywood actors by helping hundreds of migrant workers during the lockdown.
Sonu organised a fleet of buses to ferry migrants workers from Mumbai to their homes in Bihar, Jharkhand, Karnataka, Madhya Pradesh and Uttarakhand.
The actor also opened the hotel he owns in Juhu, north west Mumbai, to healthcare workers. The restaurants he owns also offered Ramzan meals to Muslims who were unable to find a way to break their fast during the lockdown.
Now he has launched a toll free number 18001213711 through which one can reach Sood's team for help.
"I am glad I was able to send thousands back to their native land. The journey is still on and the target is to work till the last migrant reaches his home," Sonu tells tells Patcy N/Rediff.com,.
When did the plight of the migrant workers first come to your notice?
Like everyone, we saw so many people walking down highways with the little kids, elders.
I just thought this is something which is unacceptable. We have to come forward to help them.
These are the people who made our homes, these are the people who helped us build lives and now we can't let them just walk on the highways.
I had to come forward and help these guys.
I am glad I was able to send thousands back to their native land.
The journey is still on and the target is to work till the last migrant reaches his home.
How did you decide to help them? How did you go about getting the necessary permissions?
I decided to help them because I knew that the process of permissions is very difficult.
I spoke to Maharashtra government officials, I spoke to the officials in charge in Jharkhand, Uttarakhand, Bihar, Madhya Pradesh and Karnataka, and we got permissions to help them travel.
We got buses for them.
We arranged food for them.
I am glad they reached their homes; they sent their blessings.
This is the most important thing I have done in my life.
I think I got into the industry to do this. Otherwise, everything is meaningless.
You went to the Dahisar checknaka, in north west Mumbai, to stop migrants from walking. You provided them with fruits, food and water.
Yes, we went to the Dahisar naka and to Kalwa chowk in Thane, where a lot of migrants were walking.
We distribute almost two trucks of fruit and food every day.
We request the migrants who are walking to their villages not to walk. We ask them to stay and give us a day or two to arrange buses for them.
Since they have reached, this is the most satisfying experience of my life.
You opened your hotel too.
Opening my hotel for healthcare (workers) was very important because a lot of people were troubling doctors, nurses and paramedics.
I thought why not give my hotel to them? That will help them and spread a message in the country that these are the only people who can save you from the virus.
If you don't help them, nothing can save you from this pandemic.
Ramzan meals were very important in the times of pandemic.
Most people were scared about how Ramzan will go.
I just came as a friend and said, 'I am there for you.'
You started with PPE kits and rations.
PPE kits were required in Punjab because a lot of villages and smaller districts were not able to source them.
We had send it to them and they are really taking care of themselves now. They are safe.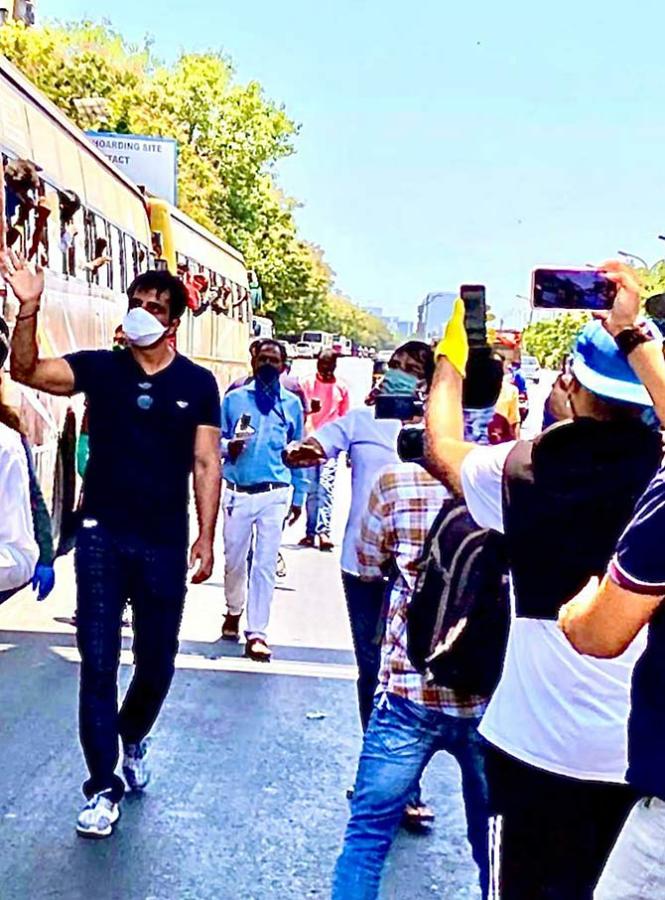 Why is the cause so close to your heart? Do you understand their problems better because you came from Punjab to make a living in Mumbai?
Yes. I remember the first time I travelled in a train, I didn't have a reservation.
I sat all night, and I realised that the journey would be tough.
I have gone through the same issues of arranging travel for myself by buses and trains during my college days and during my struggling days, so I know what you go through.
Today, I feel I am in a position to help them so I had to come forward.
It's important for someone to bring the trust back in all these kids walking, with rheir parents and elders. They feel there is no one to help their mom, dad... and they are suffering on the highways.
The personal touch was very important.
I thought I have to come out; I can't be sitting at home.
We can't leave them in dire straits.
I had to organise these things personally, especially getting permissions and speaking to these travellers personally. Almost 17 to 18 hours of my day goes in this process.
Your phone must be ringing continuously.
I have made an e-mail for this purpose, and people are sending me mails.
I have a team of 8 to 10 people, who are noting the details of these travellers, how they will travel, the food arrangements, the local travel -- they have to reach the bus stands -- all these things have to be organised, and it's a task.
But I'm glad I am able to do it.
There are still miles to go, but the journey is on.
Other celebs have been donating money, food, PPE kits, but you are doing ground work.
I think ground work is very, very, important.
I am sure everyone is doing their bit, but ground work is the most important because when you go to the field, you see the kind of problems they are facing.
I had to go out, no matter how risky it was, and take care of them.
I have seen the tears in their eyes; they thank you endlessly. That's very special.
I want to thank God for giving me an opportunity to help these guys.
You were upset with the media for not using the names of dead migrant workers.
I have all the details of the people who died on the highways.
I was very upset that their names were not mentioned.
We say 21 migrants died. But they have names, identities.
They are the most powerful people in our society.
We exist because of them.
We are nothing without them.
We are meaningless.
We can't let them die.
We have to help them and recognise that they are not just numbers. They are names.
What more do you plan to do for them after the lockdown?
A lot of people who have gone back to their homes, will return.
I spoke to many of them when they were leaving and they promises that they would come back.
I don't know what mental trauma they are going through and how easy it will be for them to come back.
But I am sure when the lockdown ends, it will be a different world.
Let's see how many people can gather their faith and courage to come back to big cities.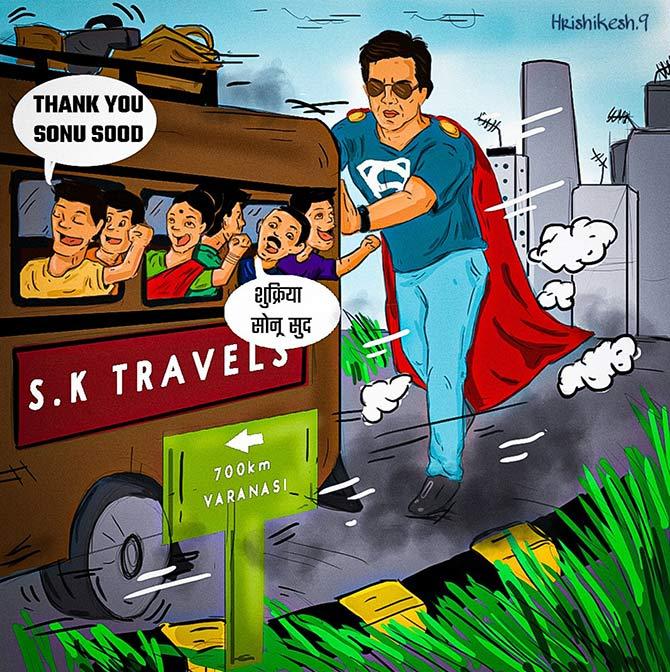 What is your appeal to the citizens of India? What should they do to help out?
My appeal to every citizen of India is that we have to help others.
You have a kitchen, cook a meal for someone, like your watchmen, vegetable vendors, anyone who is in need.
Just make an extra meal for someone who needs it.
Only then can we survive.
Only then can our country come back on its feet.
Many workers in the film industry are jobless and are struggling to make ends meet.
I am sure a lot of people are coming forward and trying to help them.
New actors, who are trying to get in the industry, are also struggling.
A lot of production houses are feeling the pain.
Like I always say, you can fight these things together.
You have to come forward, address these problems and find a solution.
You have to get it uprooted from the grassroot level so that we can have a normal world.
I am doing my bit but it will take time to get things back to normal.
But yes, it will happen soon.