'People like poetry but we don't serve that.'
'There are so many retro radio stations now and people listen to them. Why? It's because the music is good; people like the poetry in the lyrics and the way it is sung.'
'Why does that not happen with today's songs? Because we don't offer it that way.'
'I am a part of the industry too, and I think it is our fault. We say 'people don't want to listen' but that's not the case. If we offer good songs, they will listen.'
Singer Kavita Seth tells us what kind of songs she loves to sing -- and then even sings them!
Photograph: Kavita Seth/Instagram
Kavita Seth, who has sung songs like Iktara, Tum Hi Ho Bandhu and Prem Mein Tohre, is one of the warmest hosts in the industry.
As we reach her beautifully done up home in Goregaon, a western suburb of Mumbai, she offers us lunch.
It's 1:45 pm, and Kavita had just finished hers. We had had our lunch too, so we turn down her offer politely.
But she insists.
There's kadhi-chawal on the menu and she promises that it's very good.
Before we can refuse again, we're served a big bowl. And she was right -- it was delicious!
"Tum miss kar lete ye," she says, and we could not agree more.
The hospitality does not get over there.
After the meal, Kavita offers us a glass of fresh watermelon juice.
"It's very hot," she reasons.
Point noted, and juice accepted.
Kavita sits on a neat sofa, decorated with ethnic cushions of Krishna designed on them. On one side of the room is a showcase full of her trophies.
Kavita tells Jahnavi Patel/ Rediff.com all about herself and her career and even sings some of her hits on video, taken by Hitesh Harisinghani/ Rediff.com.

You have done very few projects in Bollywood. Why is that?
There is no specific reason. My first priority is that the kalaam (the pen) and poetry should be good.
It may be a small or big budget film, a new music director... I don't think about all that.
Only the good things remain with us. If we sing just about anything, the song will come and go and people won't even know.
I give my 100 percent to a song, so it should stay and reach people. I don't sing just for the sake of singing, I sing for my satisfaction.


Video: Kavita Seth tells us about the songs she would have loved to sing. (Hint: They are Asha Bhosla songs)
Since lyrics are so important to you, what do you think of the lyrics of today?
It's very sad!
I think people like poetry but we don't serve that.
Sometimes, some things work and people think it's a trend. It remains for some days but then gets washed out.
There are so many retro radio stations now and people listen to them. Why? It's because the music is good; people like the poetry in the lyrics and the way it is sung.
Why does that not happen with today's songs? Because we don't offer it that way.
I am a part of the industry too, and I think it is our fault.
We say 'people don't want to listen' but that's not the case. If we offer good songs, they will listen.
It's our duty to make good music. People will listen.
There is a simple example. Before Jagjit Singhji, people would say gazals are for a niche audience. But he simplified ghazals and brought it to the masses. He used to perform in front of thousands of people. So it is our duty to simplify words and make good songs.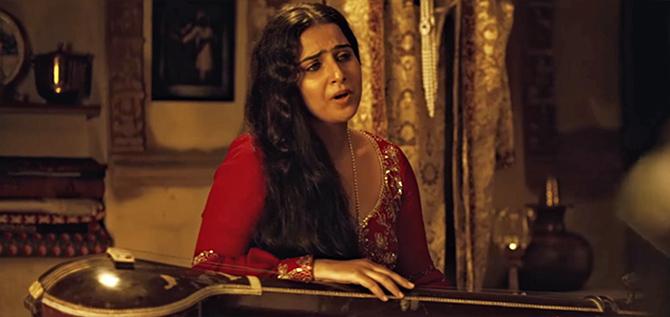 IMAGE: Vidya Balan in the song Prem Mein Tohre from Begum Jaan
The song Prem Mein Tohre in Begum Jaan has two versions, one is sung by you and the other by Asha Bhosle. Were you concerned about comparisons?
When the song was made, it was not decided if Ashaiji would be singing the song too.
Anu Malik composed the song in front of me, and it was so lovely.
He called me again because we had got a word wrong. When I went for the correction, Ashaji was there. I heard her version then and loved it.
From then, I was tensed that people would compare my song with Ashaji.
She's a legend. She has sung so many songs and they are all great -- be it romantic, cabaret or a bhajan. I was scared of being compared to her.
But songs have no shelf life today.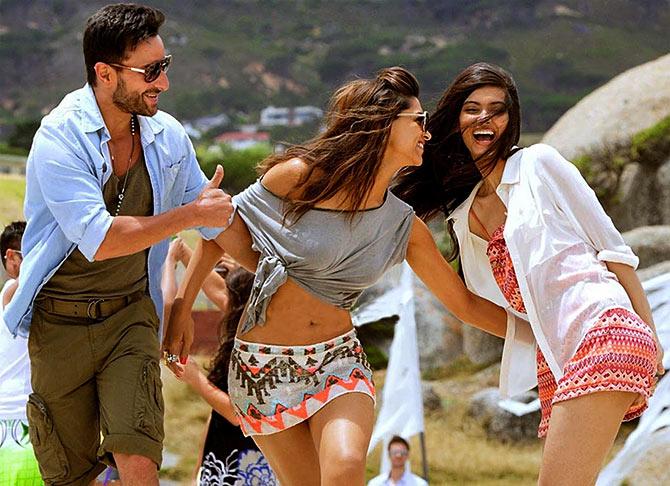 IMAGE: Saif Ali Khan, Deepika Padukone and Diana Penty in the song Tum Hi Ho Bandhu from Cocktail
Why do you think so?
Since things have become commercialised, the soul is missing.
Even while making a song, the person is thinking of the payment.
If you keep your soul connected, the reach will be wider.
When I sang Tum Hi Ho Bandhu in Cocktail, I did not know who the song would be picturised on or whether it will it be a club or item song. I read the lyrics and liked it. I sang it and gave it my soul and 100 percent.
You can see the result. I think that's why I take so long to choose my songs.
You've composed a song Maa for Maatr. Was that a song out of your bank or is it a fresh composition?
If I like a poetry, I compose it. If I'm in the mood, I'll release it as a single.
I had composed Maa just like that; I had liked the poetry.
I was to complete a project of Amrita Pritamji in Lata Mangeshkarji's studio. There, her manager made me read Munawwar Rana's poetry. I loved it, and asked him to give me the rights. But he wasn't keen.
I wanted to read the poem, so he WhatsApped it to me.
On my way home, I made a tune. I was thinking of my mother and crying. It was very emotional, so I decided to record it. I sang the scratch and got the music made within a week.
By then, I got a call from Anjum Rizvi (co-producer of Maatr). He wanted me to sing a song in the film. I asked for the situation in which the song would be played. When he told me, I mentioned the song Maa that I had made.
He forwarded the song to Raveena Tandonji and within a day or two, he told me that he wanted the song. That's how it became a part of the film.
You conduct Sufi concerts. How do you tune it to the taste of today's youth?
Children love it because I have made the words easy.
College-going students are crazy (about Sufi songs).
People can connect with them.
If I sing something with Persian words, it will bounce over your head. You need simplify things and people will connect easily.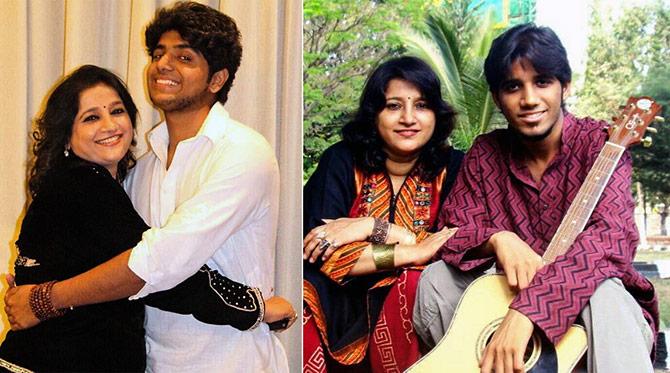 IMAGE: Kavita with her sons Kavish and Kanishk. Photographs: Kavita Seth/Twitter
Your sons Kavish and Kanishk have also chosen the musical path. As a mother, singer and composer, how happy are you with this decision?
Yes. Both of them are good musicians. But the three of us are creative and just don't match.
None of them follow Sufi music; they have their own journey. I am okay with that.
A lot of songs are being remade now. Classics are being recreated. What do you think?
I am positive about it.
When a song is recreated, today's generation, who mustn't have heard it in the 1950s or 1960s, will hear the song as well as the original. So the original song's life longer.
Today, if an old song is being remade in a rock style, what is wrong with that? Till the soul of the song is intact, it's fine.
Video: Kavita Seth sings a melodious medley for us!
How tough is a singer's life in Bollywood?
It's very difficult, more so when you want to work on your own terms and conditions.
But if you are honest and have confidence on yourself, don't bother about anything. Do your work and you will get the kind of work you want.
But then you cannot feel that you need to have a song in every film. If you are selective, you will get what you deserve and you give your best in that.
I am happy with that. Ek maaro toh chakka maaro.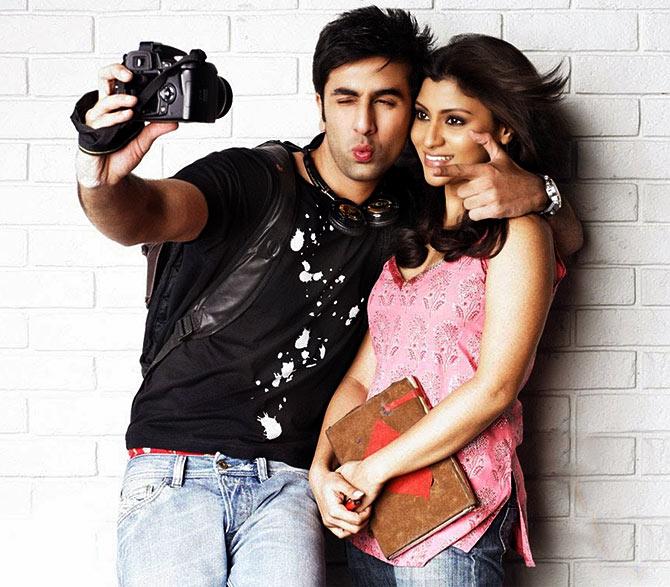 IMAGE: Ranbir Kapoor and Konkona Sen Sharma in Wake Up Sid
Was there a struggle period before your talent was recognised?
I came into the industry very easily. My first song was Vaada (in 2005).Then, Mahesh Bhattsahab gave me a song in Gangster. I got nominated for both films.
After that, for three years, I did not get any work.
I was getting calls but people were saying, 'Itni haski voice hai, aap double meaning gaana gao, mujara gao, item song gau.' But I didn't want to sing those.
I was happy doing riyaz at home. That was a tough period.
Then I got Iktara.
Singer Palak Mucchal said that she will never sing an item number because she cannot do justice to it. Do you feel the same?
Yes. I got so many offers but I told them that there are so many people who can sing those songs and give those emotions to it. I will not be able to do justice.
Those songs are good too, but not for me.
There are so many singers in the industry today, thanks to singing reality shows. How tough is the competition?
The competition maybe getting tough, I don't know. I compete with myself every day.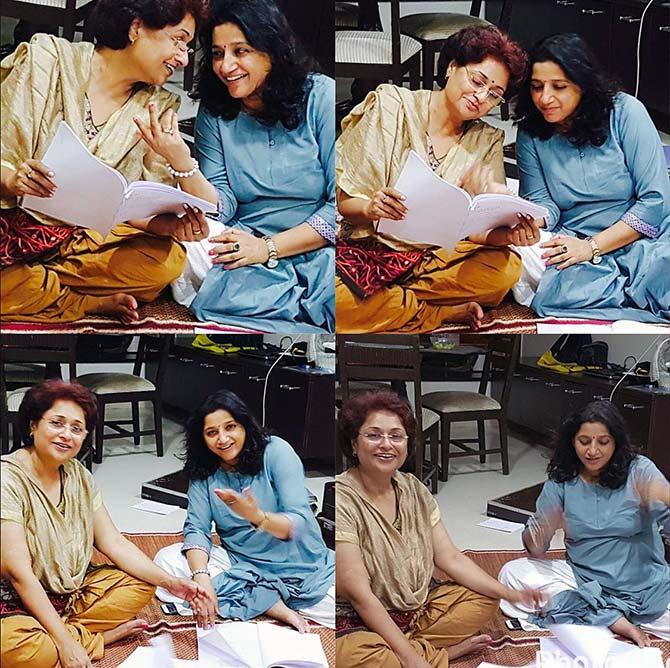 IMAGE: Kavita Seth and Deepti Mishra having a fun time while practicing. Photograph: Kavita Seth/Twitter
What are you doing next?
I am collaborating with Deepti Mishraji, and we are starting something called Shayara. It's a concert series from May 6.
She will read her poetry in free verses and I will sing the ghazals written by her. We have named it Luminance of Verse.