A look at the portrayal of air hostesses in Hindi movies.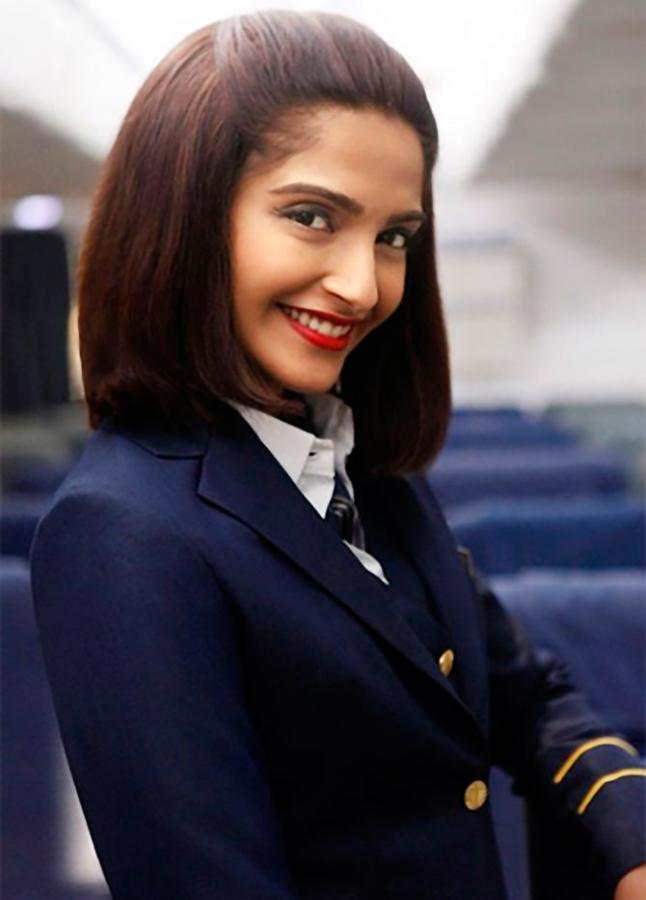 Image: Sonam Kapoor in Neerja
Pretty, pleasant and perfect, an air hostess gets all the points for consistent professionalism.
If she's ever having a bad day, she'll never tell. On the contrary, she's only concerned about the passenger's security and seat belt. And the only baggage she carries is neatly tucked in the overhead bin.
But there's more to her than grace and glamour. She can be super gritty too.
One expects this to be fittingly highlighted in the upcoming biopic of the 22-year-old Pan Am flight attendant Neerja Bhanot, who lost her life on September 5, 1986 saving young passengers, after her plane was hijacked by a group of ANO (Abu Nidal Organisation) militants.
Sonam Kapoor stars in and as Neerja under Ram Madhavani's direction, which is set to hit the theatres on February 19. Will she be able to do justice to this real life heroine? Let's wait and watch.
Meanwhile, here's a look at the portrayal of air hostesses in Hindi movies.
Bipasha Basu, Zameen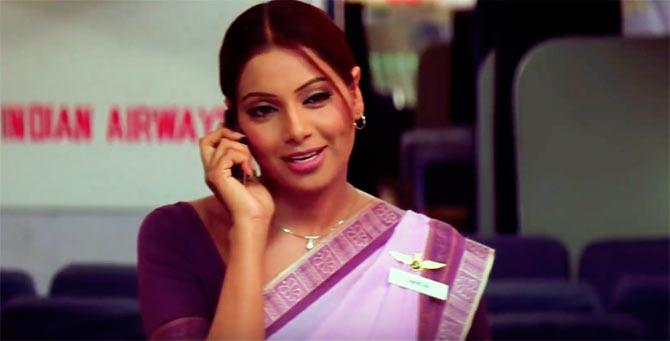 Image: Bipasha Basu in Zameen
In Rohit Shetty's directorial debut, Bipasha Basu plays a gutsy air hostess trying to calm down mortified passengers following her plane's hijack at the hands of a terrorist group.
Of course, it's her cop boyfriend Abhishek Bachchan and armyman Ajay Devgn who, eventually, rescue the plane and its passengers in a true heroic fashion.
Celina Jaitley, Silsilay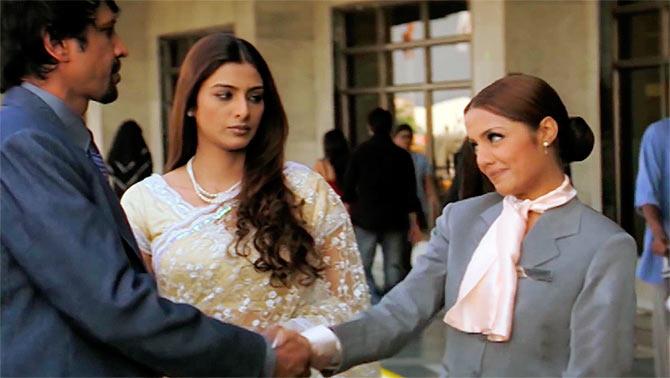 Image: Kay Kay Menon, Tabu and Celina Jaitley in Silsilay
Despite the presence of Shah Rukh Khan, Tabu and Kay Kay Menon, journalist turned filmmaker Khalid Mohamad's Silsilay hasn't stayed on in public memory.
Nonetheless, it stars Celina Jaitley, rolling her glimmering green eyes to the best of her ability, as an ambitious air hostess engaged in an extramarital affair with a wealthy man. As bad she feels about being the slandered 'other woman,' the lure of luxury is too much to resist.
Tanushree Dutta, Apartment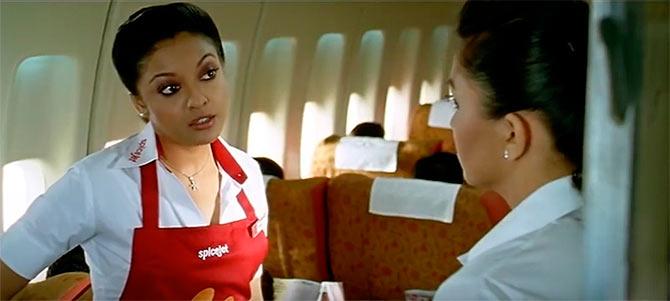 Image: Tanushree Dutta in Apartment

Nobody really remembers Jag Mundhra's Apartment. Neither should you.
Except how former beauty queen-turned-actress Tanushree Dutta plays an attractive air hostess who spends all her free time mid-air discussing her obsessive roommate.
Neetu Chandra, Daisy Bopanna, Nargis Bagheri, Garam Masala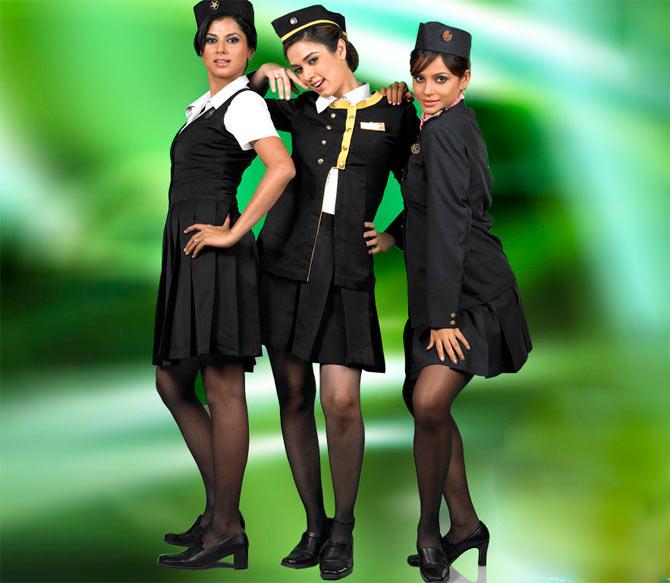 Image: Daisy Bopanna, Nargis Bagheri and Neetu Chandra in Garam Masala
In his attempt at one-upmanship over colleague John Abraham, Akshay Kumar courts and juggles three girlfriends, all air hostesses, within the same sprawling flat in the Priyadarshan comedy, Garam Masala.
The girls-in-uniform don't do anything distinct or intelligent except play the target of sweet-talking men till they know better.
Esha Deol, Hijack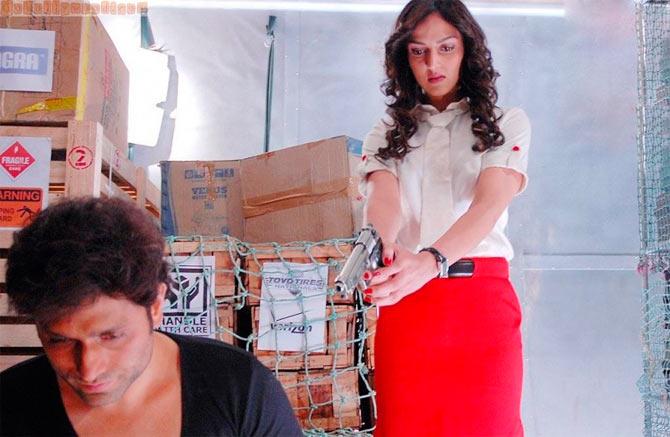 Image: Shiney Ahuja and Esha Deol in Hijack
It's the same old story, a terrorist outfit hijacks a plane and the leading man and his lady save innocents from harm.
In the 2005 flop, Hijack, Esha Deol slips into the uniform of an air hostess whose presence of mind and nerve along side airport engineer Shiny Ahuja's attempts to save the day.
Madhuri Dixit, Anjaam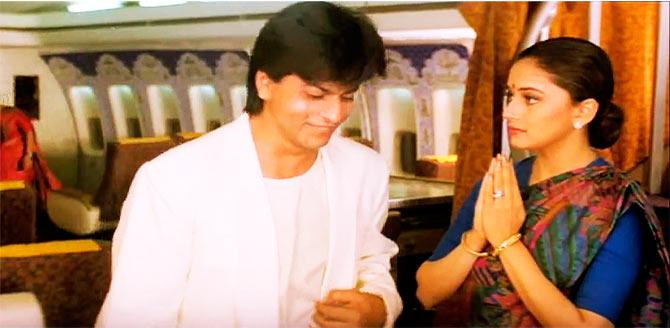 Image: Shah Rukh Khan and Madhuri Dixit in Anjaam
When Shah Rukh Khan refuses to back down from flirting with Madhuri Dixit's cordial air hostess and boards every flight she's scheduled on to and fro between countries, she demonstrates her displeasure by mixing up his drink with salt and chilli.
Considering vendetta is the very theme of Rahul Rawail's over-the-top Anjaam, it hardly seems out of character.
Manisha Koirala, Khauff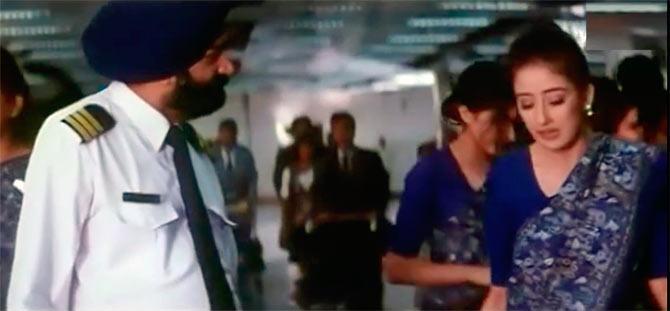 Image: Jaspal Bhatti and Manisha Koirala in Khauff
In Sanjay Gupta's sketchy The Juror rip-off, Manisha Koirala's bubbly flight pursuer and Jaspal Bhatti, playing her boss Hawa Singh, provide the stylish but hollow film some of its puerile laughs with their banter.
Quickly enough Khauff forgets all about fun and flying and dedicates itself to become a bizarre thriller that makes little sense.
Soha Ali Khan, Dil Maange More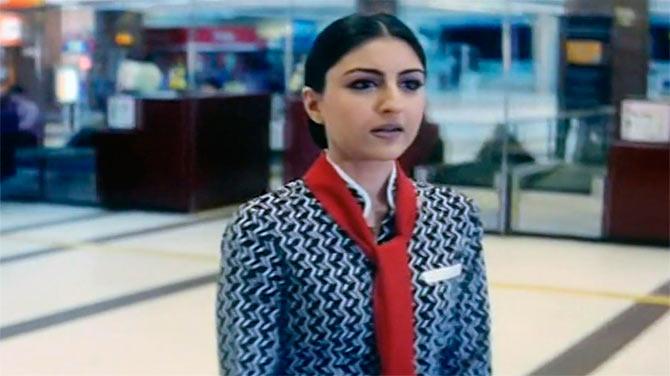 Image: Soha Ali Khan in Dil Maange More
Soha Ali Khan makes her debut as small-town girl with sky-high dreams that involve breaking Shahid Kapoor's heart in Dil Maange More.
She dumps him to pursue her dreams of becoming an air hostess but promptly realises her castle in the clouds doesn't have Kapoor's down-to-earth charm.
Shenaz Treasurywalla, Delhi Belly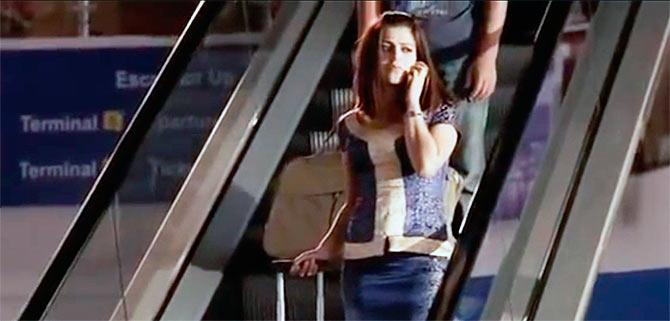 Image: Shenaz Treasurywalla in Delhi Belly
Keeping with Delhi Belly's wacky tone, Shenaz Treasurywalla fits perfectly into the skin of a loony air hostess responsible for triggering a chain reaction of comically chaotic events.
For better or worse, her sighs, sobs and a serious amount of cleavage take up a significant chunk of the enduring images in Abhinay Deo's cheeky second film.
Raakhee, Heera Panna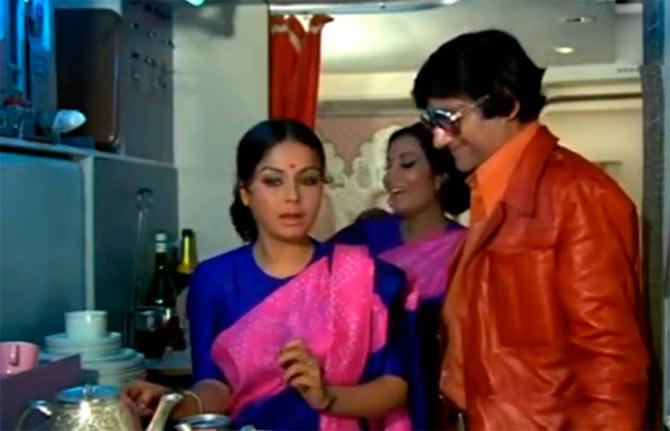 Image: Raakhee and Dev Anand in Heera Panna
Finding romance on a flight is many a filmmaker's fantasy. Or surely Dev Anand's.
Like how in his home production Heera Panna, the actor flirts unabashedly with an air hostess, played by the lovely Raakhee, till she happily relents. It also works as a tragic twist when she dies in a plane accident creating the space for a second romance.
Mala Sinha, Neela Akash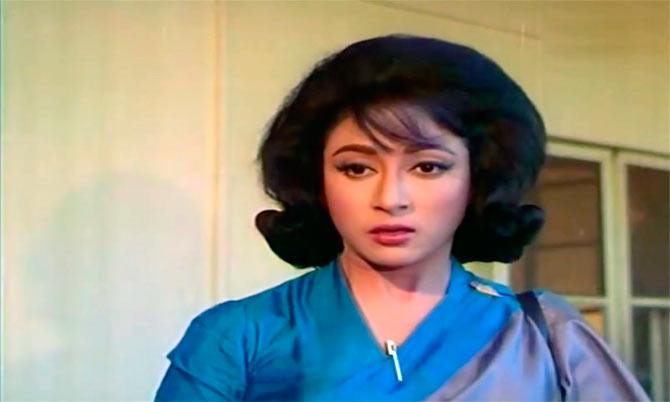 Image: Mala Sinha in Neela Akash
Back in the 1960s when most heroines were relegated to aimless eye candies, it's refreshing to Mala Sinha pursuing a career with gusto.
Neela Akash shows her rigorous preparation to become one -- classes, exams, et al -- until caught up in the romantic complications that arise after she starts seeing an airline pilot, played by an irresistible Dharmendra.