The top posts on social media from your favourite Bollywood celebrities: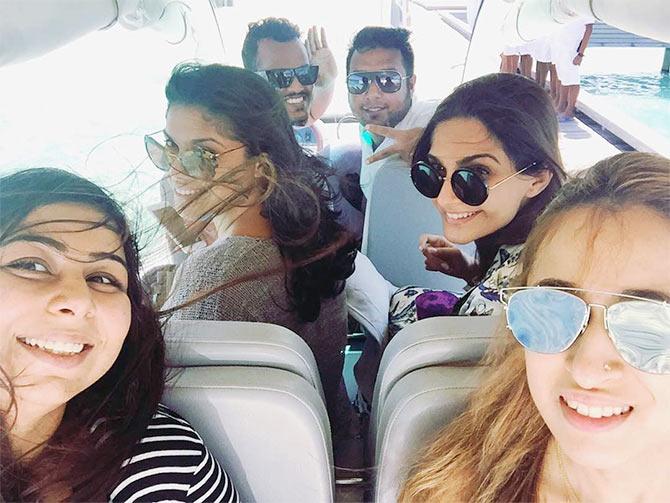 New Year's Eve is around the corner and celebrities have started holidaying in style.
Sonam Kapoor, who is vacationing in Maldives, turned to Instagram to post a picture, above, and tweeted: 'Paaaarty!!!'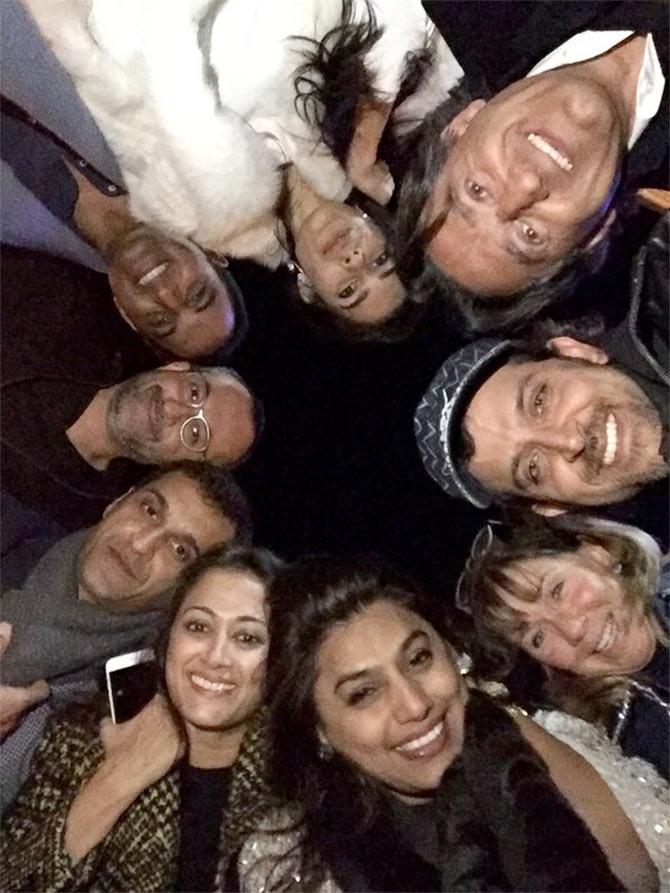 Meanwhile, Hrithik Roshan is enjoying his time off in Courchevel with friends.
He posted a picture, above, and wrote: 'That was one hell of an incredibly awesome night! Thanks guys for all the love n madness. #saycheeese #courshevel'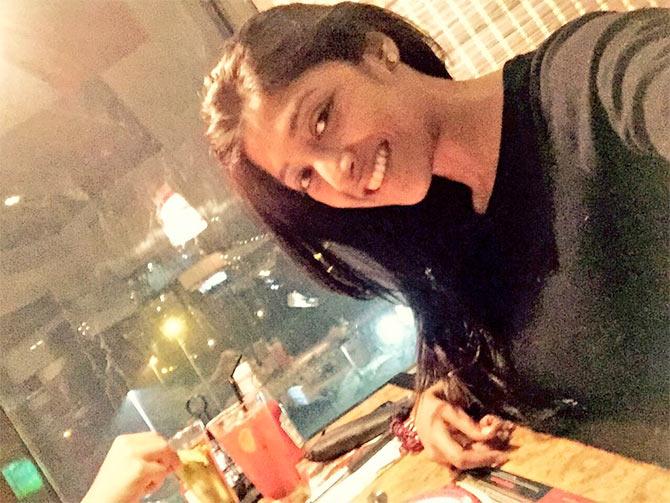 Paoli Dam posted a picture, above, and wrote: 'N it's holiday time for me...off to Brussels n Ghent.'


***
Kriti Sanon: Please enjoy films in cinemas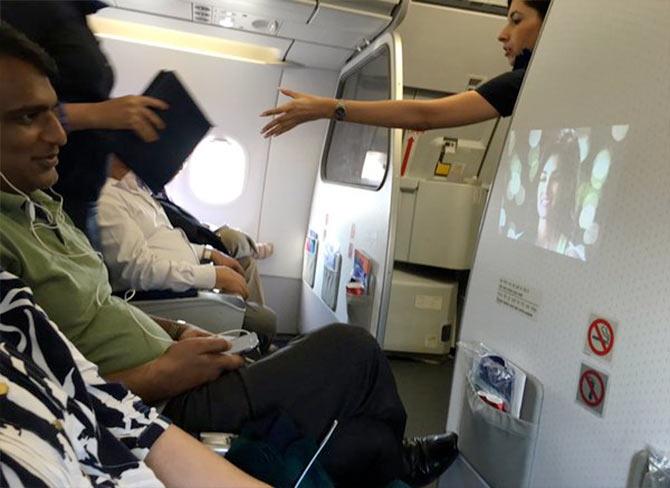 Kriti Sanon, who was travelling recently, slammed a co-passenger when he started watching her latest film Dilwale on his phone.
Kriti posted some pictures on Twitter and wrote: 'Someone watchin pirated version of Dilwale in front of me on phone in the flight! Annoyed!! #SayNoToPiracy'
'Sad to c the hardwork of so many ppl bein watched in such pathetic quality!Pls enjoy films in cinemas,' she added.
'Yup..told him politely tht he would enjoy the film more in a theatre. but he was busy showin off his projector!' she signed off.
***

Mohit Suri to team up with Rishi Rich, Amrit Dasu?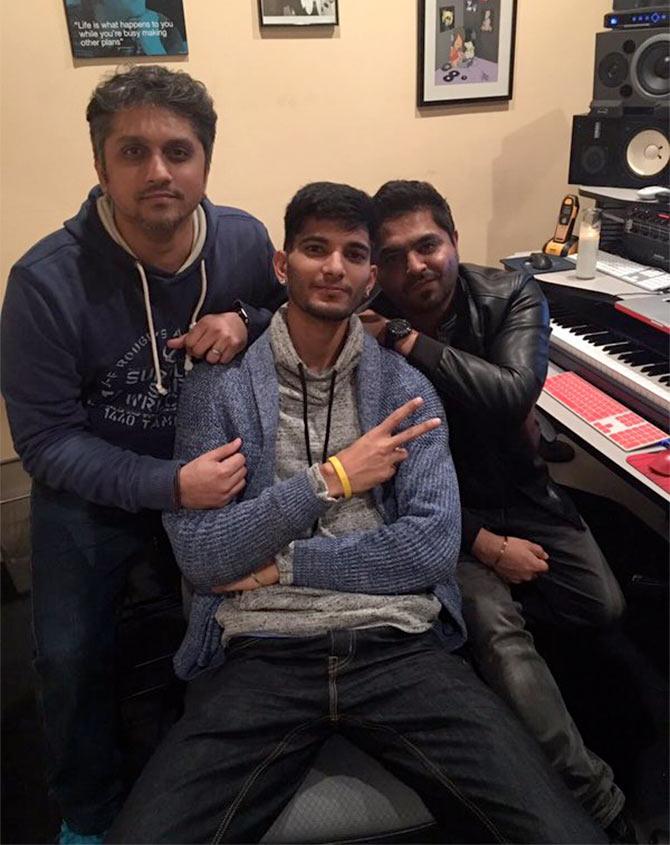 Director Mohit Suri, who is scouting locations for his next film Half Girlfriend in New York, recently met musicians Rishi Rich and Amrit Dasu.
He posted a picture of them together, above, and wrote: 'With the men with the music @MusicByRR @AmritDasu themselves at their studio.'
The film will be based on Chetan Bhagat's book by the same name.
***

Farhan denies removing love-making scenes in Wazir
Buzz is that the makers of Wazir have deleted the intimate scenes between Farhan Akhtar and Aditi Rao Hydari in the film to avoid trouble with the Censor Board.
But Farhan denies the news: 'Just read about a non-existent love making scene in Wazir being censored..!! Where does all this fake info originate..??'
Meanwhile, filmmaker Rakeysh Mehra praised the film. '#wazir @FarOutAkhtar @SrBachchan amazing plot powerful performances Amit ji in sublime form Farhan take a bow, that was a knockout, amazing plot Aditi how graceful, how beautiful , how touching way to go,' he tweeted.
Directed by Bejoy Naimbar, the film also features Amitabh Bachchan and Neil Nitin Mukesh. It will release on January 8.
***

Twinkle Khanna turns 41!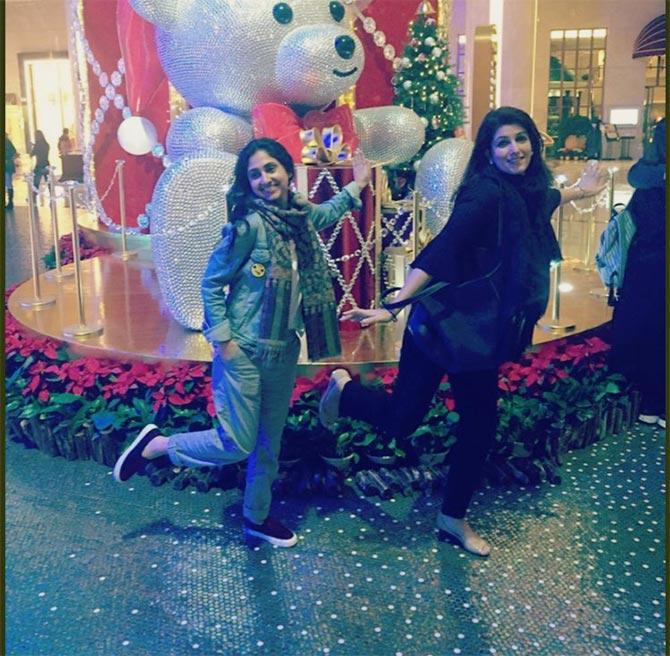 Twinkle Khanna, who shares birthday with her father Rajesh Khanna, took to Twitter to thank her well-wishers.
She posted a picture with her sister Rinke, above, and wrote: 'Thank you folks for all your wishes! A year older but not much wiser.'
Meanwhile, Govinda remembered Rajesh Khanna and tweeted: 'Remembering Kaka... today's his birthday. Miss you Rajesh khanna saaheb. My mentor my hero.'
***
Priyanka catches up with Sanjay Leela Bhansali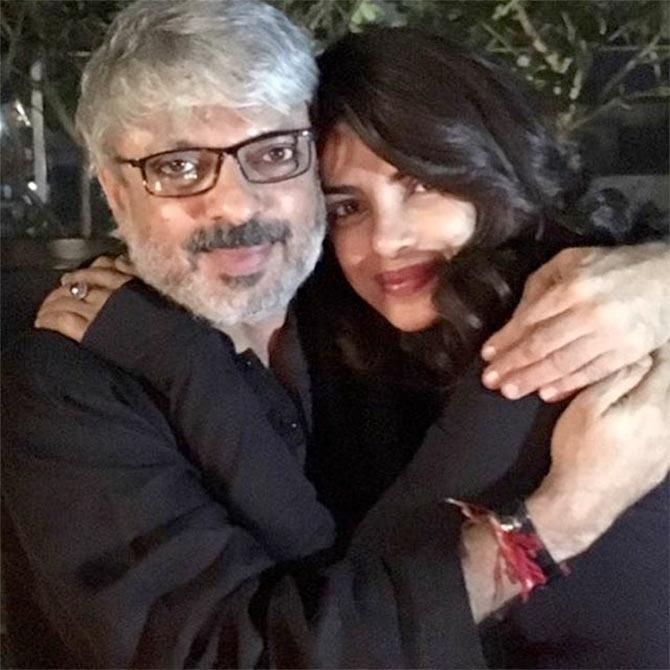 Riding on the success of her latest film Bajirao Mastani, Priyanka Chopra recently caught up with filmmaker Sanjay Leela Bhansali.
She posted a picture on Instagram, above, and wrote: 'Admiration always.. What an artiste u r #sanjayLeelaBhansali love u always.'