'Rubina has created an image of being this sanskari contestant, but she is totally opposite of what is shown on TV.'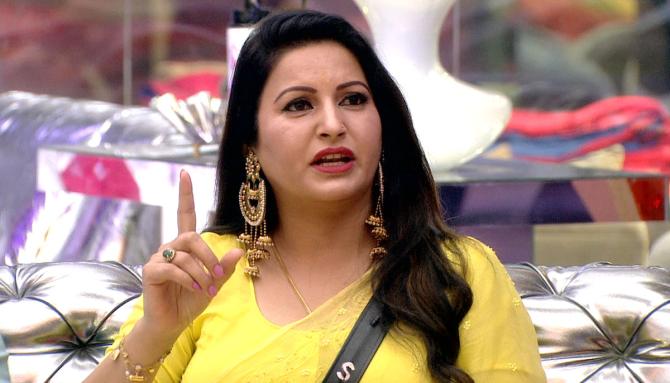 Tiktok star Sonali Phogat was evicted from Bigg Boss 14.
She had entered the show as a wildcard contestant and made news for her food fights as well as her soft spot for Aly Goni.
"If I say I like Aly Goni on national television, what is wrong in it?," she asks Rediff.com Senior Contributor Rajul Hegde.
Your eviction happened in Salman Khan's absence on Weekend Ka Vaar.
I am glad that Salman Khan did not announce my eviction because I respect him a lot.
Whenever we met during the weekend, he used to talk to me so sweetly.
He gave me a chance to perform on his songs and praised my dance too. That was a big compliment for me.
What is your takeaway from the Bigg Boss?
I remember Abhinav Shukla telling me how it takes a couple of weeks to understand the house and the game.
I did not get that time.
Before I could get to know the housemates well, I was out of the show.
People like me are not meant for this show where you have to constantly change your stand and tactics.
I have lived in that house with values and decency, but I don't think that has been aired.
I feel one or two mistakes of mine have been highlighted.
But I learnt a lot from the show.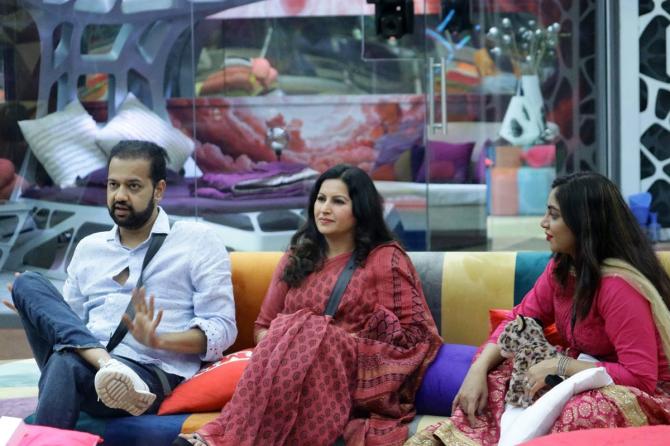 Your tiff with Rubina Dilaik was one of the highlights of the show.
I was humiliated for a piece of bread.
I was eating food and Arshi (Khan) started shouting at me for making a thick paratha.
She accused me of not using the limited ration wisely and involved Rubina and Nikki in it.
Rubina used to throw away 10-15 rotis daily.
Arshi used to keep her leftovers in the fridge for days and then throw it later.
The same people tortured me mentally.
I was hurt and even cried for being insulted for such a small issue.
They treated me badly just for the footage.
I couldn't eat after all the screaming.
I just threw a bite in the dustbin, and Rubina created a such noise.
This shows she was insecure of me.
Initially, she was very nice to me. Maybe it was one of her strategies to target me.
I would actually like to be friends with her after Bigg Boss.
What did you think about her?
After living with her, I have realised that she is very big-headed.
Rubina has created an image of being this sanskari contestant, who always abides by the rules, but she is totally opposite of what is shown on TV.
She has a superiority complex and when she sees that someone else is playing better than her, she goes after that housemate.
She doesn't let others speak.
She says what she has to say and then walks off without listening to the other person.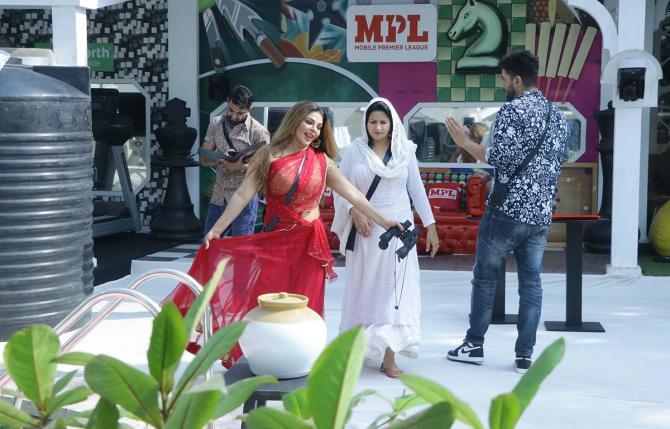 You said you 'liked' Aly Goni. Was it genuine or just for the cameras?
Whenever we see a handsome face, don't we appreciate it?
We are living in the 21st century.
If I say I like Aly Goni on national television, what is wrong in it?
I liked him because he gave me respect, he sang and danced with me.
I liked his personality.
If people think I was faking it for the show, it's not my problem.
My family didn't find anything wrong in liking someone.
I could have done a lot of things to be inside the show but I didn't.
I like Salman sir a lot; he was one of the reasons why I agreed to be part of the show.
In Punjab and Haryana, we are all like Dharmendraji. I don't see anything wrong in appreciating someone.
But I am glad that Aly respected my feelings and didn't make fun of me.
Who do you think will win?
People say that Rahul (Vaidya) targets Rubina but it's the other way around.
Even during one of the tasks Rahul's team was clearly winning. She created a drama to make sure that no one won.
She cannot tolerate Rahul Vaidya.
Nikki (Tamboli) once said to me 'Kaun hai yeh badtameez and ghatiya aurat? Isko nikaalo ghar se bahar.'
She is the most misbehaved person in the house.
Rahul is fair and corrects people when he feels someone is wrong. But he does it in a fine manner, unlike Rubina, who doesn't say anything to Nikki's obnoxious behaviour.
Rahul has all the qualities of a winner, but Rubina is a very smart player and has the ability to control people.
She aces the art of twisting situations.
Do you want to pursue a career in the entertainment industry?
I have always given equal importance to politics and acting, but now, I feel I should concentrate on acting.
I took a break from acting as I was busy with my political work.
I have some offers of television shows.
Acting is something I enjoy.