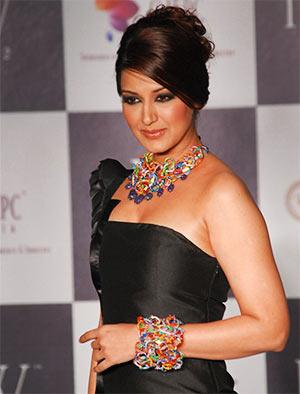 'My mother- in-law thinks I'm more beautiful than all the other faces around. She keeps encouraging me to take up more work.'
Sonali Bendre on making her acting debut on television with a fictional series titled Ajeeb Daastaan Hain Ye.
After judging and hosting reality shows, actress Sonali Bendre makes her acting debut on the telly with Ekta Kapoor's Ajeeb Daastaan Hain Ye.
The actress served as a judge on Indian Idol, India's Got Talent, Cinestars Ki Khoj and hosted the dance show Kya Masti Kya Dhoom.
Ajeeb Daastaan Hain Ye begins on October 7, at 9.30 pm, on the channel Life Ok.
Sonali Bendre plays a tenacious woman, Shobha, who fights for her family's well-being.

She is happy and content in her own little world until her politician husband, Samarth (Harsh Chhaya) is put behind bars for breach of information.

The actress discusses her acting comeback with Rediff.com's Rajul Hegde.
What prompted you to act in a TV serial?
I never thought of doing a fiction show, but here I am!
This show means a lot to me. I couldn't have said no to the character I play in it.
Shobha has always been a housewife. For her to step outside is a huge deal.
I connected with the role because my mother used to always tell me and my sisters that we have to be independent and enter into relationships as independent individuals, as people who could fend for themselves.
She always said that if you don't want to work later, that's okay. She was a housewife so she knew what she was talking about.
It resonated with me and connected to my character.
An important reason for doing the show is that it's a finite show. Our episodes are fixed and we have a graph.
What was your husband Goldie Behl's reaction?
I wasn't ready to hear the story of the show so Ajit Thakkur (Executive Vice President and General Manager, Life Ok) called Goldie and requested him to convince me to hear him out.
When I heard the story, I was floored. The character of Shobha was amazing.
What nailed it further for me was the fact that I was playing my age. Mentally and physically, I am in a different space, and I do not want to do something that will not suit my real-life persona.
I am really enjoying playing this role and I am glad that I took it up.
Working in a daily soap means long working hours. How are you going to balance work and family?
I have allotted a certain amount of time to Balaji (the production house). They will have to finish my shoot within that time.
I am not being difficult. I leave my son and come on the sets, so after those allotted hours are over, it will always be my son's time.
I have no doubt in my mind about where my priority lies.
You have worked with all the Khans of Bollywood. For the first time you are acting with television actors like Apurva Agnihotri and Harsh Chhaya. What was the experience like?
I don't think telly actors are inferior to Bollywood stars in any way.
Harsh is a fine performer and he brings out the best in me.
Apurva too is amazing and very professional. He is looking great in this show.
Apurva said in an interview that he had a crush on you.
Really! Oh my God! I didn't know that.
May be he is just pulling my leg.
I will let the whole team know that he has a crush on me! Let's see how they react (smiles).
What do you think is the most challenging part of working in a daily soap?
For a movie actor, the biggest challenge on TV is the number of close-up shots.
In a movie there are multiple camera angles and on days when an actor is not looking or feeling her best, some portions can be filmed in a long shot.
Television does not offer this luxury and one must be close-up ready all the time.
The grammar of television is different from that of films. Films are based on the big screen and viewed in a dark theatre.
Television is on a small screen, inside someone's living room, so you have to grab their attention while they are having dinner or cooking or doing something else.
Was there any talk about you doing a television show when you did a cameo in the film Once Upon A Time In Mumbai Dobaara (produced by Ekta Kapoor)?
I did a cameo because Shobha aunty (Shobha Kapoor) called my mother- in-law and she convinced me to do it.
But this offer came through the channel.
My mother- in-law thinks I'm more beautiful than all the other faces around. She keeps encouraging me to take up more work (smiles).