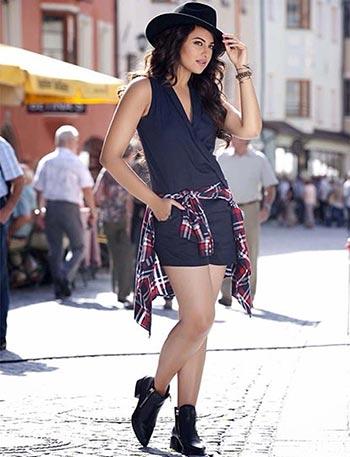 'Everyone knows how big a star Rajini Sir is. People worship him across the globe, but as a person, I am yet to meet someone as humble and down to earth as him.'
Sonakshi Sinha talks about the Superstar, and her next film, Action Jackson.
Sonakshi Sinha is ready with three movies, releasing back-to-back: Action Jackson, Lingaa and Tevar.
In a quick interview with Sonil Dedhia/ Rediff.com, Sonakshi explains how she has mastered the art on working on multiple movies simultaneously.
You have three releases (Action Jackson, Lingaa and Tevar) in the next two months.
I get very excited before my films. This time it's going to be all the more fun with the promotions of three films.
Thankfully, I am not shooting for any film now, so I have planned the promotional activities in such a way that I am able to give time to all the films.
You recently blasted Kamaal R Khan (KRK) on Twitter for his derogatory comments about you.
You don't see me react that way every day. I felt there was something very weird about it that got such a strong reaction from me.
KRK has been doing this since a long time. He has spoken a lot of rubbish in the past and I had ignored that, and him.
I guess I woke up on the wrong side of the bed and he had it from me.
He deserves a smack more often for all the things he has been saying all the time.
Tell us about sharing screen space with superstar Rajinikanth in Lingaa.
It was a fantastic experience. I could not have asked for a better start to my career in the south industry.
It was amazing to work with people who made me feel right at home. The director was impressed with the way I spoke the language. I give all the credit to (directors) Prabhu Dheva and A R Murugadoss.
Everyone knows how big a star Rajini Sir is. People worship him across the globe, but as a person, I am yet to meet someone as humble and down-to-earth as him.
In spite of his stardom, he is the simplest man in this industry. He is perhaps the only star who hasn't changed a bit.
He's known me ever since I was a kid and he is a family friend. My father and he have been friends for years.
More than me, the pressure was on him to make sure nothing wrong happened to me.
I was very nervous on the first day of the shoot. Later I came to know that he was more nervous about working with me! When I told him I was really nervous, he said, 'You are my friend's daughter so I'm all the more nervous to work with you.' That broke the ice.
There are two other actresses in Action Jackson (Yami Gautam and Manasvi Mamgai).
All three roles are different. This is the first time I have done a multi starrer as all the other films have been solo leads.
I think I have made a mark in Bollywood. I don't need to be insecure about the fact that I am sharing space with two other actresses.
In the entire premise of the film, everyone fits into their roles nicely. It's a very entertaining film and I loved being part of it.
I did this film because of Ajay Devgn and Prabhu Dheva.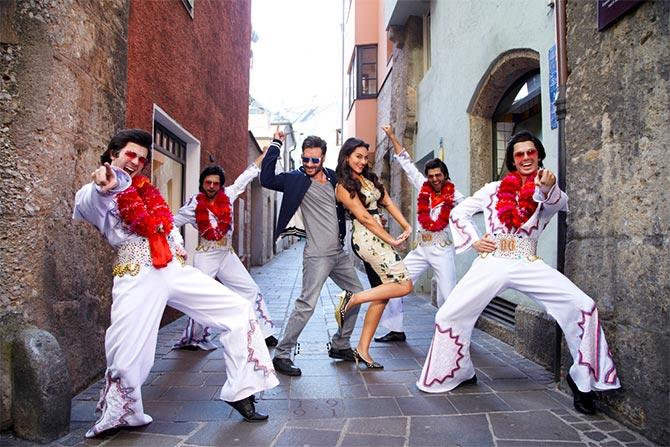 Image: Ajay Devgn and Sonakshi Sinha in Action Jackson.
Action Jackson is much like the potboilers you have done earlier. Don't you get tired of doing the same thing?
It is a typical Prabhu Dheva film, full of entertainment and masala.
When I was offered the film, Prabhu sir told me he is looking for someone who has good comic timing.
This film gave me an opportunity to play a character overloaded with comedy.
Prabhu Dheva has a unique sense of style. Rowdy Rathore is completely different from Action Jackson.
You silenced your critics with your performance in Lootera but most films you do are masala entertainers. Is box office success more important to you?
I have lost count of the number of films starring me that have earned Rs 100 crore at the box office.
Rs 100 crore does not matter to me. I never think while signing a film that it will make Rs 100 crore at the box office.
I choose to do films that I enjoy watching. I should find the script interesting. When I am reading the script, I ask myself: would I like to watch this film or not? If the answer is yes, I agree to do the film.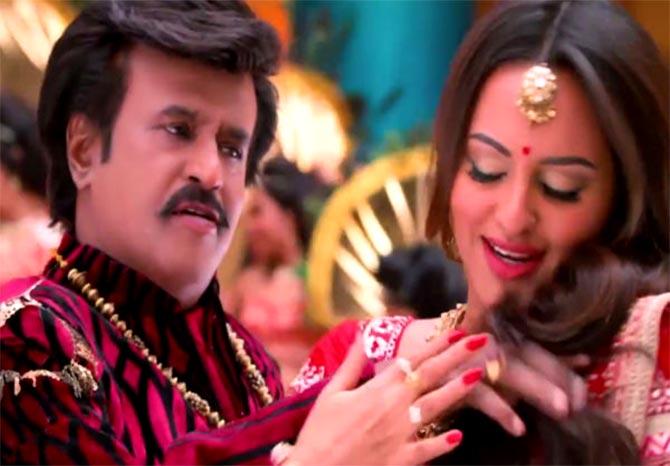 Image: Rajinikanth and Sonakshi Sinha in Lingaa.
Do you prefer to act in a critically acclaimed film like Lootera or commercial films like Action Jackson?
Films are meant to entertain as many people as they can. If my film reaches more and more people it makes me happy.
So of course, commercially successful films make me happy. But if people appreciated my work in Lootera, that too makes me happy.
Can we see you doing a full-fledged woman-oriented film some day?
Definitely. In fact, the next film I am doing is a full-fledged action film with A R Murgadoss where I will be doing all the action.
I am looking forward to that. I will start shooting for the film soon.